This piece is the first of many in the Are You Racist ANU? x Woroni series in association with the ANU BIPOC Department. Want to write for the series? Email anuethnoculturaldept@gmail.com with a pitch or draft.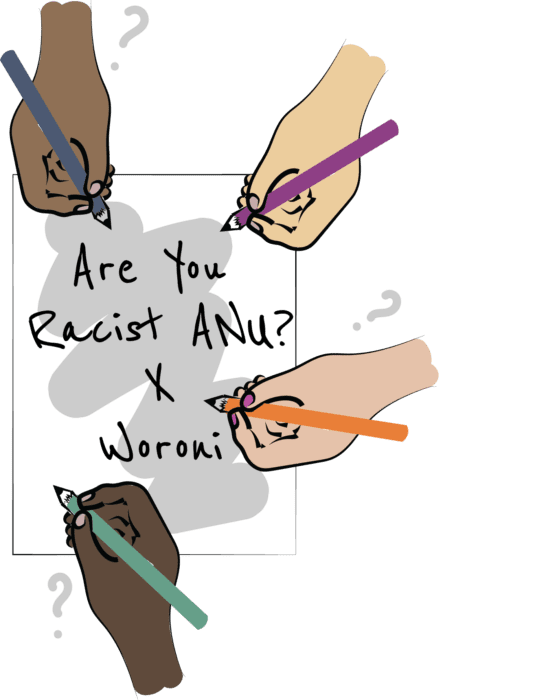 It's about weaponising the power of storytelling to dismantle white supremacy at the ANU.
White supremacy manifests in more than one form. Just because we don't see outright racism doesn't mean we can deny the historical and cultural influences our university is built around.
From a lack of BIPOC representation in academia to non-critical representations of historical figures, there are constant reminders that the university space hasn't dismantled the white supremacy it's rooted in.
We must empower the BIPOC community at ANU to speak their truth. The experiences of racism, struggles with identity, stories within the BIPIC community are vastly diverse and personal to each person and their history. It is important we speak our truth to dismantle the whiteness that minority and ethnic communities are socialised to ignore.
What does racism look like?
Racism takes many forms and can happen in many places. Often when we think about racism, we think about individual incidents of abuse, brutality or harassment that were motivated by racist behaviours. A white, patriarchal capitalist world wants to you believe racism is an isolated incident.
But that's not how racism works! Racism can be broken down into types such as these:
1. Systemic Racism
Systemic racism is also known as institutional racism or structural racism. It assumes white superiority individually, ideologically and institutionally. Under systemic racism, systems of education, government and the media celebrate and reward whiteness. This assumption of superiority can pervade thinking consciously and unconsciously.
2. Internalised Racism
As BIPOC are victimised by racism, we internalise it. That is, we develop ideas, beliefs, actions and behaviours that support or collude with racism. This internalised racism has its own systemic reality and its own negative consequences in the lives and communities of people of colour. More than just a consequence of racism, then, internalised racism is a systemic oppression in reaction to racism that has a life of its own.
Because race is a social and political construct grounded in a history/experience of oppressor/oppressed relationships based on physical characteristics, by definition it offers people of colour a very limited sense of self. With internalised racism, this limited sense of self can undermine people of colour's belief in our full humanity and disrupt our understanding of our inner life.
3. Interpersonal Racism
Interpersonal racism occurs between individuals. Once private beliefs come into interaction with others, racism is now in the interpersonal realm. Examples include public expressions of racial prejudice, hate, bias, and bigotry between individuals.
Understanding your racism and what you can do about it:
Just because you don't commit hate crimes doesn't mean you aren't racist. 

Just because you don't intend to be racist doesn't mean you're not racist. 

Just because you're not white doesn't mean you're not racist.
Racism is ingrained in a society that benefits YOU, so you are racist. The question is, what can you do about it?
Think your name would look good in print? Woroni is always open for submissions. Email write@woroni.com.au with a pitch or draft. You can find more info on submitting here.
We acknowledge the Ngunnawal and Ngambri people, who are the Traditional Custodians of the land on which Woroni, Woroni Radio and Woroni TV are created, edited, published, printed and distributed. We pay our respects to Elders past and present and emerging. We acknowledge that the name Woroni was taken from the Wadi Wadi Nation without permission, and we are striving to do better for future reconciliation.