This piece is the first of many in the Are You Racist ANU? x Woroni series in association with the ANU BIPOC Department. Want to write for the series? Email anuethnoculturaldept@gmail.com with a pitch or draft.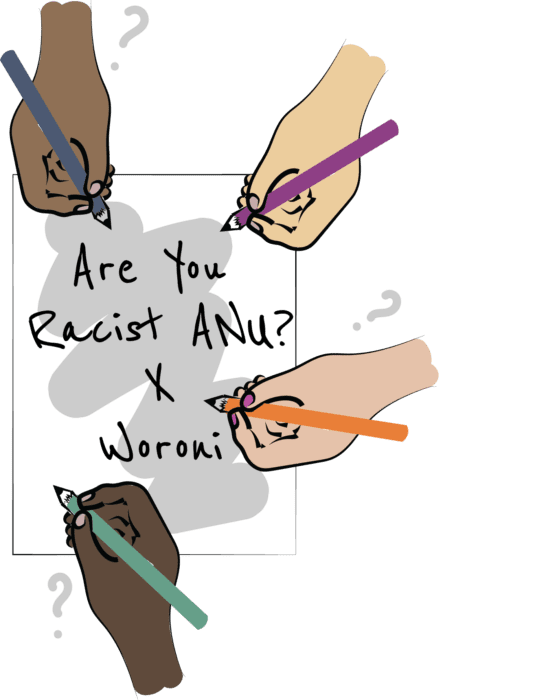 What does a decolonised university look like? No one truly knows…
No one knows what a decolonised university looks like because we have never had the opportunity to witness a decolonised world. When the university as an institution is a result of the colonial project and imagination, how decolonised is decolonised enough?
In this context, decolonisation never fully arrives. It is in a constant state of becoming, no matter how 'progressive' or 'radical' the change seems.
Let's imagine…
The systemic nature of racism is designed to crush the power of imagination in BIPOC communities through distraction. The distraction of constantly having to prove yourself and that you can't ask for me. And, in a world prone to pessimism, we often forget how beautiful it is to create through imagining the future. So, let's imagine what an anti-racist, decolonised universiry would look like. Here are some ideas:
A university that better supports its BIPOC students
A university that actively employs BIPOC counsellors and psychologists to make mental health assistance more accessible and inclusive for its BIPOC students.
A university that listens to its BIPOC students' concerns without citing lack of resources as a concern.
A university that employs and encourages more BIPOC representation in academia

A university that encourages more BIPOC academics but also goes beyond that to give voice to the lived experience in its research methodologies and output.
A university that stops making pledges for more diversity and inclusion and actually does something about it.
A university that responds to workplace racism and disciplines its staff and leadership when
they make the 'casual racist comment'.
A university which critically re-evaluates the whiteness of its learning curriculum.
A university that looks beyond the conventional approach to education and curriculum and appreciates that true decolonisation means education will never begin and end in its academy.
Think your name would look good in print? Woroni is always open for submissions. Email write@woroni.com.au with a pitch or draft. You can find more info on submitting here.
We acknowledge the Ngunnawal and Ngambri people, who are the Traditional Custodians of the land on which Woroni, Woroni Radio and Woroni TV are created, edited, published, printed and distributed. We pay our respects to Elders past and present and emerging. We acknowledge that the name Woroni was taken from the Wadi Wadi Nation without permission, and we are striving to do better for future reconciliation.