This piece is the first of many in the Are You Racist ANU? x Woroni series in association with the ANU BIPOC Department. Want to write for the series? Email anuethnoculturaldept@gmail.com with a pitch or draft.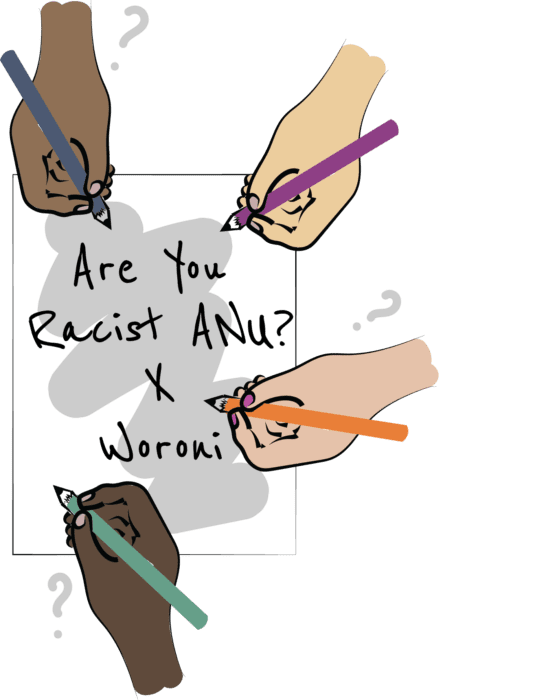 The award for "perfect ally" goes to…absolutely no one.
You will never reach a point in your life when you become the "perfect ally". Being an ally is ever-evolving. It's a process of change and development. The term 'ally' is a verb and so it actually requires you to do something.
You're going to make mistakes….
As an ally, you're going to make a lot of mistakes and incorrect assumptions. This is the case even if you're fighting the good fight to end racism in your community. Learn to say sorry when you do make those mistakes and be prepared to get called out.
You can't be BFFS with everyone's oppression.
Everyone's experience with racism is different and you can't use your own experience with racism to understand the oppression of others.
I'm guilty of this, in doing so we forget the complexities of systemic racism and how it affects different minority groups. Human empathy does not rely on relatedness. Start listening. Stop relating.
The most radical thing you do is admitting that you don't know it all.
Often BIPOC are called upon to be the highest authority on all topics related to race but sometimes we don't know it all. Acknowledging that you don't know it all makes space for others who can better articulate their thoughts on the topic.
I'm (not) sorry you feel guilty. 
Feeling guilty about your complicit stance on racism does not automatically mean you are being  a better ally. Guilt is the first step in a very long process of self reflection and development. The process of deconstructing your inner self and contextualising it against the world you live in. The question is, are you ready to do that?
Performative allyship? It ain't it chief.
Sharing posts on social media and engaging with anti-racist resources is all great but you need to show up when you are needed the most. You need to put yourself on the front lines and weaponise your white privilege or otherwise to help those who can't afford to do so. You need to be ready to call racism out when you see it.
Your POC, Black or Indigenous friends and student leaders are not your moral yardsticks and encyclopedias for racism. If you have a question, google it. The answer is definitely out there. If you can't find it? Look harder. 
The emotional labour of having to talk about race again and again is exhausting. Don't fall prey to the dangerous in between. You can read all the critical race theory in the world or watch all the TV shows featuring Black people ever to be made but that doesn't give you the authority to speak over other people whose lived experience is racism. I'm so glad you're finally on your personal journey to dismantling white supremacy but it doesn't just stop there. What are you going to do about it? 
Think your name would look good in print? Woroni is always open for submissions. Email write@woroni.com.au with a pitch or draft. You can find more info on submitting here.
We acknowledge the Ngunnawal and Ngambri people, who are the Traditional Custodians of the land on which Woroni, Woroni Radio and Woroni TV are created, edited, published, printed and distributed. We pay our respects to Elders past and present and emerging. We acknowledge that the name Woroni was taken from the Wadi Wadi Nation without permission, and we are striving to do better for future reconciliation.