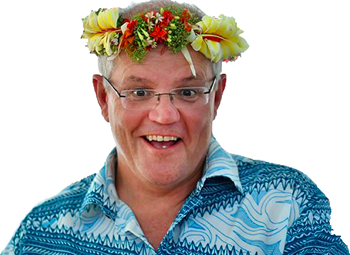 Let's get real about climate change – and not Scott Morrison real. Real as in better solutions to climate change than fruit picking. Real as in real accountability for those at risk of losing their livelihood, culture and country due to processes to which they contribute very little. Real as in prioritising the human life of our closest neighbours over the growth of the Australian economy.
Last week Australian Prime Minister Scott Morrison joined leaders of the Pacific at the Pacific Islands Forum to talk all things Pacific. Meeting in Funafuti, the capital of Tuvalu, the leaders' retreat showcased all the good parts of Pacific hospitality: food, song and dance. The purpose being, "to show the world what would be lost, apart from land, if Tuvalu were to disappear".
This was entirely lost on Morrison, who made himself very unpopular by taking a hard stance on climate change. Or rather, a hard stance on the role of coal and its place on the table. Morrison ensured Australia's official communiqué watered down commitments to respond to the climate emergency pressed by the others. Morrison's stance on red-lining some of the language around commitments to coal, limiting warming to under 1.5 degrees Celsius and setting a plan for zero-net emissions by 2050 caused a fierce 12-hour debate which almost broke down twice.
Now you can probably tell by my language so far that I'm not thrilled by the efforts of Mr Morrison. In fact, I'm pretty bloody disappointed. Not only is this bad for our relationship with the Pacific, it's bad for the people who live there. Not to mention, it demonstrates to the rest of the world how clearly inept we are at any form of regional leadership. The Prime Minister of Tuvalu, Enele Sopoaga, summarised this sentiment perfectly, stating, "You are trying to save your economy, I am trying to save my people."
The Prime Minister of Fiji, Frank Bainimarama, was so disappointed with Morrison's performance that despite being a "Wallabies fan from a long way back", he announced that he would be cheering on the All Blacks in the 2019 Bledisloe Cup.

What is more concerning than the Bledisloe affiliations is the message this sends to the rest of the word – namely, China. Before the forum, Australia promised $500 million in aid to the Pacific for the sole purpose of tackling climate change. It is important to note that this was redirected from existing programs and is not new money. However, it was intended to demonstrate a continued effort showing that Australia is on side.
Morrison dislodged this dialogue in one foul swoop.
Data sourced by the Lowy Institute's Chinese Aid in the Pacific shows that an increasing aid budget of $2.5 billion across 218 projects is being funnelled into the Pacific by China. Projects like the Navua Hospital in Fiji have been welcomed with open arms, which cannot be said for our leader.
        "China never insults the Pacific. You say it as if there's a competition between Australia and China. There's no competition, except to say the Chinese don't insult us … They're good people, definitely better than Morrison, I can tell you that."
– Quote from Fijian Prime Minister Frank Bainimaram.
According to another Lowy study, at this point in time 10 per cent of Australians say, "until we are sure that global warming is really a problem, we should not take any steps that would have economic costs." Either Mr Morrison is blinded by the surging current of political donations that are given by the Rineharts of Australia, or he's just straight-up ignorant. And in a situation as critical as climate change, the latter is incredibly dangerous.
Not only does the communiqué pushed by our leader not represent the opinion of the Australian population – 62 per cent of whom believe that climate change is the top ranked threat Australia faces today – but it fundamentally impeaches on the lives of those most vulnerable to the effects of our own greenhouse gas emissions.
In case the importance of all of this hasn't landed, here it is. Our ScoMo has severely damaged our relationship with our closest neighbours who will now increasingly be looking towards China for support, a situation which could be problematic for Australian security. He is representing a position of blind and wilful incompetence with which only 10 per cent of Australians align. Lastly, and perhaps most importantly, he has insulted and compromised our friendship with the nations of the Pacific – nations who shouldn't have to mop up our mess.
Photo credit: The Guardian (top and bottom), AAP (middle)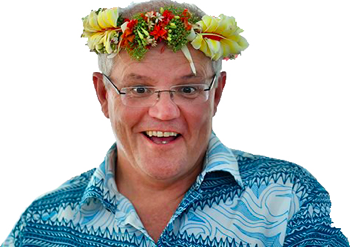 We acknowledge the Ngunnawal and Ngambri people, who are the Traditional Custodians of the land on which Woroni, Woroni Radio and Woroni TV are created, edited, published, printed and distributed. We pay our respects to Elders past and present and emerging. We acknowledge that the name Woroni was taken from the Wadi Wadi Nation without permission, and we are striving to do better for future reconciliation.