The ANUSA Probity Team recently released their report on the 2022 student election. It summarises any contentious issues in the election, such as Grassroots' announcement of their ticket in violation of ANUSA election rules and the controversy around Divorced Dads for ANUSA. However, the probity report also details each ticket's finances, and it reveals a clear correlation between ticket success and the amount of money they spent.
In summary, Grassroots ANUSA spent significantly more than any other ticket, with their actual expenditure being $1,048, followed distantly by Blake Iafeta who spent $330. Grassroots ANUSA went on to win nearly all positions for which they put up candidates, and they now quite firmly control ANUSA's executive, along with a substantial number of General Representatives. Blake Iafeta failed in his bid for the presidency, but ultimately won a General Representative slot.
Though other tickets spent money on their campaigns, it was substantially less than Grassroots, yet closer to Iafeta, as the graph above shows.
This is not to say that more money spent on campaigns must cause a better electoral result; it could be that tickets which are more committed contribute more money, but such commitment is evident to, and supported by, the student population. 
However, ticket expenditure likely plays some role in eventual success, especially when tickets dedicate most of their money towards Facebook advertisements. The graph below shows that tickets that allocated the most towards advertising performed significantly better in the election. 
This is not new in student elections, and using Facebook ads has been a common tactic for several years. Nonetheless, it could suggest that finance is playing a large role in ANUSA elections, as opposed to policy debate.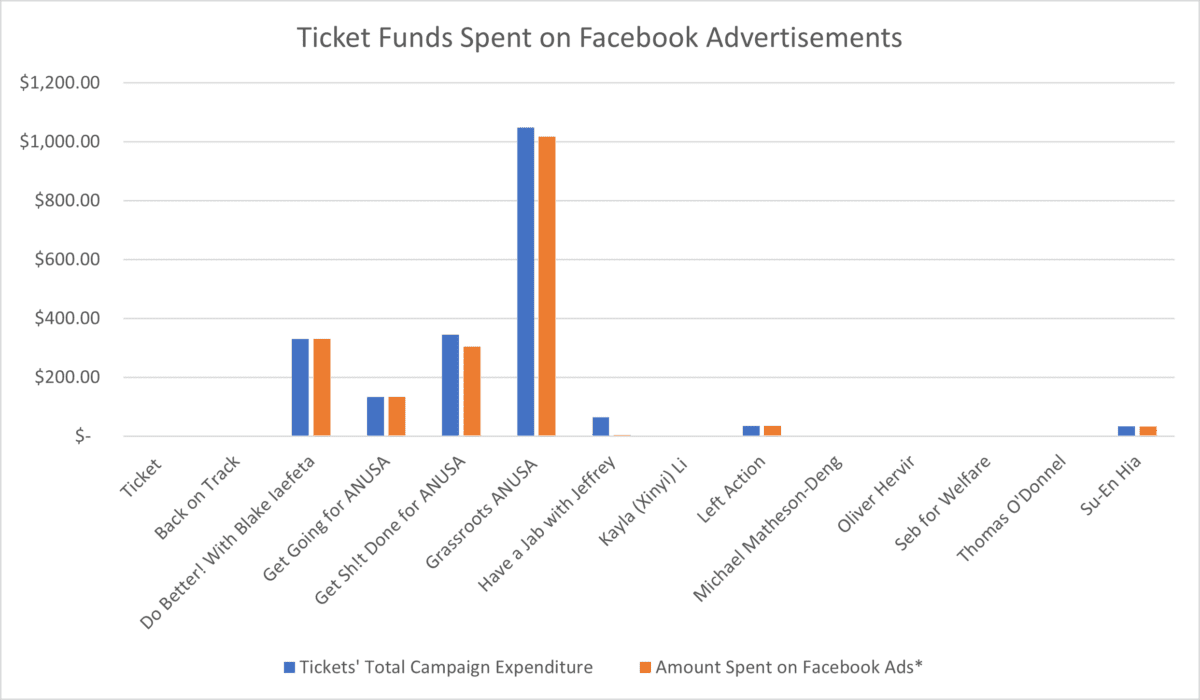 Additionally, a majority of these funds come from the candidates themselves. The highest contributors were Christian Flynn – the 2022 President – and Blake Iafeta, who budgeted $335 and $330 respectively. Each of Grassroots ANUSA's candidates for executive positions injected $65, and Chido Nyakuengama, the 2022 Vice President, contributed $200. In fact, the only ticket not to use candidate funds was Get Going for ANUSA, which relied entirely on funding from the ANU Liberal Club. This raises concerns around the accessibility of ANUSA elections: are wealthier students who are able to put more money in the ones more likely to win? Some students have echoed this concern: the General Secretary for 2022, Ben Yates, reported worries amongst polled students about how "advertising created equity issues…" in the election.
Yates' report also revealed how a major complaint from students during the election was the "…sheer quantity of campaign material." While the election is open to all, some students are not interested and where once they could avoid campaigners on Kambri or candidate debates, sponsored ads on Facebook are far more pernicious, and for some, far more frustrating.
We acknowledge the Ngunnawal and Ngambri people, who are the Traditional Custodians of the land on which Woroni, Woroni Radio and Woroni TV are created, edited, published, printed and distributed. We pay our respects to Elders past and present and emerging. We acknowledge that the name Woroni was taken from the Wadi Wadi Nation without permission, and we are striving to do better for future reconciliation.