The ANUSA Education Committee hosted a protest in Kambri on Friday 2 September in objection to the disestablishment of degrees and courses in the College of Arts and Social Sciences (CASS). 
Speakers from ANUSA, the Education Activism Network and the National Tertiary Education Union (NTEU) condemned the ANU's approach to restructuring, as an audience of approximately 60 chanted and bore signs of support to teach better, rather than less. 
The protest follows recent announcements that from 2023, several undergraduate CASS degree programs will close to new enrolments. Closing for new enrolments means that the degree has been cut, but that the courses themselves remain.
Such courses include Development Studies, Archaeological Practice and Middle Eastern and Central Asian Studies. Students studying Public Policy and Art History and Curatorship also expressed concern that their degrees might be removed.
Between the shouts of "No cuts, no fees, no corporate universities!" and "1,2,3 and a bit, Brian Shmidt you're full of shit!", ANUSA Education Officer, Beatrice Tucker, called for an end to restructuring. Tucker wants a restoration of pre-COVID-19 course numbers and teaching levels and greater dialogue with students in determining academic changes. 
Students expressed anxiety at how future streamlining of degrees into Arts majors might incur a further reduction in courses and limit their ability to complete their studies. As CASS student Hugh stated, "It's already hard enough."
Some students reported having received no formal communication from CASS about the disestablishments they suspected could affect their degree – rather finding out with much uncertainty from ANUSA or by word of mouth. 
Others, such as those studying the Bachelor of Development Studies, received an email from CASS in late August claiming that it will have "no effect" on current students, and acknowledging that communication regarding the matter "could have been better."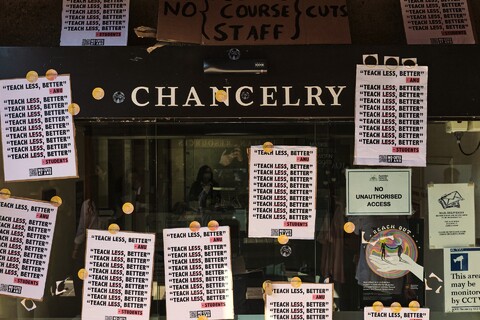 An ANU spokesperson asserted that the university is not cutting any staff or courses in these disciplines. They guaranteed that "any claims otherwise are simply incorrect and ignore the facts: more staff, more courses, [and] improved options for new and current students."
Speaking in support of the student protest, however, ANU employee and NTEU branch committee member Sinead Wilson cited the reduction of 467 jobs in the past two years. With 529 courses disestablished since the beginning of the COVID-19 pandemic, Wilson argued that the ANU's staff and course additions were not enough, and were needed to maintain courses after preemptively cutting too much.  
ANUSA argues that cutting a program is the ANU's first step in cutting courses "quietly" by no longer offering them. Under a BARTS, students need only complete 48 units (eight courses) as opposed to specialised degrees which often require 144 units in the field (one to two majors and minors, with some electives). This could allow the University to offer less courses but still have enough to satisfy a BARTS – which is what ANUSA thinks will happen. 
The ANU, however, is resolute that "There is absolutely no question about the continued offering or the University's commitment to these disciplines." 
ANUSA CASS student representative, Charlotte Carnes, criticised the communication of CASS Associate Deans. She claimed that student representatives were powerless, outnumbered and infantilised in meetings, and encouraged protestors to "kick and scream" for change. 
Wren Somerville, a member of the Education Activism Union called universities "…businesses [that] want to make a profit…" and reframed the university dynamic as: "Students are the product, employers are the consumers."
The ANU argues that the changes will allow CASS to "focus its energies" into providing quality teaching, reliability, and flexibility in these disciplines – affirming their "ongoing investment" and commitment to the affected areas of study. 
There also remains the question of whether students want specialised degrees or a BARTS model. Some students see ANU's specialised degrees as a strength that sets it apart from other universities, and which helps to avoid the stigma against a Bachelor of Arts.
After the speeches, the protesters marched to the Chancelry, placing protest posters at the doors and posing for a group photo, before vowing to return.
UPDATE: This article was amended to include Wren Somerville's comment.
We acknowledge the Ngunnawal and Ngambri people, who are the Traditional Custodians of the land on which Woroni, Woroni Radio and Woroni TV are created, edited, published, printed and distributed. We pay our respects to Elders past and present and emerging. We acknowledge that the name Woroni was taken from the Wadi Wadi Nation without permission, and we are striving to do better for future reconciliation.