Secret societies touch our imaginations to the core of being. The Greeks would watch the baffling ascension and grace of the sun across the sky and imagined a world of Gods. It was the chariot of Helios, they imagined, that drove across and illuminated the sky every day from the east at dusk to the west at dawn. When a symbol of an eye and a rumour of global political control – helped along by the parabolic imagination of the internet – is presented to us, we imagine the Illuminati. I always saw secret societies as a somewhat overdone plot device on two-season Netflix series, or online threads that ended in Queen Elizabeth being a, I believe it's called, "Lizard Overlord". I was eighteen when this grounded conviction was blown in the air. It started a four-year long curiosity and concluded with this article. It started with the Kanye Appreciation Society (KAS).
Before I introduce the nature of this investigation, the story of my awareness of the Kanye Appreciation Society is essential to grasping the importance of this investigation. In the brisk months of winter holidays I had found myself at ANU for a scholarship interview. A group of us were led through the stepping stones across Sullivan's Creek by a third-year student. It seemed that the earth stood still where she walked and spoke to us gracefully about the Canberran way of life on the Acton campus. She answered the typical questions about finding work, the debaucheries of Thursday nights and the (perhaps unfounded) stereotypes of each residential hall and college. When asked about student societies, she gave the quintessential spiel – there's something for everyone – ending provocatively with,
"There's even a Kanye appreciation society!"
I looked up from the grass and chuckled at the delightful ludicrousness of such a society existing. To the best of my memory, the conversation went something like this:
"No one knows who runs it…" she smirked, and my eyebrows raised.
"They only have one party a year where they listen to Kanye music for 12 hours straight, and apparently it's wild."
"Have you been to one of their parties?" I asked.
"No, it's invitation only. I've heard that they slide invitations under people's doors."
"How do you get an invitation?"
"I don't really know – you just have to be a big name on campus."
And that was it. A society with unknown members, insane parties with an exclusive and elusive guest list, and a goal for my social aspiring seventeen-year-old self: be a part of the Kanye Appreciation Society.
When I eventually began my career at the ANU in 2020, I would every so often ask a more senior fellow resident of my college about the society. I developed a new sense for young people who oozed underground coolness, with the natural charisma and socialite attitude that would get them into Berghain or an exclusive university party. The answer was always the same: I haven't heard of KAS.
When I had no clearer understanding of KAS by the end of my first year, I convinced myself of either one of two conclusions. One, the society had died by the time I arrived at the ANU. Two, the sacredness of the society's parties was so profound that I – a lowly first-year – had no chance of finding out any information about them. I then concluded that if I ever wanted to be invited to this event, asking every man and his dog about its existence was a sure-fire way of not getting an invite (a teleological paradox of sorts). Two years of university, a global pandemic, and an epics' worth of Kanye West tabloid drama passed when the origins of this potentially secret society became a little clearer.
In 2015, Vihan Patel writes a piece for ANU student magazine Woroni titled: Why We Need To Appreciate Kanye West: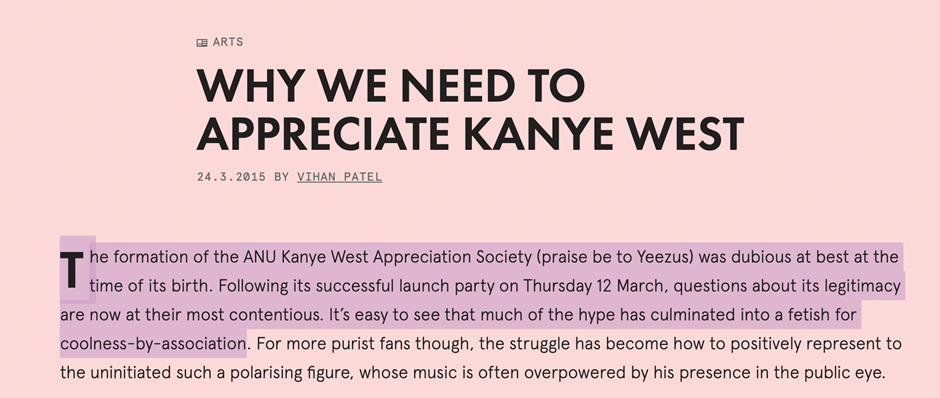 This was the first confirmation that the society had existed at all. While the rest of the article detailed a critical reflection on Kanye's cultural impact, there were some key phrases and nuggets of information which jumped from the flamingo pink screen:
dubious
legitimacy … contentious
… hype … fetish … coolness-by-association …
We had a beginning date for the society, as well as the inaugural occurrence of their rumoured rampageous parties – Thursday, 12th March, 2015. However, the date did not simply suggest a beginning, but a society in its infancy that  was very much aboveboard, well-known, and discussed amongst the student body. At the ANU, clubs and societies can officially register with ANUSA – the peak student representative body – to receive benefits such as finance and insurance. To be an affiliated club is the antithesis of being a secret society, but Patel's article was not the only cyber paper trail suggesting that KAS began as an affiliated society.
A 2017 post on popular student Facebook discussion group ANU Schmidtposting by the Brian Kenyon Student Space (BKSS) listed KAS as a society needing to collect their mail from BKSS: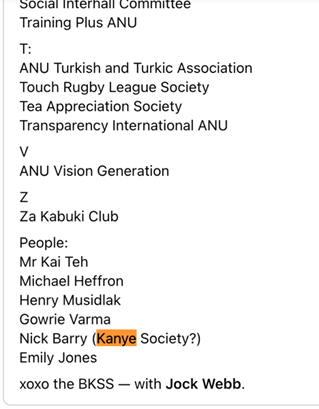 Finally, there was a name to the society: Nick Barry. Perhaps he was one of the leaders of the society, given that he had letters attributed to him on behalf of the KAS. While I'm sure this Nick Barry was a real, living, breathing student just like myself, there was no trace of someone by that name attending the ANU in 2017 on LinkedIn. What bewildered me more was the question mark – 'Kanye Society?' Clearly the author of this post associated Nick Barry with the KAS, yet by 2017 their organisational structure was as dubious as the society's formation. The words of Patel kept circulating in my attempts of deciphering the origins and continuations of KAS:
Dubious
Contentious… legitimacy
Hype
Fetish
Coolness-by-association 
I began constructing a timeline for the KAS. From 2015-2017, there were the The Golden Years. These were years defined by the society existing as an – albeit shakily – associated club with ANUSA, where it enjoyed a great degree of headspace in the collective consciousness of campus discourse. I found memes about KAS running for ANUSA, KAS providing a financial plan for the university, and everywhere I looked, there was a sentence that kept coming up. From Woroni, the College of the Arts and Social Sciences website, and just about any online publication about clubs and societies at the ANU between 2015-2017: "… and there's even a Kanye West Appreciation Society!"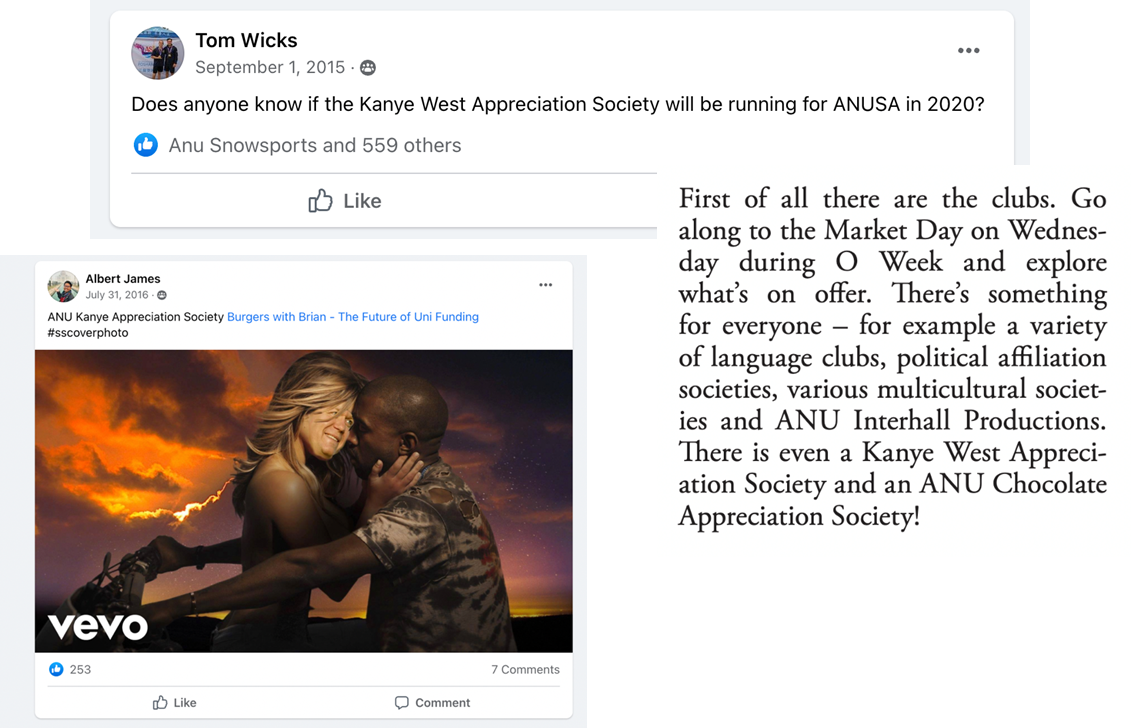 Apart from these mentions, I couldn't find any human memory of the KAS. When my list of older campus contacts was exhausted, my desperation for information culminated in my purchasing of a LinkedIn premium account so I could message individuals who I believed to be connected to the society.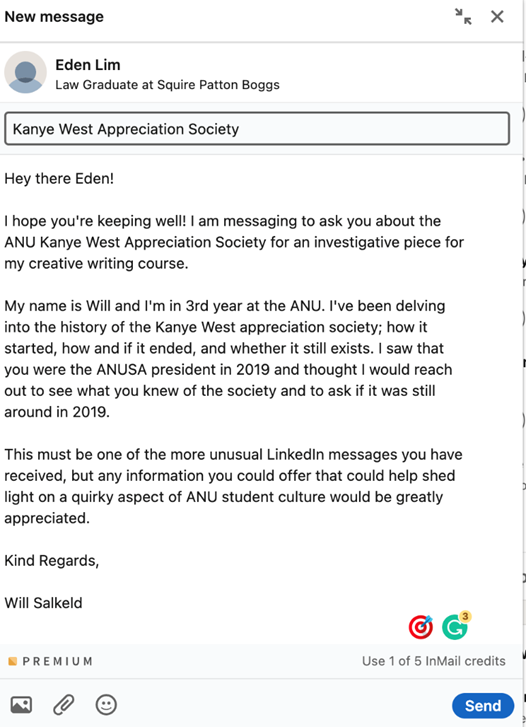 Eden never responded.
The prospects of finding a first-hand account of the business of KAS were looking faint. There was only one contact that I knew, for certainty, who had knowledge about KAS during the golden years. After messaging a mutual friend her description – third year in 2018, Tuckwell scholar, North American accent – I finally had a name for the person who sparked my intense curiosity for KAS: Kate X.
At first, it seemed that Kate knew little about KAS other than rumours about a party that caused damage to UniLodge in 2016/2017 (which I later learned to be the work of an ironically opposing club, the Drake Appreciation Society). I was stumped and ready to retire this piece. A couple of hours later, however, Kate had found some messages to a friend she had sent in 2016:

 Whatever woes Kate had in trying to infiltrate KAS, they must have been resolved. She forwarded me an email which would become the first official KAS correspondence I had laid my eyes on.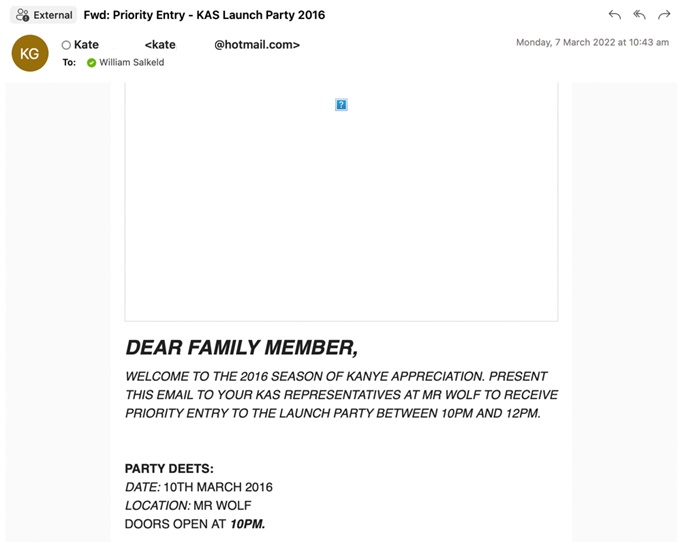 The original KAS email was dated Wednesday, March 9, 2016. The email and Kate's messages to her friend – approximately 6 years ago at the time of writing – confirmed that KAS was operating as an official club in 2016 and that their legendary launch party from 2015 enjoyed a sequel in 2016. But like before, it was not the dates or the ANUSA association status that caught my eye, but the language of the email and message once again alluding to the phantom nature of the society:
BIG SECRET… it's like a cult
DEAR FAMILY MEMBER
… priority entry…
…KAS representative…
Whether or not KAS ever ran as a secret society (and I was beginning to think that it was unlikely), what had become clear was that, at least through the lens of Kate X, the society was not open to everyone.
With many of the questions I had about KAS being answered, I decided to unleash my final doomsday-scenario flick-the-switch last-resort tactic: make a post on Schmidtposting asking the all-encompassing ANU community if they had ever come across this bewildering society.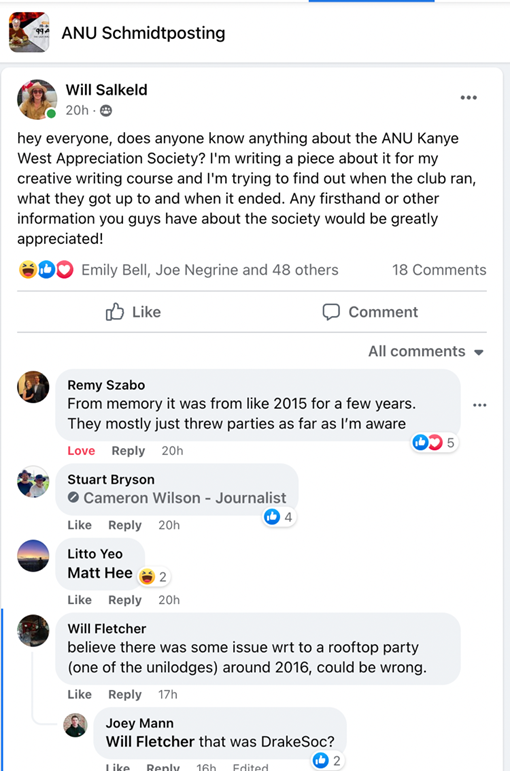 Cameron Wilson – Journalist. There was a certain gravitas with the tagging of that name, a certain 'I know something you don't' to it. My suspicions were proved correct when Stuart Bryson confirmed that Cameron Wilson – now a journalist for online Australian media platform Crikey – was one of the founding members of the Kanye Appreciation Society.  
From Stuart's perspective, KAS was a "a bit of a tongue in cheek group" which was mainly a "shitposting thing." They had fake beef with the Taylor Swift appreciation society and belonged to a larger swell of ironic ANUSA political tickets including the Campus Ducks and Campus Quacks. Stuart passed on my details onto Cameron and, on a particularly dusty Friday afternoon for myself, I had a call with Cam.
On speaker phone at a park bench under the leafy shade near ANU's law building, I spoke to Cam for the first time. A journalist at Crikey, and a Twitter heavy-hitter with over 22k followers, he called from his home in Sydney while in isolation after testing positive for COVID-19. A busy man by all indicators, he chatted frankly and casually. He had been '… at ANUSA, I had been the president there [in 2014] and my girlfriend at the time, now wife – which is crazy to say because we got married two months ago." Their experience in ANUSA had meant they knew the way they could get the most funding for a club or society. Gowrie Varma, Cam's wife, had served as the general secretary for the students  association in 2014. Near the end of their reign at ANU and time on ANUSA, they just wanted "… to have parties, to have a good time." From this desire, the idea for KAS came from Gowrie, and with the experience and hard work of two veteran students; Cam ran the socials, and Gowrie was the true mastermind of the operation.
He was quick to separate himself from the current day questionable character of Kanye, and rightly so. The society was, in his words, barely an appreciation society; rather, it was fun because it was so 'whimsical.' Facebook had been around for nearly a decade, but KAS used social media in a way that brought people together through memes and an online community.
Students wanted something else out of their university experience. They wanted to have a good time – and the parties that KAS threw were pretty big. In the O-Week of 2015 they spread hype online and on Market Day for their launch party at newly opened Mr. Wolf (now One-22), and the line to gain entry went around the block. A special $2.50 cocktail that Mr. Wolf concocted for the night – 'Blood of Yeezus' – was so popular that it became a staple of Thursday nights at the club. Cam describes KAS as 'extensively stupid,' but it was a beacon of the power of students to organise and oversee something whose meaning came from its meaninglessness.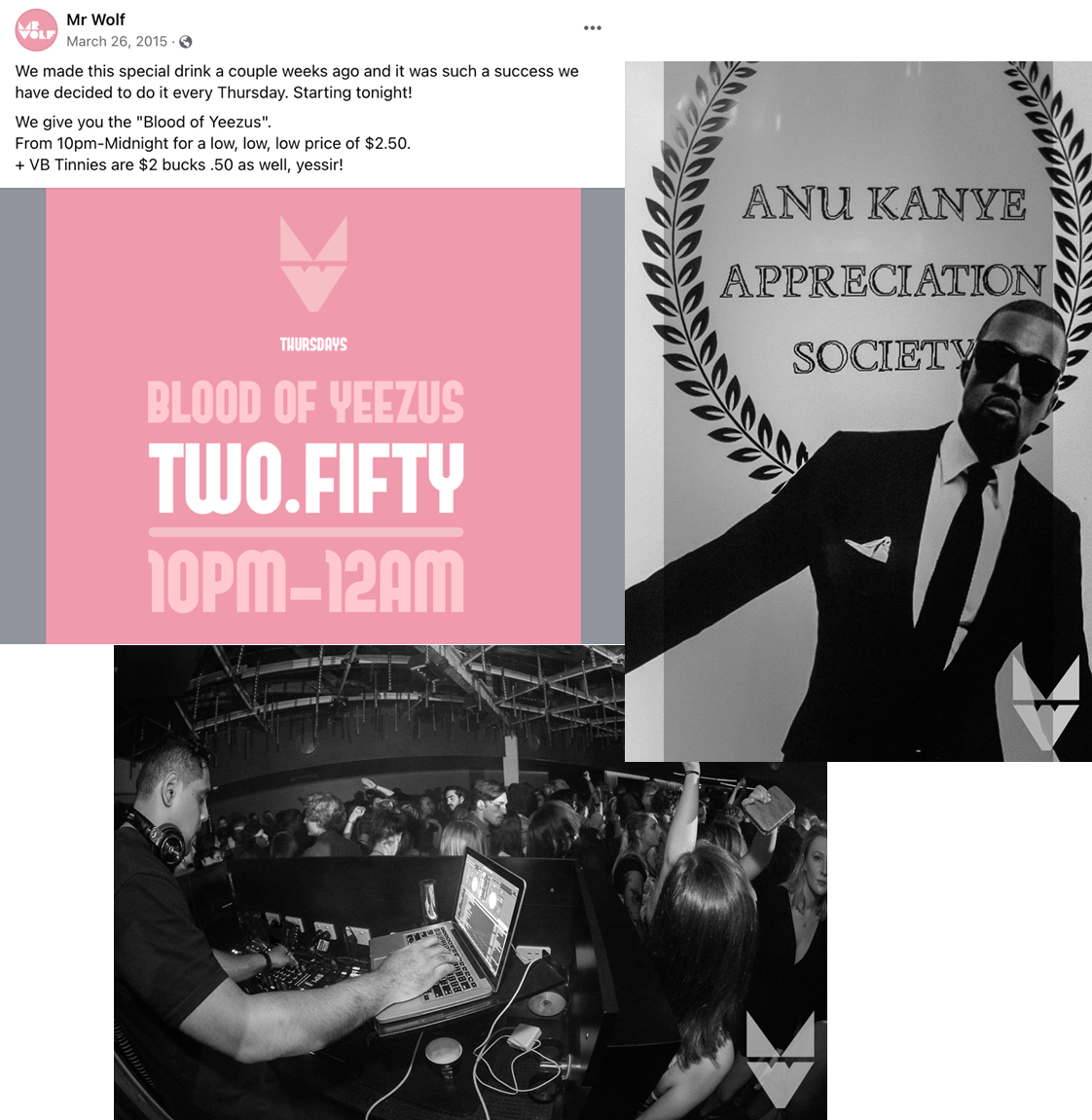 Having discovered the identities of the two founding members of KAS, there was a sense of finality to this investigation. The ANU Kanye Appreciation Society was founded in 2015 by Gowrie Varma and Cameron Wilson as an extended joke – a shot of irony and culture into the student community – with the goal of using ANUSA funding to organise massive parties. In this investigation I had set out to find the underground founders of a secret society whose coolness, I theorised, would only be marred by their appeal to exclusiveness to attain that said coolness. Instead, I found a chapter of a love story and a snapshot of student politics and culture during the mid 2010s.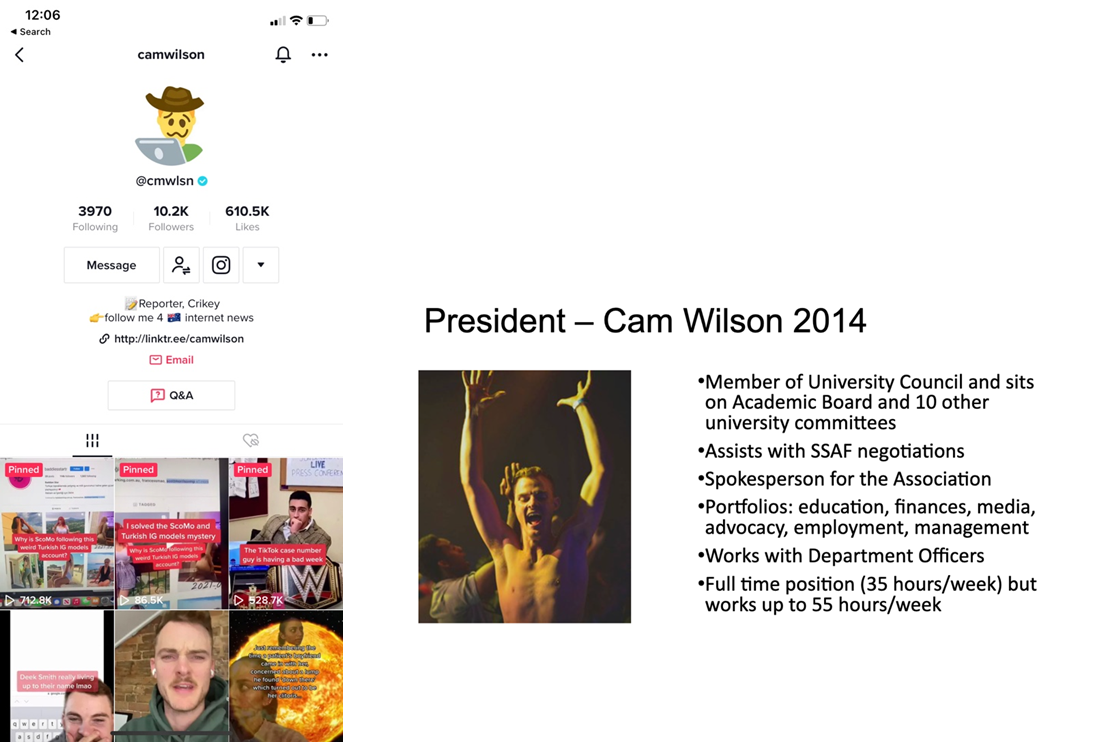 Cam gained a full-time job in 2015 and KAS soon became a background project of his. When they graduated, Gowrie and himself handed the reigns over – but they couldn't remember who to. Yet, Cam's story had satisfied all unresolved questions I had concerning the society.
There is no evidence that the society survived the student cycle beyond 2016. Any secret KAS that existed beyond 2016, which I am doubtful of (at best), has no connection to the original Kanye Appreciation Society. The society was not secret; it was not intentionally exclusive; its existence, purpose and activities had been explained, and I knew who started it. If Cam and Gowrie's story hadn't been as surprising as it was, I may have been disappointed with the end of my investigation. All that was left was to dissect my own fascination with the society and reflect on my four-year obsession.
My intrigue into the Kanye Appreciation Society was, above all else, a case study in the power of the unknown and the just-out-of-reach. I now suspect that most supposed secret societies, from the Illuminati to KAS, are just the manifestations of the imaginations of the unwilfully-ignorant looking in from the outside of these in-groups. There is a crack of light through the door that entices you to open it and imagine the splendour of the other side. Even if the version of KAS I initially believed in happened to be true, I don't think I would be as obsessed with gaining membership as I once was. To quote my favourite sit-com, Community, "Purity that demands exclusion, isn't real purity. I think paradise is a lie."
The Kanye Appreciation Society had some of the characteristics that I had imagined at the beginning of this investigation but was by no means the secret society that I had let my imagination run away with. There will be no invitations slid under the door. Just as the sun was not a Greek God riding across the sky, the Kanye Appreciation Society – while being many things – was not a secret society. It is now my pleasure of passing down campus lore as Kate did to me and my group. The student life-cycle moves on and every year the cultural events in Acton are gradually mythologised. 
We acknowledge the Ngunnawal and Ngambri people, who are the Traditional Custodians of the land on which Woroni, Woroni Radio and Woroni TV are created, edited, published, printed and distributed. We pay our respects to Elders past and present and emerging. We acknowledge that the name Woroni was taken from the Wadi Wadi Nation without permission, and we are striving to do better for future reconciliation.