"I have never been with an Asian before." Naively, being young, I was flattered and excited. At this age, everything new seemed exciting, and this was one of my first nights out in the big city. My friends and I paid a grand total of $10 for a ticket to a local rock band in the Metro Theater in Sydney's city center, and I was having the time of my life. It was the middle of spring, where the heat of an Australian summer looms over you with a cloud of humidity, and the smell of sweat tickled my nose in the dark concert hall.  
My friend and I were wearing scraps of patterned fabric under the guise of clothes, and hands were everywhere. I don't remember the details of his face, only sandy blonde hair and brown eyes that I had to crane my neck to see. He was wearing a flowy buttoned shirt and the many rings that adorned his fingers felt red hot on my stomach and arms. We danced the entire night, and I felt like a real teenager: away from the monotony of studying, swimming after school and working at the pool on the weekends. I was peppered with compliments, so new and thrilling, in my ear under the haze of twanging guitar and crashing drums. When he did kiss me, it felt like my insides turned into liquid gold and I couldn't stop smiling. I don't remember much else from that night, but I do remember being crushed inside a toilet stall and being told that I was the first Asian he had ever been with. "This is so cool," he said. "You're not like other Asians," he said.  
I grew up in a community where most people looked like me, and my race was never a big issue. I was lucky in this regard, as that was one less thing to worry about. Dating, as a result, seemed unencumbered by this cloud of race. I was fortunate in my later years to go to schools outside of my area and closer to the city, where I became more acutely aware of race. I became aware of how different I looked to my friends and even how different I looked even to other Asians.  
The beauty standard in Asia is light-skinned, with long dark hair, and lithe and slightly Western features. My grandma always chastised me for getting golden tanned skin in the summer, for leaving my unruly hair out, and for building muscle. Learning to embrace my features was a journey, and it's made difficult with the unattainable beauty standards in Australia and Asia constantly in flux – you just can't ever win. I am aware that I am over-generalising the complex landscape of beauty standards in Asia. But my point is that I didn't satisfy them. I also didn't satisfy the Australian beauty standard – it was impossible for me to. 
But there I was, sitting in this bathroom stall with this strange man in front of me telling me how cool it was that I wasn't like other Asians, how cool it was that I was Asian… It felt like a breath of fresh air. Of course, that's not what he meant – he meant it was cool that he got to hook up with an Asian. I'd like to think that I'm not the worst hook-up in the world, but looking back on this particular instance, all I needed to satisfy his criteria for a good hook-up was to be Asian, nothing else.
I did happen to see him at another concert, and he was with another Asian girl. I felt cheapened, like another token to be collected and added to the memory. I wonder if I was actually his first Asian hook-up, and then I wonder if that really matters. The fact of the matter is that my attractiveness and sex appeal are so intrinsically intertwined with my race, and I guess for some people, my race is all that matters. Later in life, I got a number of other odd comments in the realm of sex, concerning my exoticism and the novelty of being Asian in such spaces. But this was the first, and it really set the tone. Even the Hollywood Trope is well established. In the 2010 film 'The Social Network', Andrew Garfield portraying Eduardo Saverin, one of the co-founders of Facebook declares "It's not that guys like me are generally attracted to Asian girls, it's that Asian girls are generally attracted to guys like me."
The first time my partner appeared on my BeReal, an acquaintance commented something along the lines of "another hot asian girl lost to a musty white man." There are many things to say about relationships, but to be boiled down into a simple and overplayed trope was, again, cheapening. There are many things I could say about them, but their race would not be the first because it isn't (and should not be) their defining feature. I was quite offended to have commentary on my relationship, but even more offended when people defended them – they're nice they didn't mean it like that, they're right you know you've become a statistic. To defend themselves they stated that it was a joke. But I couldn't help but wonder who was meant to be laughed at, because it certainly felt like I was the person stupid enough to fall into such a stereotypical relationship – just another Asian with a white man. 
My sister, always the first to critique my relationships and keep me grounded, was oddly composed. "What does she seek to gain from that sort of commentary?" Really, what is being gained from this sort of superficial commentary? Does it add anything to the cause for liberation? Does it add anything to the conversation about fetishisation, or does it just insert fetishisation into an interpersonal relationship where it has no reason to be?
As I get older, I no longer accept comments about my race in the realm of sex as flattery –  because it's not. There are many things to say if you would like to compliment someone to create intimacy. Why don't you compliment my eyes, or my haircut, or my clothes? Why don't you tell me I'm funny and that you like my music? Why don't you say anything else, because complimenting my ethnicity is not a compliment. It's fetishisation, especially if it is considered a novelty to be intimate with a person of colour, for the very feature of their race. 
Originally published in Woroni Vol. 72 Issue 5 'Cum As You Are'
Think your name would look good in print? Woroni is always open for submissions. Email write@woroni.com.au with a pitch or draft. You can find more info on submitting here.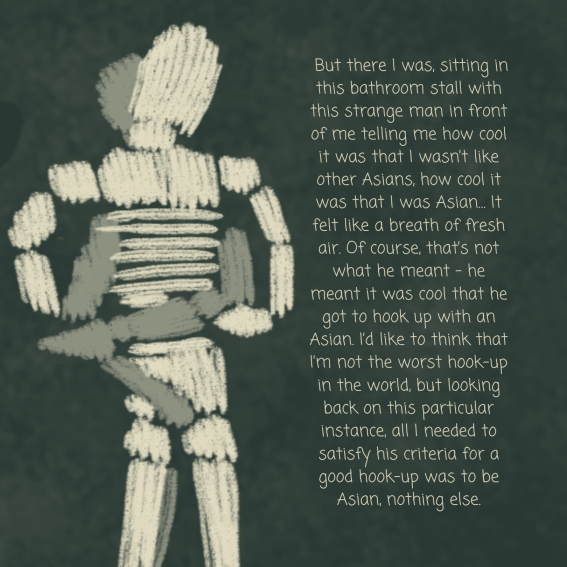 We acknowledge the Ngunnawal and Ngambri people, who are the Traditional Custodians of the land on which Woroni, Woroni Radio and Woroni TV are created, edited, published, printed and distributed. We pay our respects to Elders past and present and emerging. We acknowledge that the name Woroni was taken from the Wadi Wadi Nation without permission, and we are striving to do better for future reconciliation.