Niroshnee Ranjan writes about how we need to speak our truth to dismantle white supremacy at the ANU. This piece is the first of many in the Are You Racist ANU? x Woroni series in association with the ANU BIPOC Department. Want to write for the series? Email anuethnoculturaldept@gmail.com with a pitch or draft.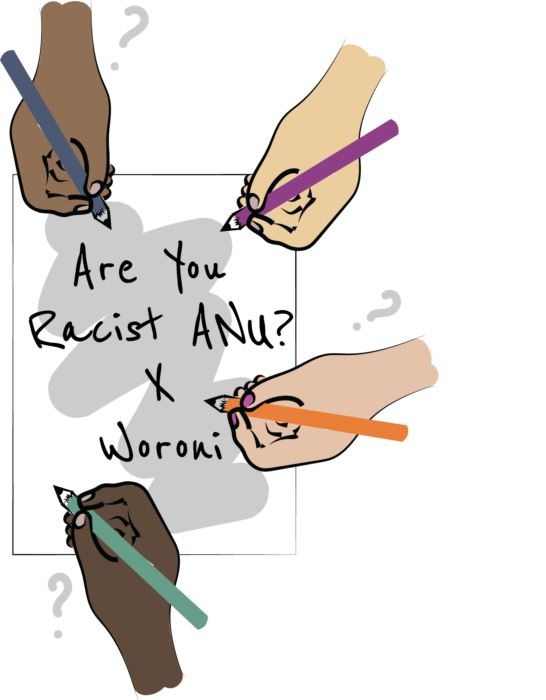 Last Friday, the ANU BIPOC Department launched their Semester Two campaign Are You Racist ANU?. If the name doesn't speak for itself, let me tell you that this will be the most confronting anti-racism movement ANU has seen by far. The motto of this campaign is to 'Speak Your Truth'. At its core, this campaign is about weaponising the power of storytelling to dismantle white supremacy at the ANU.
When having to witness the severe lack of minority representation in ANU academia, to non-critical representations of historical figures on campus grounds or even ANU's lack of anti-racism resources and training, one thing remains clear above all. This university is not free from the clasps of white supremacy. And this is just the tip of the iceberg.
Some may think this is a new wave of identity politics. It's not. The movement intends to empower members of the Ethnocultural community at the ANU to 'Speak Your Truth', or in other words, tell their story.
Unfortunately, there is no hiding the emotional labour that comes with telling one's story. Being oppressed, let alone finding the words to explain that very oppression is a mentally exhausting task. As writer and academic Toni Morrison says, "The function, the very serious function of racism is distraction. It keeps you from doing your work. It keeps you explaining over and over again, your reason for being…"
Thus, telling your story can very easily turn into having to prove your experiences with racism. This constant need to not only justify yourself but  also having to verify the anti-racism movement for the white gaze is dehumanising to those who are oppressed by racism in the first place. It is one of the underlying reasons for the disempowerment of minority communities in their fight towards an anti-racist world. If only we could all just say, No Karen, this isn't the Oppression Olympics. These are my experiences and I can speak about them in any way I want to. It's a privilege to listen to the stories of racism without ever having to experience racism in the first place.
So,  what is the point of speaking your truth? 
In the white, patriarchal, capitalist society we live in, racism is both explicit and implicit. It is the very nature of this white, patriarchal capitalist society that associates racism with isolated incidents of harassment and abuse, diverting attention away from the structural nature in which racism infiltrates our institutions.
The only way we will actually start seeing it, is if we speak our truth.
For instance, I spent the last two years of my university education living in a residential college that was predominantly white. I was very lucky to find my clan both inside and outside of college but when I had to interact with the rest of the college community, I would put on my 'white voice' and hone my 'white personality'. The dual nature of my identity and interactions with those at my residential college went unnoticed not only by those around me but also by myself. That was, until it was pointed out to me by my friends and I began to see that the very nature of white supremacy ingrained in the institution I called home, was to make you believe that this was the norm. You are led to believe that there is no room for imagining what a anti-racist residential college could look like in a world running rampant with racism and white supremacy.
It wasn't until very recently that I confessed to my white friends about this duality in my nature. They were shocked to hear what I had to say. Understandably so, for when one hasn't borne the brunt of systemic racism in the first place, how could they know how it feels to be oppressed by the very institution we all called home? However, they know this is how I feel now, and their rose-coloured glasses have been tainted by the harsh realities of the world as we minorities see it.
This was a positive experience of speaking my truth. But there is a fine line between speaking your truth in this way and having to explain yourself and 'prove' your experiences with racism all the time. The difference is, that by speaking your truth, you are weaponising your agency as a person, whilst also sharing your experiences for the benefit of others. But most importantly, for the benefit of yourself.
Truth is not only born from the fact that you are telling other people about your story. Truth is also born from the fact that you are sharing your story on your own terms, and are consequently carving out an anti-racist, white-supremacy-free niche for yourself in this world. 
You are forced to seize your own place in this world by engaging in a process of disidentification. This is a term coined by Cuban American academic, José Esteban Muñoz, that encapsulates how marginalised performers and artists negotiate the dominant culture by neither identifying with the dominant ideology, nor rejecting it. Instead, they adopt a disidentificatory category wherein they harness the tools made available to the so-called majority to effectively speak their truth. In doing so, one enacts permanent structural change in this world, whilst also valuing the power of the individual experience.
You can enact this change. All you have to do is speak your truth. 
Speaking your truth will allow you to bring to light the complexities that underlie the creation of the ethnocultural community at the ANU in the first place. In a world where minority communities have  to look to one another for safety and comfort, these communities can often be mistaken for thriving simply off a sense of relatability. Let's take Subtle Asian Traits for instance. The content shared on this groups is mostly for the pleasure of being #sorelatable. The dawn of millennial immigrant culture is sharing memes that humour the immigrant experience in a way that brings together an online community of Asian diaspora around the world. Although Facebook groups like Subtle Asian Traits are beneficial to minority communities, we are so much more than that. There is unseen beauty in the intricacies underlying our identities which are often misunderstood or cast aside as unimportant. 
But let me tell you, they are important.
I think it's only fair if I use an example from my own life to explain what that means.
As a Sri Lankan Australian who speaks Tamil, often when I speak about my heritage to my friends (white or not), their thoughts immediately go to the civil war or the Liberation Tigers of Tamil Eelam (LTTE). I'm pretty sure your thoughts just did. What's interesting about being Tamil and having lived in Sri Lanka for seven years is that there is so much more to being Tamil in Sri Lanka than just anecdotes from the civil war. In fact, there are two sub-groups of Tamils living in Sri Lanka who deeply differ from one another on the basis of the dialect of Tamil they speak, the cultural practices they engage in, the food they eat and how kinship manifests itself within their communities. They are colloquially referred to as the 'Sri Lankan Tamils' and 'Indian Tamils', and I belong to the latter. This can be attributed to the different migration patterns of Indians who moved to Sri Lanka all those years ago.
The only time those nuances actually come to light is when I meet a fellow Sri Lankan Tamil, and we get talking about which part of Sri Lanka our families are from. Somewhere in our conversation, one of us will always ask the other, So, are you Sri Lankan Tamil or Indian Tamil?, even though both of our families had lived in Sri Lanka for so many years. This simple question is a moment of welcomed relief in a world eager to categorise your sense of self and also one of mutual understanding about the apolitical nature of our identities. 
However, due to the sparse nature of the Sri Lankan Tamil community at the ANU, most of my time is spent with my friends whose ancestry descends from other South Asian countries like India. Although I have no problem doing this, I spend more time partaking in their culture than my own. There are definitely many similarities when it comes to the different cultures found in South Asian countries. Yet, the complexities of my story, like that of many others, still remain stark as ever.
 It's complicated. I know.
Speaking your truth is just as much owning up to the bad as showcasing the good. Growing up in a conservative family, I have actively partaken in endorsing the colourist attitudes of my light skinned family members. When I met my baby brother for the first time, the first thing I said was, 'Why is he so black?'. I was five and even then, white supremacy had taken over my biases. 
However, the power of the anti-racism movement lies in being able to unlearn those biases that are both visible and invisible in their own ways. I'm on a very long journey to dismantling internalised white supremacy but the least I can do along the way is speak my truth in the process of it all. 
Nevertheless, my truth in many ways, is still one of privilege. For it is masked by the niceties of my skin colour, socio-economic class and model minority status. I am not black. Nor am I Indigenous. I don't face the same extremities of oppression and blatant fear for one's life that my peers do. I will never truly understand how it feels as I too am on stolen land. But I can provide a platform where they can speak their truth, whilst I speak my own.
Perhaps you read this and noticed how I speak my truth. Perhaps you didn't. 
Maybe this piece will convince someone else to do the same. Maybe it won't. 
Reading this piece will definitley make someone feel uncomfortable. But isn't that the point of it all in the first place?
It's time we make people uncomfortable when speaking about racism at the ANU. 
So, will you 'Speak Your Truth'?
Niroshnee Ranjan is a third year Law and Anthropology student and also the Deputy Officer of the ANU Ethnocultural Department. You can find more of her speaking her truth here.
Think your name would look good in print? Woroni is always open for submissions. Email write@woroni.com.au with a pitch or draft. You can find more info on submitting here.
We acknowledge the Ngunnawal and Ngambri people, who are the Traditional Custodians of the land on which Woroni, Woroni Radio and Woroni TV are created, edited, published, printed and distributed. We pay our respects to Elders past and present and emerging. We acknowledge that the name Woroni was taken from the Wadi Wadi Nation without permission, and we are striving to do better for future reconciliation.