We are not facing a climate crisis that is imminent in the distant future. But we are in the middle of a climate catastrophe as we speak. While here in Australia, much as in the rest of the Global North, we convene in siloed conferences and policy forums; discuss climate resilience and mitigation in hallowed halls and ivory towers; deliberate on what the future may hold in a still distant 2050 – a future with a projected global warming of 1.5 degrees Celsius – for millions of people across the world, 2050 is already upon them.
One-third of Pakistan has been submerged in the recent catastrophic floods. Between June to August this year, Pakistan's southernmost provinces faced a 400 percent increase in their average monsoon rainfall. In addition to this, Pakistan is home to 7200 glaciers, the largest number in the world outside of the polar regions. Rising temperatures due to global warming are accelerating the Himalayan glacial melt in Pakistan at a much faster rate than previously anticipated by scientists.
Just in the recent catastrophe alone, 33 million lives were affected – more than the total population of Australia. This includes 16 million children, and 650,000 pregnant women without access to proper health services, with much of the infrastructure devastated. Four million acres of farmland has been destroyed, causing an acute crisis of food insecurity, and large swathes of the country are still underwater. While it has been estimated that the waters will take six more months to recede, the flood-ravaged lands are becoming breeding grounds for water-borne diseases – cholera, malaria, dengue – while experts warn the coming of a "second wave of death and destruction."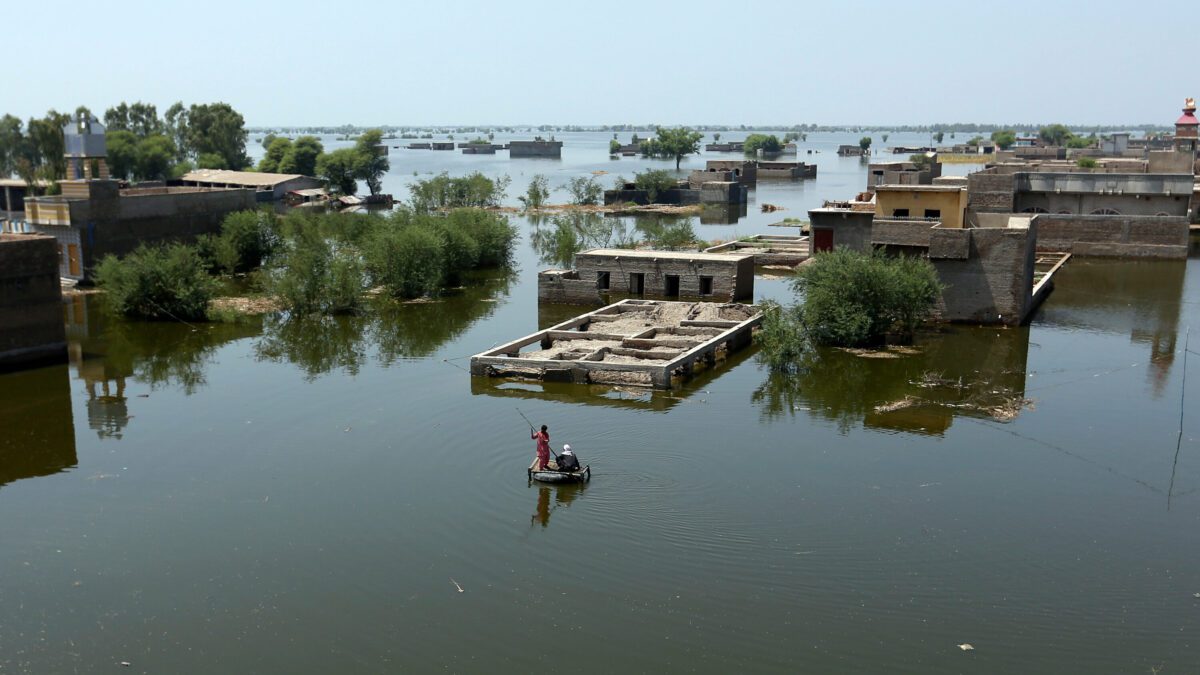 Pakistan merits our attention for the sheer injustice of its people facing the worst brunt of climate catastrophe, while the country's global share of carbon emissions is only less than 1 percent. An injustice that is compounded by a severe debt burden of $130 billion and crippling International Monetary Fund (IMF) conditionalities, including taxes on oil and electricity, at a time of an unprecedented disaster. Or the entrenched effects of colonial and imperial entanglements that relegate the country to a 'no man's land' – whose worth is dictated merely by imperial interests and 'strategic' relevance to the Global North; and whose calls for immediate debt relief, as demanded by the Pakistani activist community, are drowned out by racialised tropes of 'violence' and 'danger'.  But Pakistan is also a glimpse into our collective future – a symbolic front for our advocacy as a country that is already 'ground zero' for the climate catastrophe and exhibiting the impact of the dreaded mark of 1.5 degree Celsius.
In this context, we are fast approaching the 27th Annual UN Climate Change Conference of Parties, or COP27. Previous conferences settled upon emissions reduction agreements as outlined in the Kyoto protocols or the Paris Agreement. Not only have these agreements been inadequate but they have also allowed governments to perpetuate climate vandalism through an ostensible facade of seeking climate solutions. Greta Thunberg called last year's COP26 conference in Glasgow more of the same "blah blah blah". She called for protests around the conference to reject the same old greenwashing, saying that "our hopes and ambitions drown in their empty promises." The nature of the current climate catastrophes, if anything, expose the hollowness of such initiatives. Even if governments fully adhered to their emissions reductions as agreed upon in the Paris Agreement, the world would still reach apocalyptic levels of climate catastrophe everywhere in the coming decades. A worsening of the disastrous effects is already being felt.  
The upcoming conference is set to be held in Egypt this year, even as Egyptian climate activists are protesting this charade of greenwashing and demanding more. The Sisi dictatorship has enforced draconian laws to limit access to information, including their country's net carbon emissions and is continuing to warehouse hundreds of political prisoners in state prison cells. Recently, Alaa Abd El-Fattah, a high-profile democracy activist on a hunger strike, wrote a letter "about global warming because of the news from Pakistan" and raised concerns about the impending climate catastrophe that will reach us all. Highlighting the 33 million lives affected by the floods in Pakistan, he questioned the (in)adequacy of state responses as global warming continues. This letter, too, has been suppressed by the Egyptian authorities. Other democracy activists in Egypt have also called on climate activists around the world to not allow the Egyptian government to greenwash the dictatorship through the upcoming COP conference.
In Australia, we have a particular responsibility to answer these calls of solidarity from Egypt and Pakistan. Australia is one of the largest contributors to global fossil fuel emissions per capita, particularly from coal export emissions. These emissions are conveniently not counted in the Australian Labor Party's latest climate bill. Such creative elisions and the absence of any enforceable targets have allowed the Labor party to plan a significant escalation of fossil fuel emission exports, by greenlighting the opening up of 106 new coal and gas projects whilst posturing to address the issue of emission reductions.
There is no lack of academic seminars on the impending climate crisis at the ANU. But beyond these siloed academic engagements, it is pertinent to ask where the university – as an institution – stands on climate change. It is imperative to move from knowledge production to action. The ANU itself has been the subject of a nearly decade-long divestment campaign. Students have overwhelmingly called for full divestment from fossil fuels in two referendums run by the student union ANUSA, first in 2014 and then again last year. The most recent data available to students indicates that our university still has large-scale investments in fossil fuel companies. There is also a shroud of opacity on the specificities of their investments. Without a clear breakdown of companies that ANU invests in, such as what they provided in 2016, we can't be sure if ANU still invests in companies like Woodside Petroleum or big banks that finance coal projects as they did in that year. What we do know is that ANU's infrastructure portfolio, which includes millions of dollars invested in the Kwinana gas-fired power station, actually increased its total carbon emissions by almost 23 percent last year. There are no enforceable targets in ANU's investment portfolio as part of its 'Below Zero' campaign and its reports rely heavily on the discredited ESG exposure scores to demonstrate how environmentally sustainable they are. 
That is why we have organised a speak-out for climate justice this Friday, the 28th of November to maintain the pressure. We cannot allow for the green-washing and climate vandalism carried out in our name. Or turn the demands for climate justice and debt relief from the Global South into "feel good" opportunities for the Global North to give paltry sums in "charity." Despite the platitudes offered by elite institutions and state actors (be it ANU's Socially Responsible Investment reporting, the Australian Labor Party, or those convening COP27) to set out tentative and non-enforceable targets, we are witnessing an unchecked expansion of fossil fuel extraction. Meanwhile millions of lives are already in the throes of disaster, their homes washed away, their farmlands and infrastructure devastated, with no return to normalcy in sight. This is only just the beginning. It is no longer tenable to discuss the climate crisis in terms of a projected future – when this future is already upon us.
Heba is a Pakistani student at ANU and Nick is a member of Socialist Alternative.
This article was written on the stolen land of the Ngunawal, Ngunnawal and Ngambri people. We pay our respect to Elders past, present and emerging and acknowledge that sovereignty has not been ceded. There is no climate justice without Indigenous justice.
We acknowledge the Ngunnawal and Ngambri people, who are the Traditional Custodians of the land on which Woroni, Woroni Radio and Woroni TV are created, edited, published, printed and distributed. We pay our respects to Elders past and present and emerging. We acknowledge that the name Woroni was taken from the Wadi Wadi Nation without permission, and we are striving to do better for future reconciliation.