This is the second time in two editions that I am reviewing something that I am utterly not qualified to review. I'm starting to think that this might become a regular column: clueless guy reviews things far beyond his understanding. The title is a work in progress.
On Friday night I had the pleasure of being in the audience for 'Dogfight', performed by the ANU Musical Theatre Company. Right away, I'd like to start by saying that I had a great time.
'Dogfight' is told through the memories of a visibly traumatised young man who has just returned from fighting as a US Marine in the Vietnam War. The plot is set into motion by the 'dogfight' – a ritual undertaken by the US Marines in which they unabashedly and outwardly objectify women. While doing so, the protagonist, Birdlace, played by Rohan Pillutla, develops feelings towards Rose, played by Tegan Braithwaite.
The first thing that really impressed me about 'Dogfight' was its production value. The set was designed beautifully, the graphics were amazing, the band was enrapturing, and the cast moved with precision and confidence that reflected the hours of practice they must have put into creating this production.
Rohan Pillutla portrays Birdlace, the protagonist, as a deeply divided character: on one hand, he is bound by the deeply rooted, masculine cultures and traditions of the Marines, and on the other, he hides his true self and lives in fear of exposing his vulnerabilities. It is only when he meets Rose that he feels comfortable enough to expose these vulnerabilities to another person and questions the customs and traditions that he has grown up with. It felt as if he was tied to two trains whose tracks would soon diverge at a fork. Birdlace himself saw the disparity between his identity and social expectations growing, but could not bring himself to make a decision between one or the other. I found it to be a moving and relatable performance: I saw myself in Birdlace, trying to navigate an already fully developed society, with only a developing mind and a developing understanding of myself.
This motif of duality and a collision of two worlds continues in Tegan Braithwaite's performance as Rose. Rose is a shy young woman trying to find her place in the world. She desires to conform to the social norms and ideals that are expected of her at her age, but she finds her own identity clashes with those expectations. It is through meeting Birdlace that she sees those social norms and ideals for what they really are, and he gives her that final spark of confidence to become her own person and truly express all her nuances and beauty. This was also a moving and relatable performance, but in a different way to that of Pillutla's Birdlace. Instead, I felt that Rose was tired of being left in the dust of a world that seemed to be speeding ahead of her, and sought affirmation of her validity as a young adult.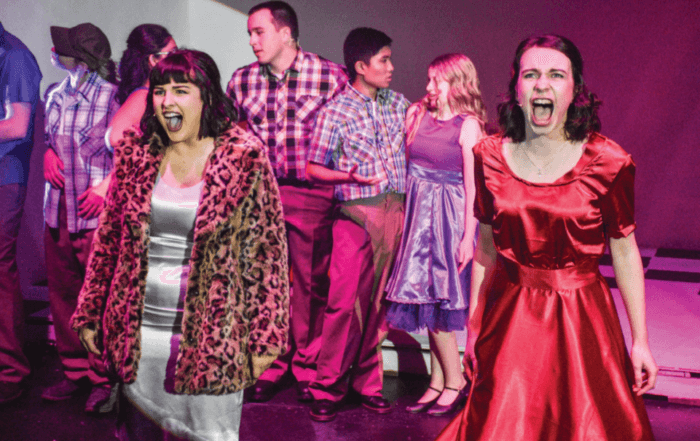 It's when I start thinking about these things that I realise that the entire production plays off this theme, and all its elements come together to balance this theme of duality and exist in the liminality where two worlds collide. The band, conducted by Jack Quail, performs a score that is often a carefully balanced pastiche of different genres. The set design, overseen by Kat Carrington and Millie Bull, continues this theme of duality: half of the set is painted red, while the other is painted white. The costumes, designed by Jen Murnane, continue with the colour motif: Rose always wears costumes which are red or white, the balance of which changes depending on how far she leans towards her own identity or society's idealistic expectations of women at her age.
In this way, I find 'Dogfight' to be an extremely pertinent and timely production. As the director's, Zoe O'Leary Cameron's, foreword states: "it's not comfortable for the actors to portray, and it's not comfortable for the audience to watch" a production which "blatantly displays misogynistic behaviour". Given the recent findings of the AHRC Survey and the Red Zone Report, I feel that the production takes the audience on an analogue of Rose's journey. Entering into society as young adults, finding that there are cultures and institutions that we are repulsed, disgusted and horrified by, and seeking change to create changes in the way we live to make sure that those cultures are not further propagated. Furthermore, 'Dogfight' also tells the story of growing up and entering an often hostile world, trying to cling on to whatever we had before and trying desperately to recreate the comfort and simplicity of a bygone time, like Birdlace.
I think that 'Dogfight' perfectly captures the confusing, confronting, and oftentimes humiliating process of growing up as young adults today. It is an apt and complex production, which prompts introspection with the guise of retrospection.