The following is an account concerning Comrade Cat and His Life. It was written after the only known photograph of him was recently shared on the internet. Circulation of this photograph has understandably led to a general preoccupation with questions which had long been dormant. Comrade Cat's own diffidence and a paucity of reliable material concerning his life have so far forestalled nearly all discerning attempts which have approached these questions.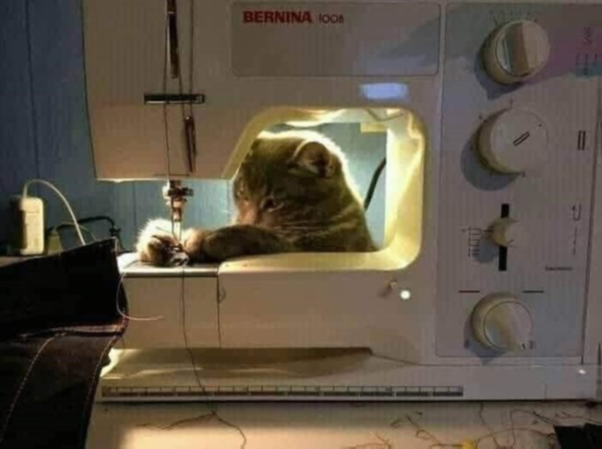 An absence of satisfying answers has in turn led to a multiplication of distortions. An account of Comrade Cat's life that is anchored in known facts and confined to reasonable inference is now necessary if this humble protagonist is to claim his rightful place in the history of struggle. Below is such an initial attempt which describes Comrade Cat's Early Years, The Events Of One Significant Night, A Resolve, and Subsequent Life Path.
To begin, it is certain that Comrade Cat did not mean to lead a wayward life; but, with the advent of adulthood he had become disoriented by a growing familiarity with the scale of oppressive forces. It was during this period when one misgiving seemed to lead rapidly to another and rest was no longer possible, that Comrade Cat was first driven into the night.  
The rumours and conjectures which attend Comrade Cat's life are unanimous that it must have been during one such restless night that Comrade Cat came upon a weathered chest. By all estimates it was a quiet night. The possums had stood still as Comrade Cat stopped opposite the chest. Comrade Cat had been disheartened that the possums should take precaution even after he had renounced strife. But the teachings of bitter experience are not suddenly unlearnt and he had wished the possums well in the most inoffensive way conceivable before turning to the chest again. The chest had withstood many years and it appeared now that it would soon come undone in the next gentle wind. Yet, as Comrade Cat approached closer, it was apparent that this chest was no forgotten ghost but the house of a battalion of books. Comrade Cat decided to investigate further to see perhaps if here, at last, could be found some literature that would relieve the isolation that had besieged him. 
As Comrade Cat was perusing the volumes, he came upon Vladimir Lenin's book Imperialism: the Highest Stage of Capitalism and Frantz Fanon's book The Wretched of the Earth. Comrade Cat could not avoid emotion as he sat there with one paw over the bottom row of books. The discovery of Lenin's book had reminded him of the twenty-six million souls who became martyrs of the promise that the Nazi war machine had sought to crush. 
Comrade Cat had first heard the difficult story of Soviet defence against barbarism from Experienced Cat. Experienced Cat had said that it was an extension of the holocaust from which there has been no freedom in the last five centuries. Comrade Cat had wished to know more but Experienced Cat had grown silent and looked into the distance as if staring into another world. Being unwilling to disappoint with his own ignorance of world history, Comrade Cat had merely nodded.
Experienced Cat was once renowned for hardihood and acrobatic skills. But Comrade Cat and his companions would prevail upon him in the manner of children who can only be kept at bay from stories with the most complicated of manoeuvres. As night would begin to take hold Experienced Cat would speak without pause of struggles in Vietnam, Palestine or Haiti and Comrade Cat and his companions would listen as if bound by a profound spell.
Those years had slowly disappeared among the drifting monsoons. Experienced Cat became increasingly cryptic and began to devote the majority of his time to writing. These writings were later collected in a book after his passing and in such words Comrade Cat and his companions once again overheard the stories of their youth. 
The discovery of Lenin's book had renewed the emptiness that this time had left behind. As Comrade Cat sat against the chest, he was overcome by sadness for the world that had passed and for the world that had failed to arrive. And if Comrade Cat did not yet know Frantz Fanon, how could he not identify with the wretched since it was not only Experienced Cat but also his sister who had recounted with great earnestness the stories of unsparing toil and monumental struggle. These were the reasons which led Comrade Cat to resolve to study the books which chance had contrived to place in his paws that fateful night. 
The earth kept turning and more than a few months passed before Comrade Cat completed a careful study of these books. He became attached to the books and held them close as he retraced his steps to restore them to the chest. Comrade Cat again noted the remarkably ramshackle condition of the chest and pondered the nature of improbable force which must have continued to keep it intact. But he could not have known, distanced as he had been then from affairs pertaining to life, that it was held together by the steadfastness of two friends who had known each other for a long time. 
This period of study is widely considered decisive in Comrade Cat's acquisition of the weapon of revolutionary theory. Since then Comrade Cat maintains a modicum of optimism and considers the sorrows and struggles of the oppressed to be the province of common concern. Admittedly, to this day Comrade Cat remains worryingly susceptible to undercurrents of alienation despite now knowing that this is the only world there ever will be. 
Some days too, in the evening light when the time slows, and the past comes closer to the present, Comrade Cat is reminded of all the losses people have suffered and the regularity with which people's modest hopes are confiscated. In such times it is the writings of Experienced Cat and the memory of emaciated faces which crowd the past that remind Comrade Cat of the losses that are yet to come, if visions for which people have held their ground are allowed to lose meaning. 
Think your name would look good in print? Woroni is always open for submissions. Email write@woroni.com.au with a pitch or draft. You can find more info on submitting here.
We acknowledge the Ngunnawal and Ngambri people, who are the Traditional Custodians of the land on which Woroni, Woroni Radio and Woroni TV are created, edited, published, printed and distributed. We pay our respects to Elders past and present and emerging. We acknowledge that the name Woroni was taken from the Wadi Wadi Nation without permission, and we are striving to do better for future reconciliation.