Hundreds turned out to the lawns of Parliament House yesterday to protest the speaking tour of transphobe Kellie-Jay Keen-Minshull. The protest is one of many around Australia following Keen-Minshull's tour across the nation. A similar protest in Melbourne made national headlines when Nazis attended in support of Keen-Minshull and performed a Nazi salute on the steps of Victorian Parliament House.
While no discernible Nazis attended, one of Keen-Minshull's supporters was holding an Australian Naval flag, a symbol associated with the far-right, anti-vaxxers and conspiracy theorists. Senators Pauline Hanson and Malcolm Roberts spoke with Keen-Minshull, and Roberts invited her for a tour of Parliament House.
The 400 pro-trans protestors outnumbered the approximately 50 Keen-Minshull's supporters. The former's chants of "We will fight, we will win, put the bigots in the bin" and "Fuck off Nazis, fuck off," drowned out the latter's speeches.

The turnout was diverse. A significant number of ANU students attended, including members of ANUSA, a number of autonomous ANUSA Departments, Socialist Alternative, and a number of ANUSA-organised Legal Observers. The Queer* Department had a heavy contingent, and the Officer, Jehan Jayawickrama, spoke at the protest.
Several ACT and federal Greens members attended and spoke, while police tackled independent MP Lidia Thorpe when she tried to interrupt Keen-Minshull's speech.
A number of people came in solidarity. One person told Woroni that she attended in support of her Queer child, and her Queer friends. She asked rhetorically "How can you have an anti-trans rally? That's just hate speech."
Many of the speakers focused on the affiliation between Keen-Minshull, Nazis and other far-right groups. As one woman said "They certainly don't speak for me" in reference to Keen-Minshull's slogan of "Let women speak."
Jules of the Australian Unemployed Workers Union spoke to Woroni about the intersection between union rights and trans rights: "A lot of trans people face huge barriers to work and employment because of transphobic attitudes like the ones that are here today."
Jules also asked that the "Labor government commit to trans rights" including trans-affirming language, greater legal protection of trans people and condemning transphobia. While the Australian Border Force (ABF) has previously rejected the visas of other far-right speakers, such as Milo Yiannopoulos, the ABF approved Keen-Minshull's trip. Jules termed this as tolerating people "calling for the elimination of a group of Australian citizens, which are trans people."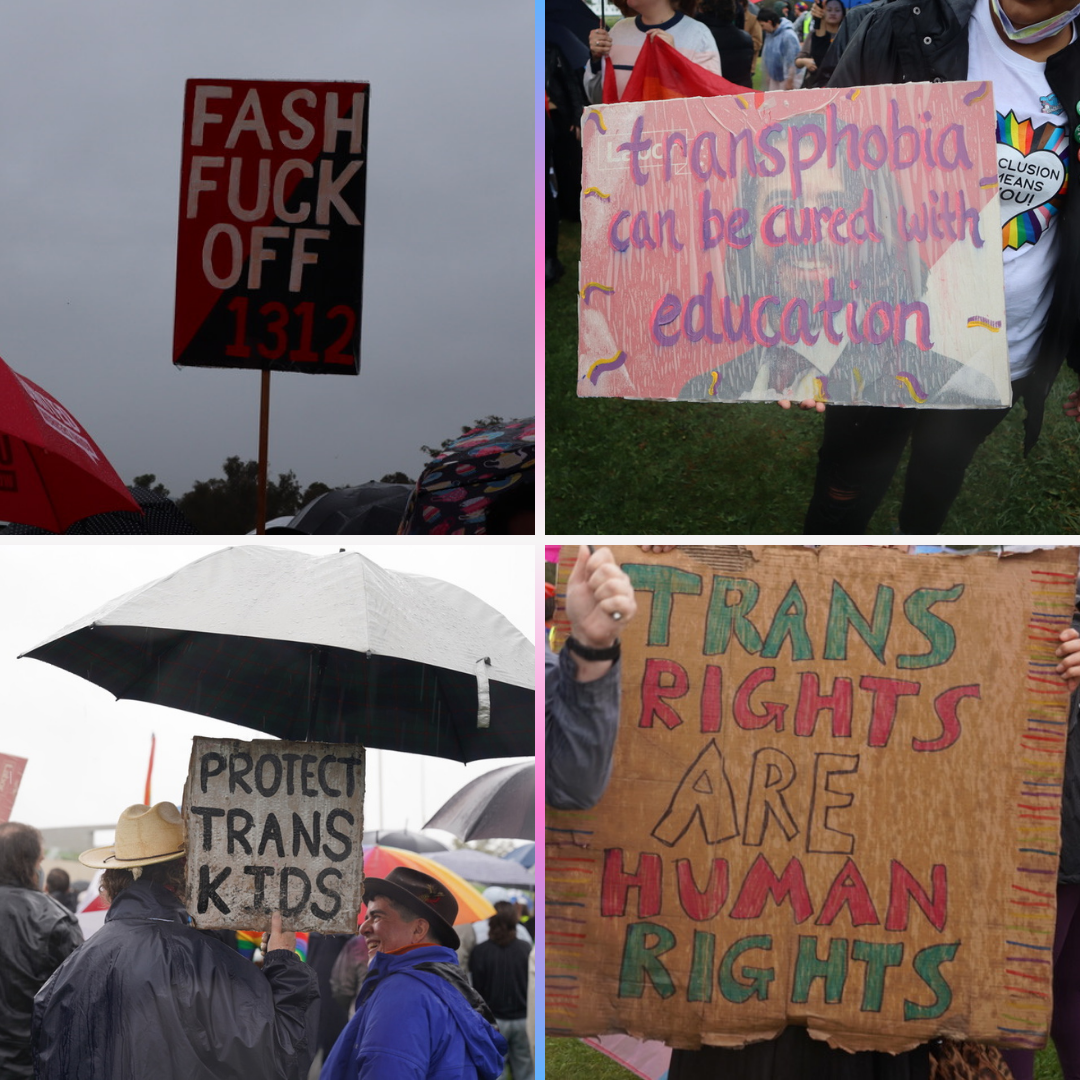 Keen-Minshull brands herself as a "Gender Critical" activist which, in reality, means perpetuating transphobic arguments. She often attacks gender-neutral bathrooms and repeats arguments about men using "transgenderism" as an excuse to enter women's bathrooms. Her language pedals homophobic and transphobic ideas which – as Melbourne showed – Nazis often pick up in their rhetoric.
Keen-Minshull's speaking tour has become hotly contested in Australian politics. The leader of the Victorian Liberals is pushing for the party to oust their own MP Moira Deeming – a historic transphobe who continues to defend Keen-Minshull despite the Nazi presence at her rally. Meanwhile, Attorney-General Mark Dreyfus accused the Coalition of "complete silence" on Keen-Minshull and her Nazi supporters.
Keen-Minshull's tour is set to continue, as are the larger, more widely supported, counter-protests.
If the contents of this article have disturbed or upset you, please reach out to the following resources:
ANU Student Safety and Wellbeing
(02) 6125 2211
ANU Respectful Relationships Unit
respect@anu.edu.au
Canberra Rape Crisis Centre, Crisis Line
(02) 6247 2525
ANU Counselling
(02) 6125 2442
1800 RESPECT
1800 737 732
ANU Disabilities Students Association
sa.disabilities@anu.edu.au
ANU BIPOC Department
sa.bipoc@anu.edu.au
ANU Indigenous Department
sa.indigenous@anu.edu.au
ANU Women's Department
ANU Queer* Department
We acknowledge the Ngunnawal and Ngambri people, who are the Traditional Custodians of the land on which Woroni, Woroni Radio and Woroni TV are created, edited, published, printed and distributed. We pay our respects to Elders past and present and emerging. We acknowledge that the name Woroni was taken from the Wadi Wadi Nation without permission, and we are striving to do better for future reconciliation.