Over 1500 Canberrans joined thousands of other Australians on Saturday to protest for the right to an abortion here and in the US. Equal Love Canberra organised the protest in response to the recent US Supreme Court decision to overturn Roe v. Wade and to advocate for greater access to abortion in Australia.
The protest began in Garema Place at midday before marching to the bus exchange and back to Civic. The start of the protest saw speakers find common ground regarding activist solidarity, conservatism, and abortion in Australia.
Rebecca Vassarotti MLA, the Greens member for the Canberra seat of Kurrajong, spoke of the importance of solidarity and standing with people overseas who want abortions. The solidarity demonstrated amongst the speakers in attendance continued with Elliot Downes, a trans rights activist, stating that "… an attack on one of us is an attack on all of us."
Ella Hickey of the National Union of Students argued that Roe v. Wade is not the end of the Republicans' social agenda, arguing that it is just the beginning.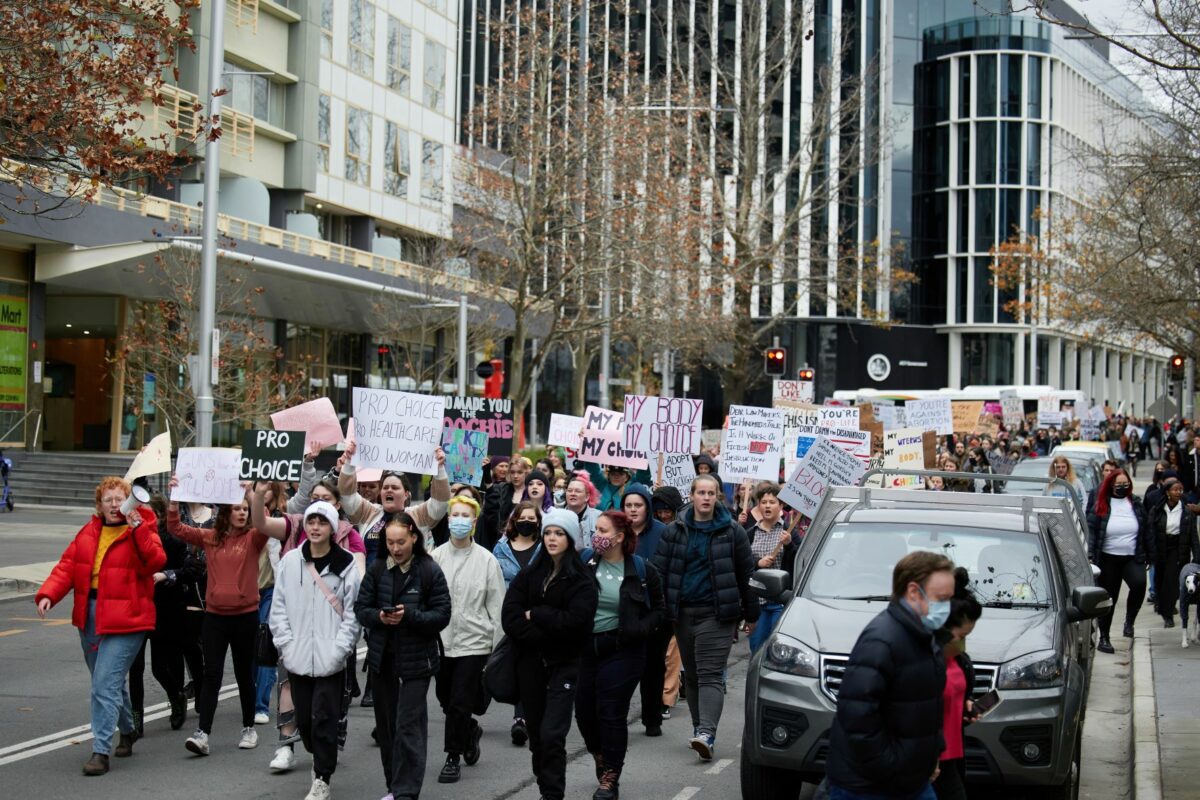 Hickey cited statements by Supreme Court Justice Clarence Thomas that, following Roe v. Wade, the court should revisit issues like same-sex marriage.
The speakers also criticized how several Australian state governments still restrict access to abortion. Beth Pietsch from the Community and Public Sector Union spoke of the difficulty in accessing abortions in remote communities and the lack of cultural accommodation.
Both the Democrats and Labor were not spared from criticism either. A common thread was how neither centre-left party had moved to protect reproductive rights. Hickey listed Clinton, Obama and Biden as Democrat presidents that had promised to codify Roe v. Wade into legislation but had not done so. Likewise, Downes attacked Labor for their support of the Religious Discrimination Bill earlier this year and a lack of progress on reproductive rights in state government and legislatures.
The protest is part of a national campaign in solidarity with women in the US. Tasmania, NSW, WA, Victoria, the Northern Territory and the ACT all saw thousands protesting on Saturday, while Queensland and South Australia held similar rallies earlier this week.
Images courtesy of Robin Ng.
We acknowledge the Ngunnawal and Ngambri people, who are the Traditional Custodians of the land on which Woroni, Woroni Radio and Woroni TV are created, edited, published, printed and distributed. We pay our respects to Elders past and present and emerging. We acknowledge that the name Woroni was taken from the Wadi Wadi Nation without permission, and we are striving to do better for future reconciliation.