Completed at the end of 2018, the NOUS review aimed to investigate the factors which contribute to sexual assault and sexual harassment (SASH) at the ANU's student residences.
This article is the first in a series of pieces that will outline how each primarily-undergraduate residential hall, college and lodge performed on a variety of factors. This article will illustrate how the NOUS report ranked each residence in relation to substance misuse and the quality of the hall's facilities and security.
Bruce Hall
Substance Misuse
Bruce Hall has made progress in addressing substance misuse by prohibiting certain activities and offering appropriate support to those who experience substance misuse issues. The college prohibits peer-pressure, drinking games and underage drinking, and states that excessive consumption of alcohol will result in action from a Coordinator or Head of Hall. Alcohol is generally consumed responsibly, with residents believing that when used appropriately, it could have a positive impact on the community. The review raised concerns regarding unmonitored pre-drinking. The promotion of sensible drinking is seen to be more effective than imposing bans or punitive measures. However, the residential environment is perceived as enabling anti-social behaviour in regards to alcohol misuse, and alcohol has been an element of most sexual assault/ harassment reports. More training is being provided regarding substance abuse, as the college responds by providing referrals and education for those affected.
Facilities and Security
Residents report that the facilities and security at Bruce require more development, although students feel safe at Bruce both in the day and night. Most concerns were regarding lack of lighting and ensuring restrictions on entry into the premises.
The review refers to the facilities present at Bruce's residence prior to 2019.
Burgmann College
Substance Misuse
Burgmann is making progress in its response to substance misuse amongst residents. The Nous review outlined that the hall "will respond to the needs of any residents with alcohol-related problems with appropriate support and referral." However, Burgmann does not indicate as to how students affected by substance abuse will be helped. Peer pressure might be more of a problem compared to other colleges concerning alcohol use.
Facilities and Security
Staff and student leadership have made good progress in ensuring a safe environment for residents. Some students expressed their desire to have the surrounding area of the college better lit and for more CCTV to be established.
Burton and Garran Hall
Substance Misuse
Burton and Garran Hall (B&G) needs to make further developments in regards to its response to substance misuse. Compared to the ANU average, residents are more likely to believe (70% of surveyed residents) that alcohol perpetuates a negative college environment. Residents believe that alcohol abuse at the hall is conducive to an unsafe environment, which is particularly evident in the communal areas, such as the kitchen. B&G takes punitive action in response to excessive alcohol consumption, and students who repeatedly abuse alcohol must meet with the Head/ Deputy Head. More than half of the residents surveyed indicated that the college could do more to promote a safe drinking culture.
Facilities and Security
The facilities and security at B&G require significant improvement, with residents believing that inadequate facilities are primarily to blame for an unsafe environment. Large areas of the hall are inadequately lit or frequently experience malfunctions with established lighting. Furthermore, locks on resident blocks are often broken meaning anyone can access students' rooms. There are currently no measures in place to ensure that doors are locked.
Davey Lodge
Substance Misuse
The response to substance misuse at Davey Lodge requires further development, with UniLodge primarily relying on promoting self-regulation. Frequent intoxication can affect contract renewal for residents, and internal parties are shut down after 10 PM. Compared to the ANU average, fewer Davey residents believe that enough is being done to address substance misuse, the majority of which is alcohol-related. Alcohol has been involved in 12 out of 14 sexual assault/harassment incidents between 2017 and 2018, with more than a quarter of the surveyed residents indicating that drink spiking is an issue. Davey has witnessed some incidents with residents using 'nangs' and marijuana.
Facilities and Security
Residents consistently expressed dissatisfaction with the design and layout of Davey. The lack of natural light is a contributing factor to poor mental health. Residential Advisors work with a security guard who patrols the area several nights a week, to address issues of poor lighting, tail-gaiting and lack of supervision.
Fenner Hall
Substance Misuse
Alcohol is not considered a significant issue at Fenner Hall, and there is no dominant drinking culture. Activities such as pre-drinking are encouraged to occur in public spaces where they can be effectively monitored, rather than in residents' rooms. Fenner does well at supporting sensible drinking and often runs alcohol-free events. Fenner does not have a visible drug culture, which has been successfully managed with a discrete, personalised approach focused on harm minimisation by connecting students with counselling.
Facilities and Security
Residents feel safe during the day but believe that security at night needs improvement. Students wish to see improvements in regards to lighting, security cameras and improved locks, with areas such as common rooms and carparks feeling particularly unsafe.
The review refers to the facilities present at Fenner's residence prior to 2019.
John XXIII College
Substance Misuse
57% of Johns residents think that alcohol drives negative elements of the residence culture, which is substantially higher than the ANU average. This is primarily due to John's historical drinking culture, with 70% of respondents indicating a problem with drink spiking at the college.
Facilities and Security
Johns has substantial security arrangements in place, with 40 CCTV cameras located internally and externally. All doors have external proximity locks and record when a fob key is used to open a door. There is effective security monitoring amongst SRs and staff, and a night porter carries out security patrols inside and outside the college buildings. A large proportion of college staff also live on-site, and several staff members are dedicated to maintenance issues.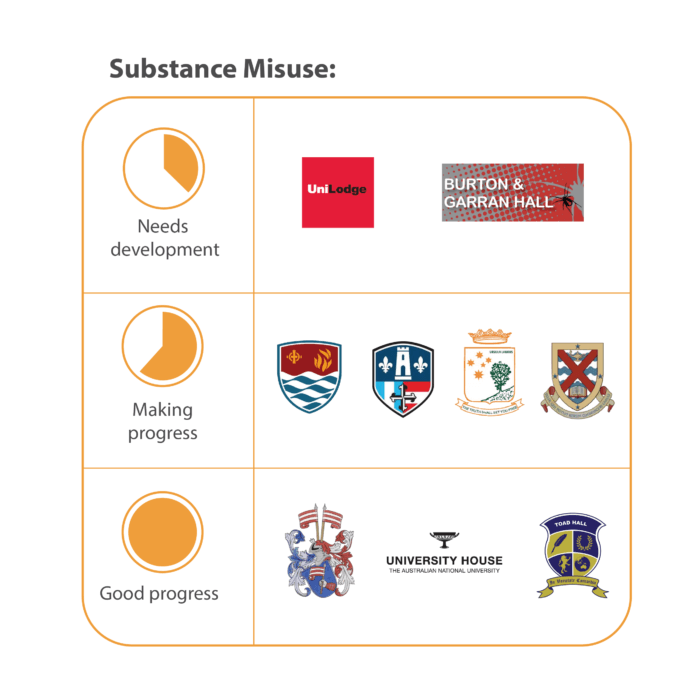 Kinloch Lodge
Substance Misuse
For Kinloch Lodge's responses to issues of substance abuse see the summary of Davey Lodge. A significant number of residents, however, still feel that more could be done to encourage a culture of sensible drinking. Resident and non-resident consumption of alcohol in common rooms undermine feelings of safety, with the majority of substance misuse incidents concerning alcohol. 12 out of 14 sexual assault and harassment incidents reported in the last year involved alcohol. Residents perceive a 'party culture' at Kinloch, which encourages binge drinking, behaviour that is more prevalent amongst domestic students. In regards to illicit substance abuse and issues regarding peer-pressure see Davey Lodge summary.
Facilities and Security
Residents consistently express satisfaction with the layout of Kinloch. In regards to issues of tail-gating and employed security guards see Davey Lodge summary.
Lena Karmel Lodge
Substance Misuse
Lena Karmel Lodge has taken steps to better manage drug and alcohol consumption such as enforcing behavioural expectations which can affect contract renewal. Lena Karmel favours self-regulation techniques and shuts down internal parties after 10 PM. Compared to the ANU average, fewer residents feel that adequate steps have been taken for regulation, with the majority of substance misuse involving alcohol. Substance misuse is more prevalent among domestic students, and more effort could be made to equip student leaders with skills to model safe drinking practices. There have been some incidents involving 'nangs' and marijuana, with a quarter of female surveyors feeling that peer-pressure in regards to illicit substances is prevalent.
Facilities and Security
Lena Karmel has hired external security guards to combat tail-gaiting. See Davey Lodge summary for residents' security concerns.
Ursula Hall
Substance Misuse
Ursula Hall takes a harm minimisation approach to drugs and alcohol and encourages students with recognised issues in regards to substance misuse to seek professional advice. An empathetic and supportive approach to substance dependency is emphasised, but the hall takes disciplinary action in regards to inappropriate behaviour. Robust role modelling of responsible drinking has encouraged a positive drinking environment amongst younger residents. However, alcohol had been an element in most sexual assault reports at the college. Residents believe that the information they received in O-Week in regards to the safe consumption of alcohol was inadequate. Suggestions for improvement include promoting positive drinking behaviour, the monitoring of alcohol consumption, and reducing open bar style events.
Facilities and Security
The adjacent carpark to Ursula was of crucial concern for residents, who believe that it attracts groups from neighbouring colleges partaking in illicit substance consumption. Residents and staff have expressed a desire for more CCTV surveillance and better lighting.
Warrumbul Lodge
Substance Misuse
71% of surveyed residents believe that alcohol drives some of the harmful elements of residence culture at Warrumbul lodge, which valorises binge drinking. 13% of surveyed residents expressed concerns regarding drink spiking, and residents believe that stronger student leadership is needed to model safe drinking practices, particularly for the lodge's last first-year cohort. 19% of surveyed residents and 23% of women felt pressure to partake in recreational drugs.
Facilities and Security
For issues of tail-gating and increased security, see Davey Lodge summary.
Elena Couper is a former resident of Burton and Garran Hall
We acknowledge the Ngunnawal and Ngambri people, who are the Traditional Custodians of the land on which Woroni, Woroni Radio and Woroni TV are created, edited, published, printed and distributed. We pay our respects to Elders past and present and emerging. We acknowledge that the name Woroni was taken from the Wadi Wadi Nation without permission, and we are striving to do better for future reconciliation.