The initial feeling I experienced walking down University Avenue witnessing Where I Stand was one of intrigue. Six gigantic cubes stand in a single row. Twenty-four frames of stunning photographs each one as striking as the one before it. Like many around me, I succumbed to curiosity and took a closer look. What followed was a profoundly emotional, enigmatic and exciting adventure as I engaged with each of the images.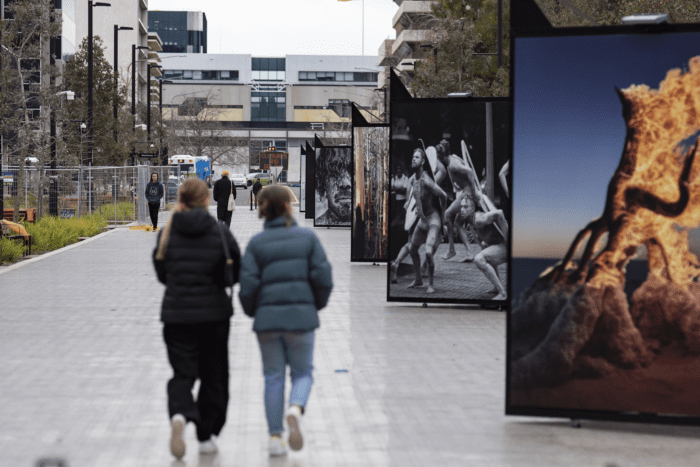 Where I Stand is an exhibition presented by aMBUSH gallery together with Moshe Rosenzveig, director of Head On Photo Festival. Since the initial planning of Kambri, aMBUSH Gallery and Wiltshire + Dimas envisioned a walk of art for students, staff and the public to enjoy art outside the setting of a gallery. Exhibition Avenue is the fruition of this vision, an initiative to showcase year-round exhibitions in Kambri. The current show is photographically based, although future efforts could use more diverse art forms such as live street art.
For those who have not had the pleasure of viewing the exhibition, Where I Stand incorporates the work of six iconic Australian artists; Michael Cook, Dr. Judith Nangala Crispin, Sarah Ducker, Murray Fredericks, Barbara McGrady and Michael Jalaru Torres. Together, the artists present 24 deeply personal works that delve into themes of identity, history, nature, connection to the land, The Dreaming and the major theme of healing.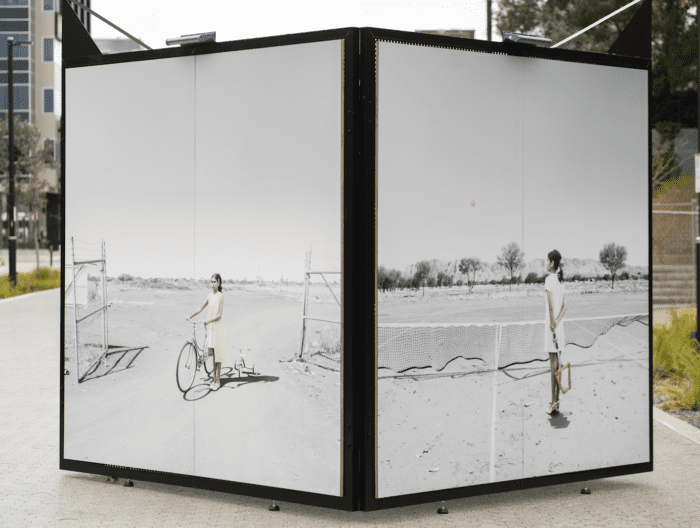 The first cube that I encountered was that of QLD artist Michael Cook. Cook began making art photography in 2009 in response to his desire to explore issues of identity and how his own life was affected by adoption. Cook was born in the late 1960s to a sixteen-year-old mother who had become pregnant to an Indigenous Australian man. Keeping the child would have been severely frowned upon, and so Cook was put up for adoption. In his series of four photographs, Cook delves into themes surrounding mother and child. 'Mother', the collection that the exhibit images are chosen from, showcases Australian Indigenous women alone in a landscape. There is a feeling that a child is missing through symbols such as an empty pram or tricycle. I was disquieted by seeing the loneliness and loss of these women. The grey colouring of their desolate backgrounds intensified my empathy. Cook speaks to the incredible pain caused by the Stolen Generations, the innate human bond between mother and child and the pain caused by the breaking of such a pure connection.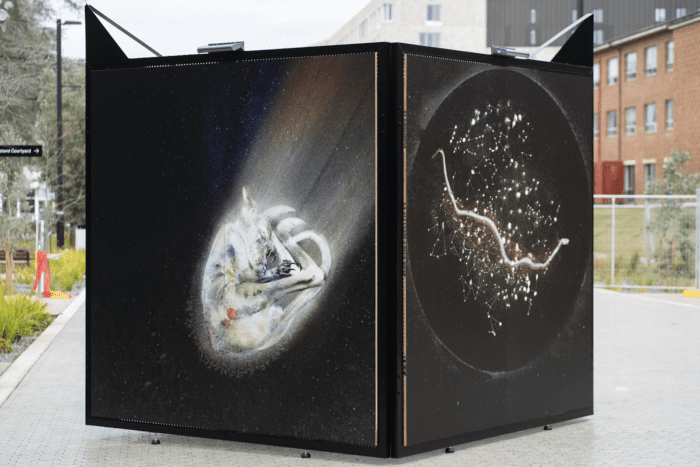 The next cube I met was donned with photographs by Canberra based artist Dr. Judith Nangala Crispin. Crispin is a talented poet, visual artist, academic, writer and photographer. Her work explores themes of displacement, loss of identity (including her Indigenous Australian ancestry) and connection with Country. Crispin has spent time in the Tanami desert living with the Warlpiri people who she says she owes the development of her unique photographic technique of lumachrome glass printing. The method involves the use of natural materials such as blood, wax, ochres, honey, mud, seeds and roadkill animals arranged on Perspex over light-sensitive paper. In this way, lumachrome glass prints arose from her attempt to delve into a deeper connection with the Australian landscape. Crispin drives out to find roadkill and waits with the animals for up to 50 hours while the artwork is developing. The attention to detail is evident when I saw her work, with even the smallest hairs of a joey delicately captured. Crispin's artworks, at first glance, felt warm and comforting. Seeing the four lifeless animals wrapped in the embrace of the landscape reminded me of Indigenous Australia's deeply nuanced connection to Country. However, there is also a sense upon viewing of aloneness — a disconnect with each animal surrounded by darkness. The photographs also highlight the pain that has been caused and continues to be caused by the Stolen Generations.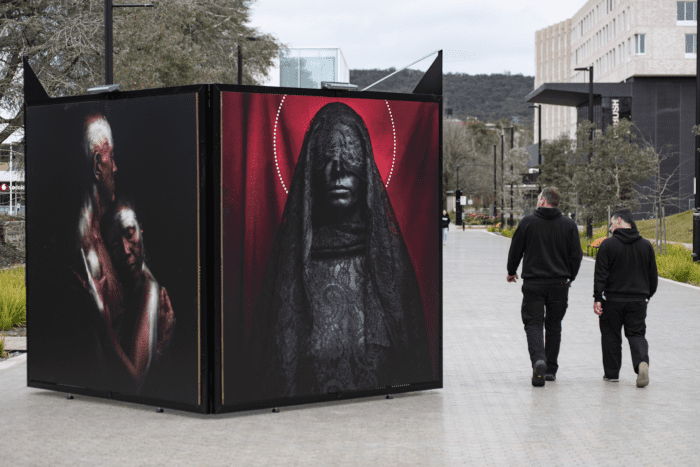 I then followed on to the third cube by Indigenous fine art photographer Michael Jalaru Torres, who is originally from Broome. Torres' art draws on his personal history as well as exploring contemporary social and political issues facing Indigenous Australians. I was struck by how simple Torres' images were. Each photograph seemed to focus on a subject with contrasting colours creating a sense of lightness and darkness. I felt a sense of joy as well as pain when viewing his images. Torres highlights the dark history of Australia as well as illuminating thriving Indigenous peoples all around the country. His artworks upon viewing are subtle, but poignant. Torres wants his photographs to inspire people to learn more about Indigenous Australian culture.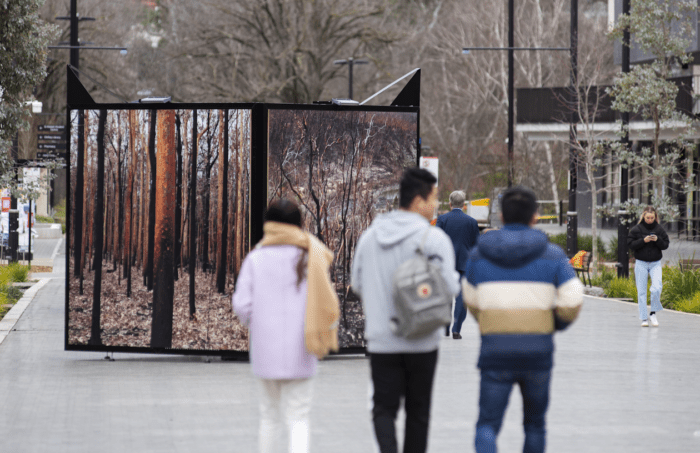 The next cube was by Sydney based artist Sarah Ducker. Ducker was inspired by her trip to Broken Hill in creating this exhibition. Ducker visited the landscape after the 2019-2020 NSW bushfires that were unprecedented in its destruction. However, Ducker was transfixed by the resilience of the bush standing bare yet magnificent in its ashes. This beauty found in the wreckage is evident when viewing these photographs. The naked trees stand tall and strong despite their blackened exterior. The carnage of the bush is a symbol of rejuvenation and transformation. Just as the bush regrows from its ashes, Ducker portrays humanity's own need for rebirth. The artworks demonstrate our need to radically change our behaviour to fight climate change and its devastating consequences.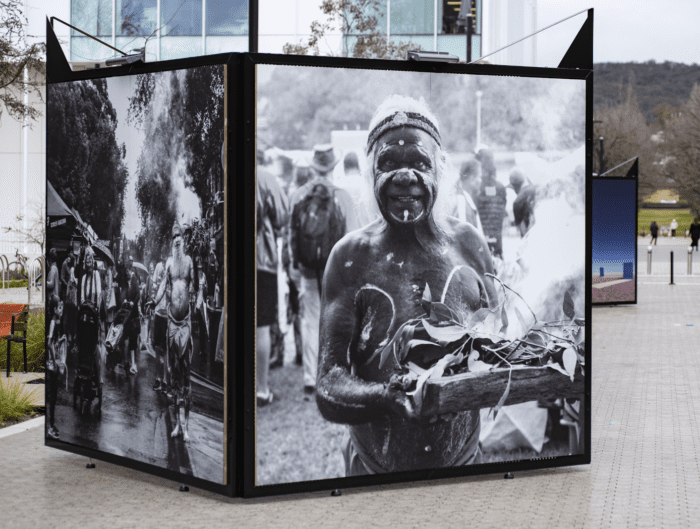 The next cube was by artist Aunty Barbara McGrady, a Gamilaroi/Gomeroi Murri yinah (woman). Her works portray her passion for telling stories about the lives of Indigenous Australians today. McGrady is a sociologist, athlete and sports lover who photographs many famous Aboriginal and Torres Strait Islander sportspeople at the NRL, AFL and other matches. Her work aims to show empowering images of Indigenous Australians, particularly through their positive contributions to society such as through sports, activism and culture. I was struck by how powerful the subjects of her photographs stood out. Each Indigenous Australian was showcasing their strong cultural ties proudly against the colonial backdrop. Additionally, McGrady states that the art form of 'black box' is a work of decolonising the traditional colonial archive spaces such as museums and art galleries.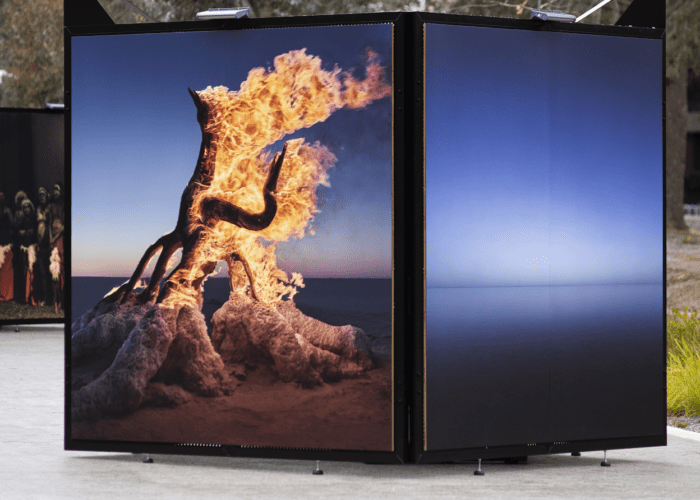 The final cube on my walk down University Avenue was by NSW artist Murray Fredericks. Fredericks is a well-known artist with his works showcased internationally and around Australia, sitting in significant institutions such as the National Gallery of Victoria, National Portrait Gallery and Commonwealth Bank as well as owned by Elton John and Valentino. In this exhibition, Fredericks chose four images from the Salt Project (2003-2019) produced at Kati Thanda (Lake Eyre), in South Australia. Upon viewing this cube, I was struck by feelings of the sublime. Faced with vignettes that trailed onto the horizon, I was afflicted with the thought of the omnipotence of nature. I felt small but in a profoundly comforting way, as though there was something greater in the universe. It was Fredericks' own meditations of infinity in the landscape that inspired him to replicate the experience in images. Fredericks' use of colours and light demonstrates this feeling perfectly. The fading sunsets and barren infinite desert reminded me of the immense beauty of our earth.
After I had finished walking down University Avenue, I was overcome by the poignant messages and stories of each artist. Personal histories, political and social issues all interwoven into a beautiful exhibition centered around themes of healing, identity, culture and loss. This exhibition succeeded in creating a challenging, yet rewarding experience that forces viewers to think deeply about each image. If you are walking down University Avenue, I highly recommend that you take the time to experience this provoking exhibition.
Where I Stand will run from 27 July until 31 October 2020. It is part of Kambri's 'Exhibition Avenue' series, curated by aMBUSH Gallery, a free year-round program of art and performance. You can find more information about this exhibition here.
Think your name would look good in print? Woroni is always open for submissions. Email write@woroni.com.au with a pitch or draft. You can find more info on submitting here.
We acknowledge the Ngunnawal and Ngambri people, who are the Traditional Custodians of the land on which Woroni, Woroni Radio and Woroni TV are created, edited, published, printed and distributed. We pay our respects to Elders past and present and emerging. We acknowledge that the name Woroni was taken from the Wadi Wadi Nation without permission, and we are striving to do better for future reconciliation.