CONTENT WARNING: Misogyny, Classism, Poverty
Wanna be unsettled from your mid-sem doldrums by a good play that reveals how class inequality thrives on misogyny? With incredible performances from subtle players in an intensely intimate sitting, I'd grab myself a ticket to this powerful 50-minute sucker punch before it ends this Saturday.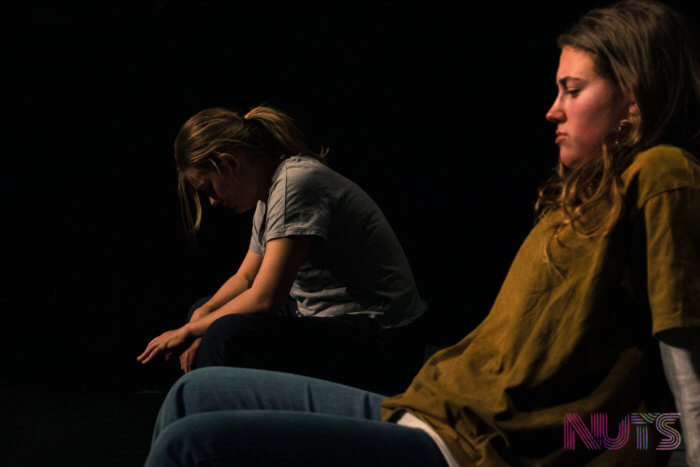 SHIT is an ambitious, socially conscious production that gives voice to three women persecuted by systemic poverty and abuse in out-of-home care. Patricia Cornelius' rough, but not invulnerable, characters are utterly empathetic and condemn our social failure to support and affirm women experiencing the worst of structural oppression.
Maeve Ireland-Jones is a standout as Bobby, who hides much behind their wisecracking, crass demeanour and is a natural foil for the naive and traditionally feminine Sam, who in daring to hope is both disarming and dangerous. Rife with internalised misogyny and itching for a fight, Billy won't back off, especially where they're on the trail to draw blood.
Together the well-balanced cast form a dynamic trio with an easy rapport that flickers and shifts through their confrontations and the gradual plot revelations. Mackinlay Tikoft's direction is subtle and even, bringing out the conflict between the characters' differing sensitivities and bravadoes without being sentimental or sensationalist. There's a sense that the young cast are still a little tentative, perhaps due to opening night nerves. But they ought not to hesitate to take up space in this pounding, physical piece, nor hold back from fully inhabiting their challenging characters.
Cornelius' strong script births deep and whole characters who luxuriate on stage. The young cast interpret them well, and if anything, their freshness highlights the overwhelming power of the social circumstances that shape the female characters. Their performances counter the narrative that there's anything inevitable or intrinsic about the alienation experienced by people in deprivation.
The production forcefully reckons with the audience through Sam, Bobby and Billy's elaborate self-parodies and some innovative direction involving interaction with real and imagined audiences. In this way, the playwright gives these women the ability to comment on the ways in which they are seen by more privileged eyes, and so avoids voyeurism and appropriation. 
The physical theatre is commendable for an amateur production. These women's past traumas evade words, but are evident through their distinct body language and the way they use their bodies to express themselves and to intimidate or placate others. Bits of bodies, feelings – they're all liabilities, there for anyone to strip down for fun.
This play's dialogue may be provocative and stray outside the university's middle-class code of respectability, but the most compelling moments are seen, implied or left unsaid. The costume and set designers complement the play's plain aesthetic. The mirrors are a nice symbolic gesture towards the characters' imprisonment, and ground their almost too transparent self-reflections.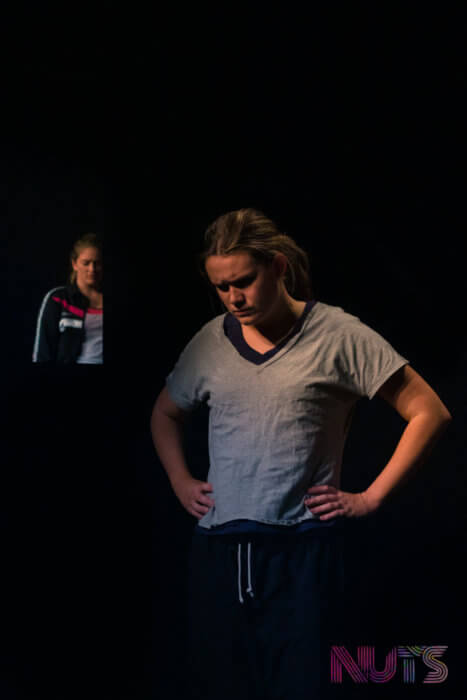 The movement blocking is clean and sophisticated, and the light direction is faultless. This enables the production to clearly mark scene transitions and give great effect to the monologues, flashbacks and character development without detracting from the credibility of the more realistic scenes.
You can try to love or pity these women – hell, they'll even let you laugh and joke with them. But in the end, if you have a shit to give then you're not in their muck.
If self-preservation in their situation precludes wanting anything worth anything, Sam, Billy and Bobby have no 'go'es and are going nowhere.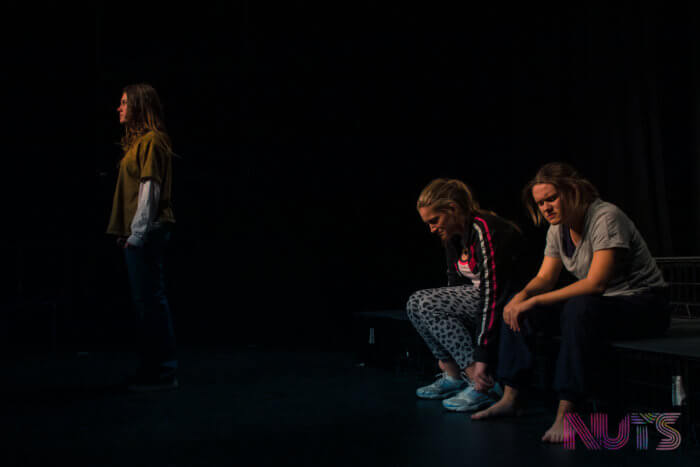 Image credit to Jasmine Ryan.
We acknowledge the Ngunnawal and Ngambri people, who are the Traditional Custodians of the land on which Woroni, Woroni Radio and Woroni TV are created, edited, published, printed and distributed. We pay our respects to Elders past and present and emerging. We acknowledge that the name Woroni was taken from the Wadi Wadi Nation without permission, and we are striving to do better for future reconciliation.