In her critically acclaimed tenth studio album, Taylor Swift examines her darkest dreams, deepest insecurities, and most secret desires through a dazzlingly brilliant return to pop.
Republic Records released Taylor Swift's highly anticipated tenth studio album on 21 October 2022. In the lead-up to its release, Swift described the 13-track album as "the story of 13 sleepless nights scattered throughout my life." 
Working exclusively with long-term collaborator Jack Antonoff as producer, Midnights sees a return to pop for Swift. She experiments with electropop, synth-pop, dubstep-inspired rhythms and bass, and house-inspired beats, culminating in an incredibly intimate, assured, and heartfelt album showcasing the singer's lyrical genius. 
The album begins with Lavender Haze, written by various collaborators, including Zoë Kravitz. As described in a featurette video, Swift sings of the "all-encompassing love glow" associated with falling in love. She also criticises the gender roles and stereotypes that have cruelly confined her throughout her career: "All they keep asking me / Is if I'm gonna be your bride / The only kinda girl they see / Is a one-night or a wife."
Anti-Hero is perhaps Swift's most vulnerable and honest song on the album. She sings of self-hatred, insomnia, and body image, surmising: "It's me, hi / I'm the problem, it's me / At teatime, everybody agrees / I'll stare directly at the sun, but never in the mirror / It must be exhausting always rooting for the anti-hero." Confessional and confronting, Swift accurately articulates the universal feelings of insecurity, depression, and loneliness. Her relatability is a testament to her songwriting. In the dramatic bridge, Swift sings: "I have this dream my daughter-in-law kills me for the money / She thinks I left them in the will / The family gathers 'round and reads it / And then someone screams out / 'She's laughing up at us from hell'." While humorously depicted in the music video, the lyrics portray the difficulty of creating genuine relationships with fame. 
In the fourth track, Snow on the Beach, Swift collaborates with Lana Del Rey. However, as the internet has jokingly pointed out, Del Rey seems largely absent from the song, providing backing vocals, as opposed to the eagerly anticipated duet. Nevertheless, the lyrics are beautiful and create a romantic atmosphere that transports listeners to a winter wonderland: "Now it's like snow at the beach / Weird, but fucking beautiful / Flying in a dream / Stars by the pocketful / You wanting me / Tonight feels impossible."
Vigilante Shit and Karma mark a return of Reputation-esque revenge narratives. In Vigilante Shit, Swift evokes her femme fatale, singing, "Ladies always rise above / Ladies know what people want / Someone sweet and kind and fun / The lady simply had enough." Karma has become an instant favourite due to its rhythmically pleasing chorus: "Cause karma is my boyfriend / Karma is a god / Karma is the breeze in my hair on the weekend / Karma's a relaxing thought / Aren't you envious that for you it's not?"
The album fittingly finishes with another love song, Mastermind, which recounts the strategic first meeting with a lover. It's a song that makes you smile, beam, and rejoice in happiness because what's more beautiful than love? Swift is honest and personal, and the lyrics reveal why love is so pertinent to her character: "No one wanted to play with me as a little kid / So I've been scheming like a criminal ever since / to make them love me and make it seem effortless."
But that's not all! In fitting Swift-like fashion, the album's deluxe version was released hours later, titled Midnights (3am Edition), with seven bonus tracks. These songs reinforce the same themes of the original album, with three tracks produced by The National's Aaron Dessner.
One of these tracks is Would've, Could've, Should've, which emphasises the power of Swift's songwriting as she pens a track laced with regret, remorse and anger at an ex-boyfriend. Swift does not hold back: "If you never looked my way / I would've stayed on my knees / And I damn sure never would've danced with the devil / At nineteen." She says, "Give me back my girlhood / It was mine first," and ends the incredibly confronting song with "I regret you all the time." Swift cleverly utilises religious imagery to depict the horrible reality of Hollywood relationships between young teenage girls and men (usually) in their thirties. 
Midnights has had an extremely positive reception. It broke the record for the most-streamed album in a single day in Spotify history and received five stars from The Guardian, The Independent UK, and Rolling Stones. It also became the best-selling album of 2022 within 24 hours of release and has had the largest vinyl sales of the century. Yet, critics like the  Evening Standard have argued that "it's hard to spot anything that sounds like a smash hit." However, this does not necessarily mean that the album is lacking in quality. In fact, Swift is at an advantage to her peers. Her clever songwriting has procured her a devout fanbase throughout her fourteen years in the music industry, which guarantees immense success with each album release. This essentially allows Swift to create records for the purpose of storytelling, as opposed to releasing a manufactured and generic pop song that may be a hit on the charts but is lyrically meaningless. As The Guardian asserts, Midnights is an album that "steadfastly declines to deal in the kind of neon-hued bangers that pop stars usually return with, music brash enough to cut through the hubbub." Overall, the album demonstrates Swift's versatility as an artist, as she experiments with her musicality to remain both original and comfortingly familiar. Midnights is a masterpiece, and Taylor Swift is truly a mastermind.
Think your name would look good in print? Woroni is always open for submissions. Email write@woroni.com.au with a pitch or draft. You can find more info on submitting here.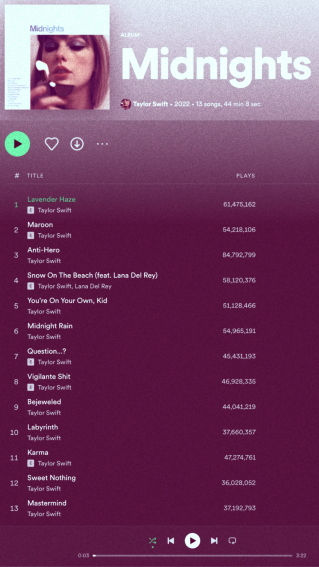 We acknowledge the Ngunnawal and Ngambri people, who are the Traditional Custodians of the land on which Woroni, Woroni Radio and Woroni TV are created, edited, published, printed and distributed. We pay our respects to Elders past and present and emerging. We acknowledge that the name Woroni was taken from the Wadi Wadi Nation without permission, and we are striving to do better for future reconciliation.