First held in Bruce Hall's Bush Week in 1962, Inward Bound (IB) is indisputably the biggest event on the ANU Interhall Calendar. This year, the race is hosting 284 runners across 71 teams, made up of on- and off-campus students, undergraduates, postgraduates and alumni. Together, they will run a combined distance of 4225 kilometres: that's further than from Canberra to Darwin. 
But IB is far from a 'runner's cult'. Well in excess of 1000 spectators are expected at this year's event, a pretty remarkable number when you consider that spectators only witness the beginning and the end of the race. So, what is IB's pull? What is it about this weird ultramarathon that brings so many people together year after year?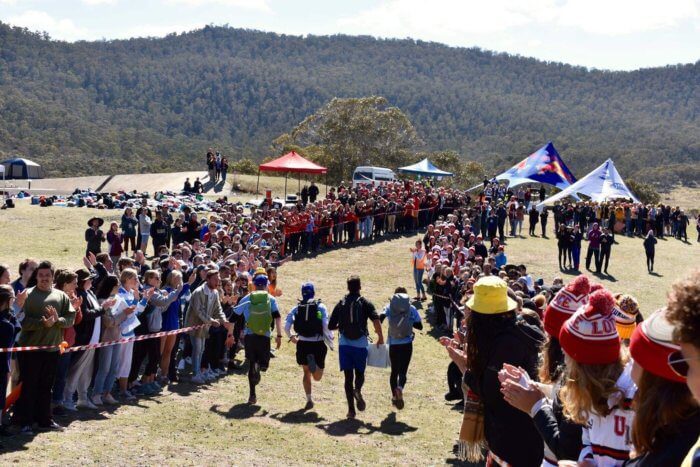 For the uninitiated, IB involves teams of four being blindfolded and dropped in areas of the bush surrounding Canberra. The teams are given the coordinates of an undisclosed End Point and must plot this location on a map, work out where they are and then run distances ranging from 30 to 100 kilometres. While it's undeniably a huge physical challenge, runners universally cite friendships, teamwork, a huge sense of achievement and an oddly specific knowledge of the ACT's national parks as the most valuable takings from the race.  
While the basic elements have stayed the same since the 1960s, the status of IB as a professional-quality event has grown significantly over the last 57 years. There's been an increased focus on safety since the race was cancelled in 2008, and the last four years in particular have seen race directors continuously working to move IB from strength to strength.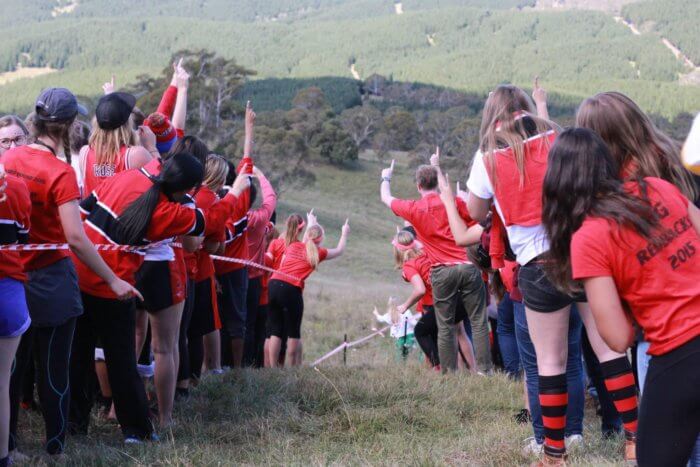 2019 is set to be the most transformative year since IB famously 'went to the beach' in 2016. Race Directors Henry Delves and Andrew Nilon have built upon Chloe Maric and Tom Banks' stellar work in 2018, making the event bigger and more inclusive than ever before. Div X, a division enabling previous runners to return to a beloved event, is back, along with three new halls. The directors have also placed a huge focus on increasing female participation and created a push to "blow the spectator experience out of the water." 
The smooth introduction of Wamburun, Wright and Gowrie Halls has been essential to ensuring IB's longevity. While the other halls have decades of experience to draw upon, the new additions have been trained from scratch on the fundamentals of scouting, navigating and finishing the race safely. 'Expansion runners' (ex-residents from other halls) have helped mentor and build some very impressive first-time squads, and Delves and Nilon credit the experienced coaches Kate Thomas, Tom Brazier and James Kitchin (previously from Bruce, Griffin and Ursies, respectively) for hyping up the IB fever in the new residences. Wright Hall will enter all seven divisions, while Wamburun filled their volunteer quota the fastest of any college. 
The support of all the halls also sums up what makes IB so special: it's a race where everyone cheers you just as loudly no matter where you're from or how far you've run. 
On the inclusivity front, IB has worked incredibly hard since 2015 to increase female representation. A minimum female runner requirement (one quarter of each squad) was introduced in 2016, and each hall must now have at least one female coach. A rule change is currently before ANU Interhall Sport (ISO) for coaches to move to 50/50 representation in 2020, with the hope that a 50/50 squad ratio ultimately follows. 
2018 saw a Women* of Inward Bound page being introduced as a space for female runners to support each other through sharing their questions and experiences. 2019 has built upon this platform, with the IB Committee organising social runs and hikes for female runners, as well as a non-autonomous panel event and an autonomous Q&A evening. In a sport that's always been male-dominated and is still working to shake the 'boys' club' image, it's been incredibly exciting to see a light shone on the importance and uniqueness of women's IB experiences. It will hopefully ensure that representation for women across the event keeps on increasing. 
Finally, more is being done than ever before to boost the spectator experience. There are not many who remember the days when spectators had to organise their own way to End Point (buses were introduced in 2016), and Grease Monkey is returning to spice up the food at the finish line. Promotional material is still to be released to hype up the event (and to help non-runners visualise it) and rumour has it this year will bring everyone 'on course' in a way that's never been seen before. 
All the runners have started their annual drinking bans and the final touches are being placed on the course. But the work of this year won't just be seen on that first October weekend. It'll set the bar higher, bring more people in and preserve the longevity and history of Australia's most unique university event for years to come.
We acknowledge the Ngunnawal and Ngambri people, who are the Traditional Custodians of the land on which Woroni, Woroni Radio and Woroni TV are created, edited, published, printed and distributed. We pay our respects to Elders past and present and emerging. We acknowledge that the name Woroni was taken from the Wadi Wadi Nation without permission, and we are striving to do better for future reconciliation.