The Met Gala is easily fashion's most prestigious annual costume party. Apart from being a parade of expensive textiles that are publicly judged on historical accuracy and thematic interpretation, the Met Gala is also a fundraising event.  American fashion publicist Eleanor Lambert organised the inaugural ball in 1948 to celebrate the opening of the Metropolitan Museum of Art's Costume Institute in New York. What began as a charity ball quickly transformed into history's 'Fashion Oscars.' 
Eventually, the guest list extended its welcome to the likes of elite singers including Cher and Madonna. It was only the early 70s when the tradition of themed dress came into play. This dual combination of celebrities and themed costumes truly crystallised the Met Gala as the 'It' fashion event for elite socialites.
Fast-tracking to the present day, the Met Gala is organised by Vogue's editor-in-chief, Anna Wintour. For over two decades now, she has chaired the event and its gala themes which draw directly from the museum's exhibits. This year's theme, In America: An Anthology of Fashion, follows on from last year's ball. It features the second instalment to the Costume Institute's two-part exhibition and highlights the socio-economic changes in America at the turn of the 19th Century. 
This period, dubbed the 'Gilded Age' (1870 – early 1900s) was a period of industrialisation and expansion. The rapid development of transport and technology funded a national economic boom that attracted an influx of immigrants to the States. The Gilded Age was also a period of corporate corruption and capital income inequality. In the highest echelons of American society, a generation of the 'nouveau rich' emerged to challenge 'old money,' referring to established families who had inherited and grown their wealth over generations. It was therefore natural for this feud between New vs. Generational wealth to extend itself onto the battlefield of garments. Women boasted dramatic silhouettes by wearing figure-snatching corsets and big bustles, the latter adding a voluptuous backside to a woman's dress.
This emphasis on creating extravagant material illusions is not lost in the name of the period. 'To gild' means to coat something in a layer of gold. Applying this to the boisterousness of late 19th Century America, socialites made every effort to fortify their veil of opulence. Being unnecessarily dramatic was entirely the point; what was the point of extravagance if it escaped popular attention? 
The Gilded Age is remembered as a period of excess consumption and performative extravagance because of this desire for those of old money to prove themselves within higher society. It is a fitting theme for what the Met is, and who it represents. For invited guests, it's a sure way to establish or elevate your status as a fashion icon. But for uninvited guests, the Met Gala is a fun distraction in fashion reporting.
Billie Eilish served us one of the most impressive looks of the night. Last year, she swept the carpet in her peach-nude Old Hollywood glam gown, courtesy of Oscar de la Renta. This year, her tulle train was replaced by a Gucci custom bustle draped ivory skirt.  What's more, her roots had also taken a jump from platinum blonde to jet black.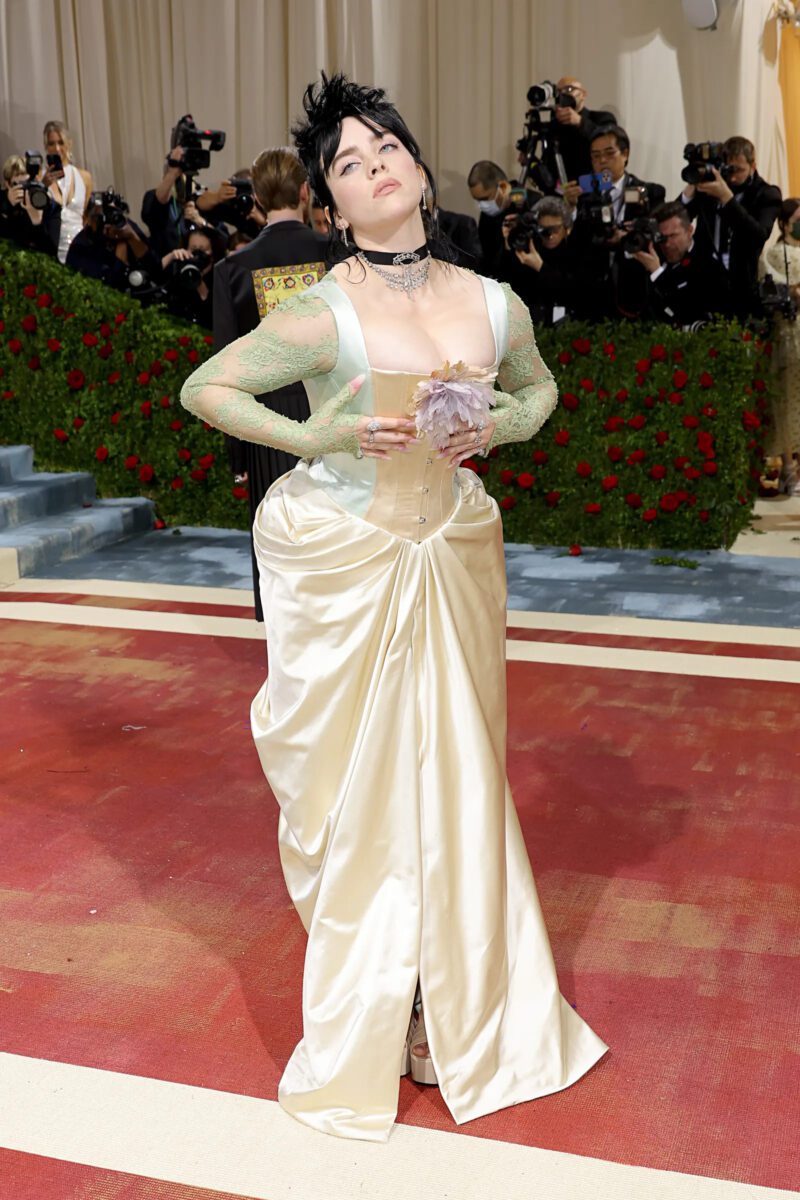 In line with the Gilded Glam dress code, Billie rocked a sea-foam green and champagne corset bodice with a purple flower to decorate her décolletage. This was paired with a tan sleeve of embroidered green lace cut-outs, a popular embellishment of the Gilded Age. To add a more personal pop of punk, her period-appropriate gown was contrasted with a modest black choker that fully complemented her grungy swept-up hairdo.
Billie's outfit is impressive on more levels than one. Her stylists created a historical and thematically accurate look that remains wearable today. Of note was her small bustle (a padded undergarment used to add fullness, or support the drapery, at the back of dresses) which was shaped in a modern silhouette that wasn't overbearing or unflattering but is a definitive nod to the Gilded Age.
 As well as succeeding in thematic tailoring, the most stellar aspect of Billie's overall head-to-toe look had to be her "eco-friendly" dress policy. To quote the light-hearted banter in her interview with Emma Chamberlain, "wait, it's like thrifting, but for the MET!!" Billie proudly declared that she's wearing all-existing Gucci fabric that is sourced from recycled or dead-stock material. Her sustainable pitch to Gucci was nothing short of admirable and refreshing. In fact, her hyper-awareness of her own material consumption is a funny irony to the Gala's theme.
Billie has appealed to the Met's theme of Gilded Glamour, but without succumbing to its ridiculous fantasia of inequality. Her desirable (and equally green!) gown was created with purpose and intent, rather than material prestige. Importantly, Billie Eilish has proactively advocated for sustainable fashion since her debut at the Met in 2021. 
Just last year, she was able to cut a deal with Oscar de la Renta that ended the fashion house's fur sales. This year, she has challenged the house of Gucci to actively recycle existing garments, creating the ultimate Green Gilded Glamour look. These eco-actions have earned her widespread respect for elevating sustainable fashion as an accessible and severely underdeveloped sector within haute couture.
Since the Gilded Age, the motivations behind fashion cycles and trends have changed significantly.  There's no doubt that the choice of 'Gilded Glamour' was a befitting second-part installation to the Gala. The philanthropic origins of the Met are a reminder that this annual event is not merely a hollow, golden-tinted charity ball. Rather, it is a public opportunity for attendees to step up and voice ideas of change within the creative industry. Intentionally or not, the 2022 theme has put a spotlight back on fashion and its intersection with entertainment, privilege, and waste.
We acknowledge the Ngunnawal and Ngambri people, who are the Traditional Custodians of the land on which Woroni, Woroni Radio and Woroni TV are created, edited, published, printed and distributed. We pay our respects to Elders past and present and emerging. We acknowledge that the name Woroni was taken from the Wadi Wadi Nation without permission, and we are striving to do better for future reconciliation.