ANU students turned out in strong numbers to the Women's March on Sunday afternoon in Canberra city, calling for unity and equality for women.
The march attracted a large number of young people, many of whom were volunteers with Jasiri, the charity which organised the march, or members of organisations such as PARSA and ACT Young Labor.
Several university and high school students spoke and performed at the event, including MC's Caitlin Figuereido and Saba Awan, musicians Sophie Edwards and Lucy Sugerman and speakers Tanvi Nangrani, Nipuni and Gayana Wijewickrema.
One ANU student, Michelle Watson, was drawn to the rally because she believed that there was a long way to go until everyone understood the importance of women's rights.
"To me, [the Women's March] means empowerment, standing together", said Watson. The postgraduate student, studying genetics, went on to say that events like the Women's March enable women to stand in solidarity with each other, while also bringing issues such as these "to the attention of others".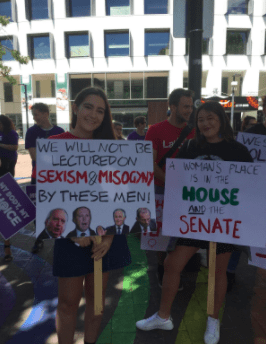 Sumithri Venketasubramanian, another ANU student at the event, was quick to point out the symbolic significance of the march's theme, 'Unbroken'.
"We're not backing down," the environmental studies and geography undergraduate told Woroni. For Venketasubramanian, the word represented resilience. "We're going to keep fighting in this tone of resilience. I would say that's the significance of [the Women's March]".
Some of the young speakers also emphasised the importance of intersectionality, as well as the fact that there is more than one type of woman and more than one experience of being a woman. Sisters Nipuni and Gayana Wijewickrema spoke about the struggles of women with disabilities, stating that 4.8 million women live with a disability, only 27 per cent of whom are employed.
Incoming first year ANU student Tanvi Nangrani spoke passionately about the representation of women of colour in the media:
"It's important that there's no exclusivity in terms of representation, meaning that all people, however they identity, whatever their ethnicity, are visible in the media. All people need to be represented and not in a stereotypical or tokenistic way."
We acknowledge the Ngunnawal and Ngambri people, who are the Traditional Custodians of the land on which Woroni, Woroni Radio and Woroni TV are created, edited, published, printed and distributed. We pay our respects to Elders past and present and emerging. We acknowledge that the name Woroni was taken from the Wadi Wadi Nation without permission, and we are striving to do better for future reconciliation.