On the 5 June 2020, protesters swarmed the city showing their support for the #BlackLivesMatter movement, listening to the voice of Aunty Matilda House. Her words rang clearly through the morning air, a cry for freedom that has for too long been ignored. 
The nearly 3000 people who stood and listened to her words in Garema Place on Friday sent a message of solidarity against police violence across the world. Signs and voices held the infamous '432' aloft, the number of Aboriginal and Torres Strait Islander deaths in custody, since the 1991 Royal Commission. It was these deaths that were the focus of the protest, in an attempt to signal to ignorant Australians that police brutality against bla(c)k people is not simply an American issue. That, as Leah House put it, people of colour have been "having these conversations [their] entire lives" and that this is nothing new.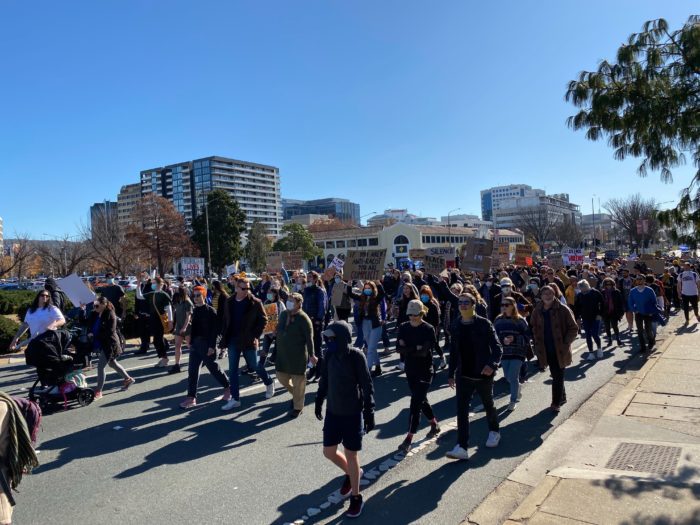 Tove Cheokorir Gøj, one of the event's organisers, stated that "as long as our leaders don't acknowledge that some police see people of colour inherently as a threat, no progress will be made". This was further echoed by chants of "No Justice, No Peace, No Racist Police" by the crowd. It is, she continued, on each and every one of our shoulders to hold these systems accountable for their racism. Her powerful words caught the attention of the crowd, becoming emotional when speaking about the injustices that remain present today.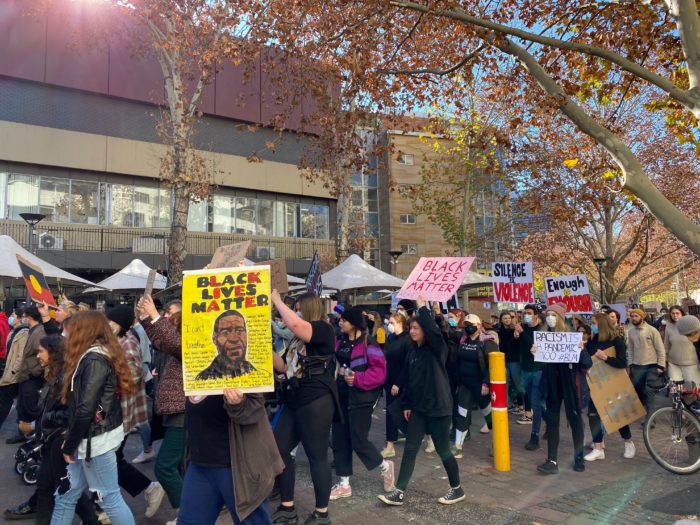 Following a minute of silence, the crowd began to march though Civic towards Parliament House, chanting loudly against the systematic oppression. The crowds were met at the base of the hill by a significant police presence that, while non-violent, made their strength clear. Standing outside Parliament House, the speakers wanted to "send a message to the government". They said that it has failed to recognise the rights of people of colour in Australia for too long and called for systematic change. When addressing the crowd, Indigenous activist Serena Williams called upon ignorant Australians to act, saying "you are with us or you're not". 
As speeches continued, one single message became clear. That, as Aunty Matilda House said, "Aboriginal men and women have been taken from our lives and not once has it ever been explained, and they and all of us still can't breathe. 
We still can't breathe".
This protest is not unique. Over the past few days, Australia has seen protests in every major city, acting against the systemic racism that is so prevalent across the world today. These protests aim to spread awareness and gain support for the #BlackLivesMatter movement —working to rid society of racism and prejudice against people of colour.