"One Direction for ANUSA" has launched its campaign for ANUSA elections, promising to create a better ANU 'One Way or Another'. 
The ticket has a comprehensive set of policies it hopes to implement: 
It will take "a public stance against Azealia Banks", stating that her "acts of homophobia will not strike on the ANU campus … she hates the Irish and Niall won't stand for it."

It will make it "mandatory that all ANUSA candidates must publicise their sun, moon, and rising sign. We don't fuck with no Leos love", stating that "Leos are the worst". 

It will "replace all SRC meetings with live performances in the amphitheatre. Even when it's flooded". 

It hopes to "overthrow Brian Schmidt and replace him with Daddy Simon Cowell". 

It will "force the ANU to open unused accommodation to house Afghan refugees. The atrocious effects of Western imperialism on the Global South must be rectified. As an activist union, we stand in solidarity with those who have suffered at the hands of Orientalism and the West's imperialist ventures into their land",

It will "reunify Ireland and One Direction",

"Ban all university readings because sexy people don't read", stating that "we need a 100% sexy population at the ANU",

Replace all student accommodation with One Direction tour buses,

Negotiate with the elected Treasurer to ensure that 10% of SSAF are directed towards the "STOP ED SHEERAN FROM MAKING MUSIC" campaign,

Provide free One Direction branded dental dams to all students, 

"Install a Princess Di memorial in Kambri to honour ar [sic] lady di."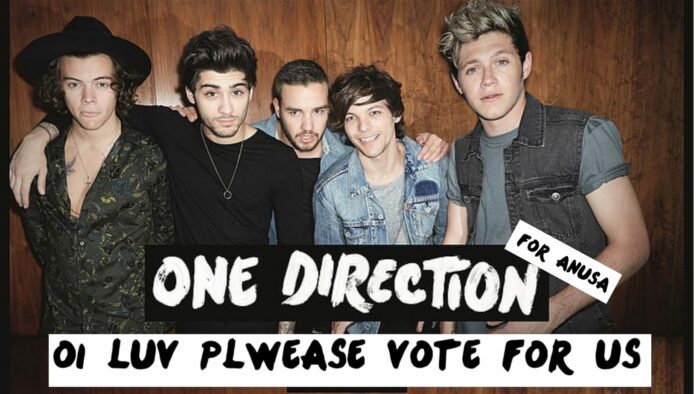 The ticket positions are as follows: 
Harry Styles is hoping to steal the position of President, "taking Christian Flynn head on". 

Louis is running for Vice-President, however said "I don't know who's running for Vice President cos I don't care". 

Niall will be running for Education Officer.

Liam is apparently "too bi-phobic" to be running for a position on the Executive and is therefore running for General Representative. 

Zayn will be running for General Representative as a 'punishment' for leaving the band. 
According to "One Direction for ANUSA", their ticket anthem is 'What Makes you Beautiful', however this would change to 'One Thing' upon winning. The ticket stated that Princess Diana is the 'One Thing' that ANUSA is missing, declaring that opponent Ed Sheeran allegedly has Princess Diana locked in his basement.
In response to a question on Larry rumours, Louis stated that he has "pledged to commit his full salary to fighting Larry rumours", and that he does not want to comment at this time. 
Louis further hopes to advocate for the rights of parents on campus and will implement gender-neutral changing rooms to do his bit to "take care of the earlier years", stating that there is "no gender divide in [his] household". He also hopes to advocate for the rights of DILFs on campus. 
'One Direction for ANUSA' responded to concerns that Zayn will leave three months into his term. Zayn stated that it only "matters that [he's] here now", and that it "took leaving to realise what [he] was missing", and that he is ready to "commit, just like [he] committed to Gigi Hadid". Niall stated that "Zayn is like the Joe Biden of our ticket, we don't know how long we've got him for but we're really glad we've got him along for the ride". 
The ticket firmly believes that it can commit to maintaining both political and music careers. Citing Kayne West, 'One Direction for ANUSA' stated that "so many musicians have become excellent politicians, obviously we can balance both". Furthermore, the ticket has no political affiliations, and purely "wants to bring ar Di back".