Amid the colour and buzz of the University's annual Open Day, bodies lay strewn across the main Kambri thoroughfare. The reason: to draw attention to the ANU's investments in fossil fuel industries, demand their divestment from these industries and to declare a climate emergency. 
The demonstration consisted of protesters 'dying' on the spot to symbolise a mass extinction event caused by climate change. To add to the drama, the Red Rebels [pictured] stood amongst the 'dead,' alternating between covering their faces and silently condemning onlookers.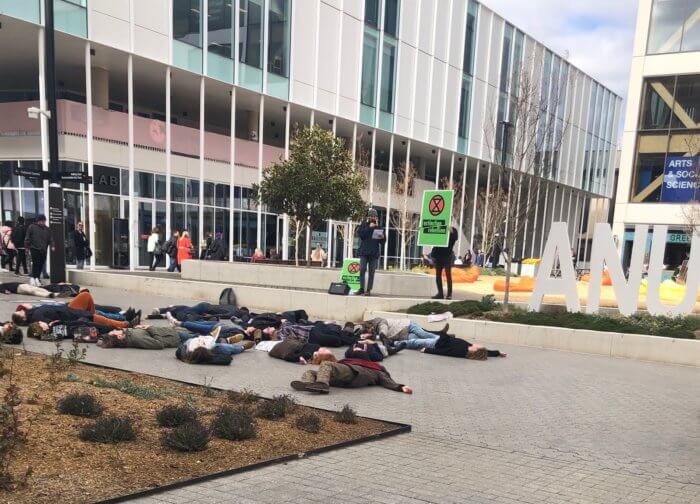 The event was organised by the youth branch of Extinction Rebellion ACT, members of which include ANU students and those from the Canberra community. For those who are not familiar, Extinction Rebellion is an international movement that uses non-violent civil disobedience to encourage action to halt climate-change-induced mass extinction and societal collapse. 
This weekend's "die-in" follows a number of similarly non-violent protests conducted by students nationwide, notably the walk-out on Friday 9th August. 
However, there was some confusion amongst students leading up to the event over whether the Socialist Alternative or Extinction Rebellion organised the action. 
"People asked me if I was going to the SAlt protest during Open Day," one student commented. "I was confused because I thought it was an enviro (sic) protest."
While there were members from the Socialist Alternative in attendance, Extinction Rebellion organised the event itself. 
The University's response, however, is heartening. The ANU adopted a Socially Responsible Investment Policy in 2013, meaning that all ANU investments exclude companies that derive more than 20% of revenue from coal. This makes ANU's investment portfolio one of the least carbon-intensive in Australia.  
Prior to 2013, the ANU was the recipient of donations from BHP Billiton and Rio Tinto.
In response to questions over what reassurances ANU can give to students concerned with investments, a University spokesperson reaffirmed that "the ANU also takes climate change seriously." Citing the establishment of the Climate Change Institute and the Energy Institute, driving the latest research on these issues, as well as committing to creating a carbon-neutral campus with 100% renewable energy. 
The ANU also referenced its establishment of a "Grand Challenges research project worth $50 million over five years." A program "which investigates how to deliver a zero-carbon future for the Asia-Pacific."
When asked about whether ANU should be doing more in its Socially Responsible Investment Policy, attendee and Socialist Alternative member Kim Stern said, "the world is on fire and I think it is unacceptable for any business to be part of the fossil fuel industry. We want radical change now."