As election day nears, Woroni surveyed students on their thoughts on Australia's political landscape. 
The three most important issues to students were (in order of importance): climate change, cost of living and housing affordability. Other issues of importance included integrity/corruption, refugees, university funding, LGBTQIA+ rights and national security. 
 Of the 39 respondents, 79.48 percent of respondents said they were not affiliated with a political party, 7.7 percent belonged to the Greens, 5.13 percent belonged to the Labor Party, 5.13 percent belonged to the Liberal Party and 2.56 percent said they belonged to the Christian Democratic Party.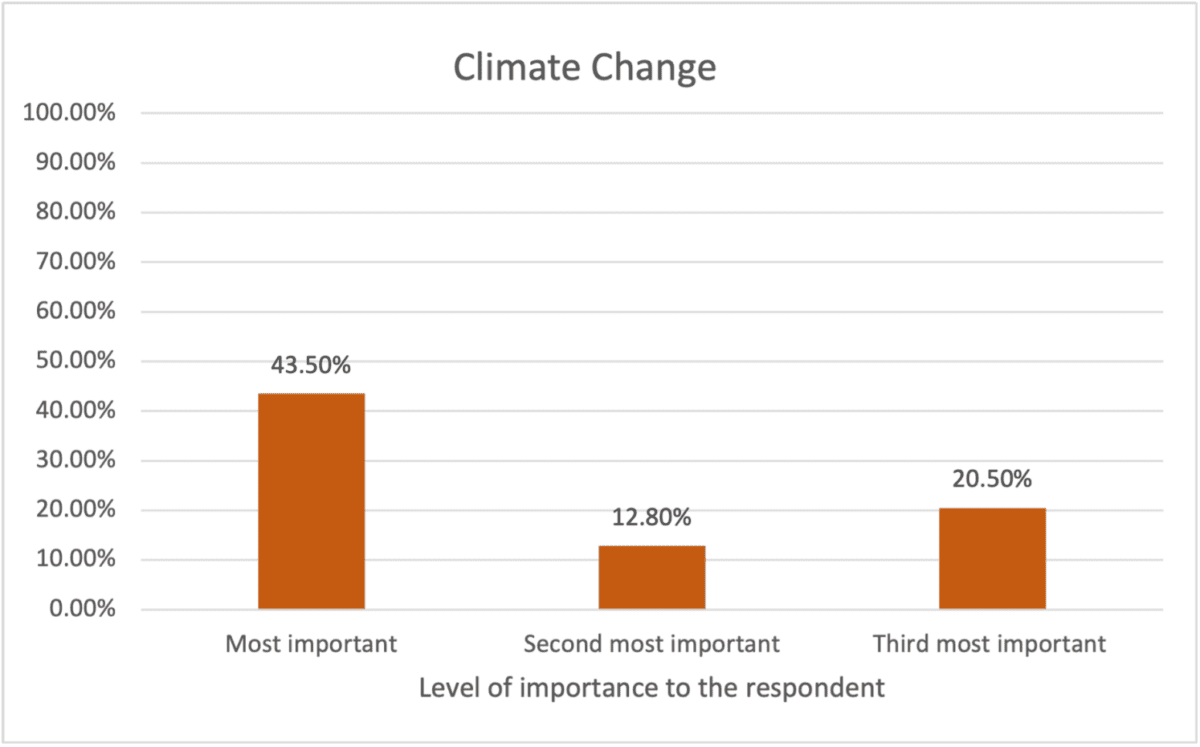 Climate Change
The survey results revealed 43.5 percent of respondents stated that climate change was their "most important issue," 12.8 percent found that it was their "second most important issue" and 20.5% ranked it their "third most important issue." 
One respondent said that climate change "is the big issue of our times" but noted "only the Greens and independents are coming towards it with serious emissions reduction targets". 
The Greens and Climate 200-backed 'teal independents' have capitalised on growing discontent over the incumbent government's mismanagement of the climate crisis. The Coalition's emissions targets of zero emissions by 2050 and a 26 to 28 percent reduction by 2030 have been widely criticised by climate experts for not being stringent enough. 
Another respondent emphasised the need for "strong and decisive" action on climate change, despite industry and lobbying concerns.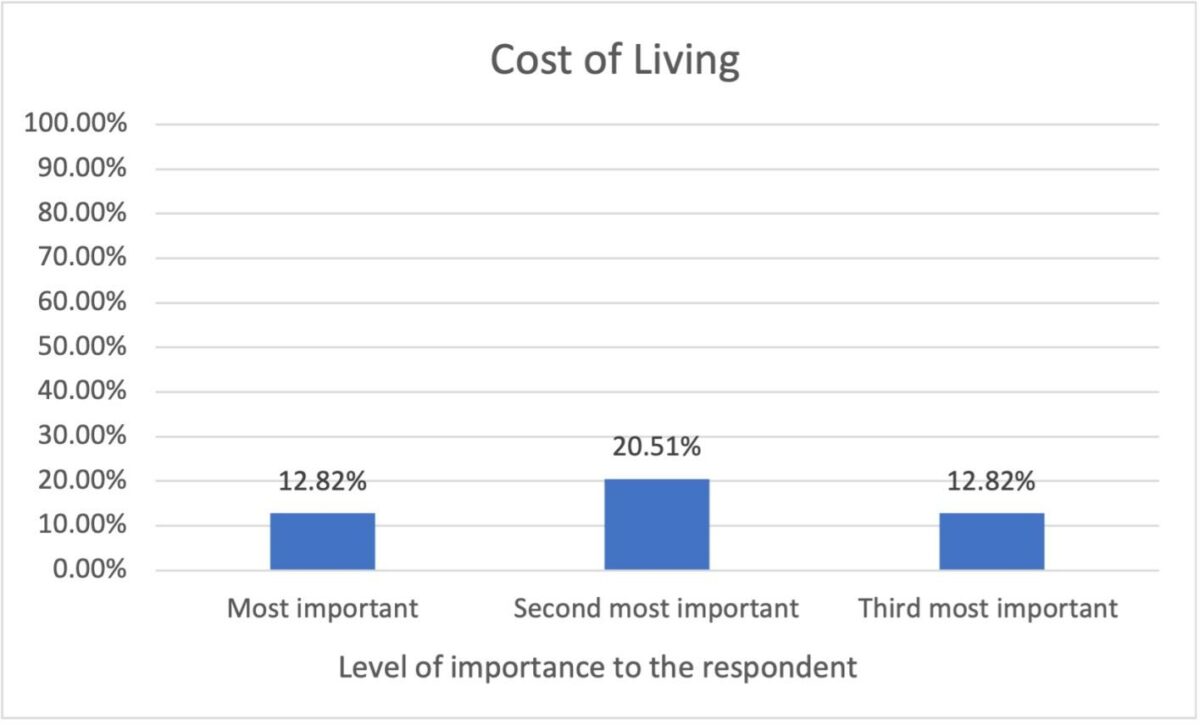 Amongst respondents, 12.82 percent described cost of living as their "most important issue", 28.2 percent said it was their "second most important issue," and 23.07 percent called it their "third most important issue".
The rising cost of living has led to one in ten Canberrans living below the poverty line, according to the ACT Council of Social Services' '2022 Cost of Living Report.' The report also outlined that housing "remains ACT's key cost of living issue." 
Discussions between political candidates surrounding the cost of living were described as "fine" by one respondent, but they believed that "more detail about the proposed solutions" was needed, rather than "further identification of the problem."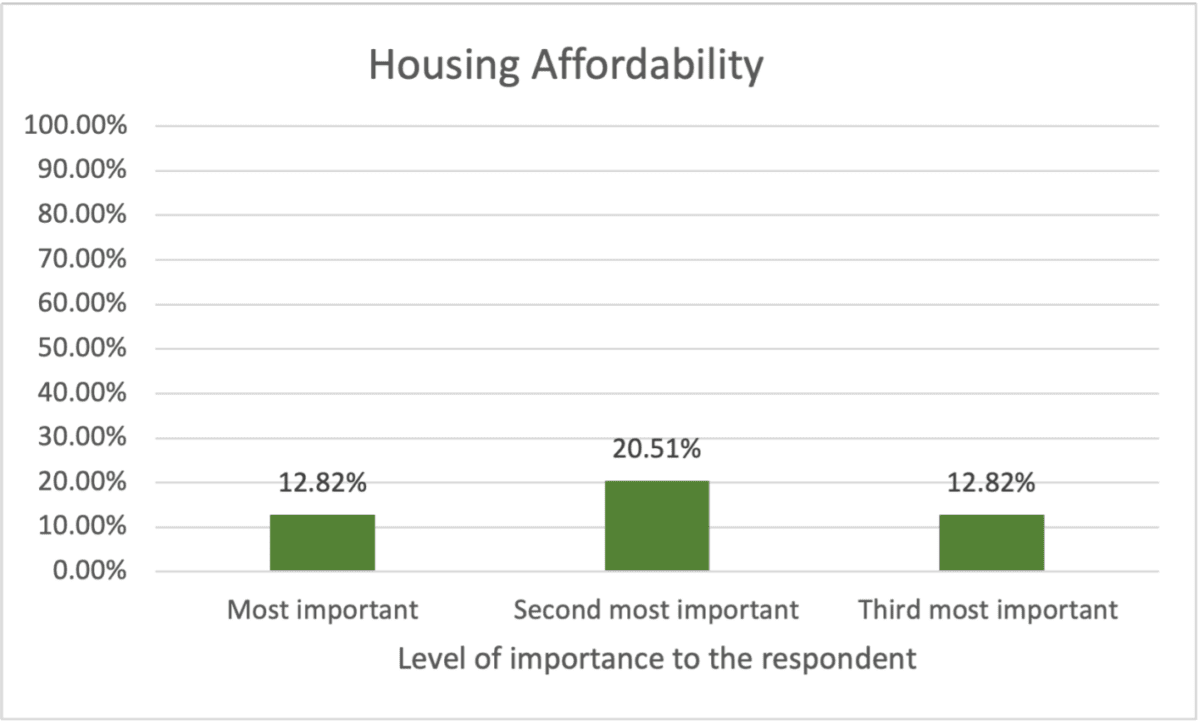 Additionally, the survey found that 12.82 percent of respondents identified housing affordability as their "most important issue", 20.51% said it was their "second most important issue", and 12.82% called it their "third most important issue."
One student said they had "barely seen any advertising in campaigns [about the housing crisis]."
"I'm not hearing any party attribute the high cost of housing to inflation in the housing market. Until a politician identifies the solution to housing prices is to dramatically lower them, I won't believe that anyone is serious about resolving the housing crisis," another respondent elaborated. 
The coalition recently announced that first time homeowners will be able to use up to $50,000 of their superannuation to secure a home loan. Analysts have suggested that this will likely increase demand and ramp up property prices to benefit existing homeowners, rather than first time buyers. 
Views on political campaign tactics 
Overall, respondents felt that the issues of importance were addressed poorly by politicians in their campaigns. They then rated how well they thought issues of social importance were addressed by politicians in their campaigns on a scale of one to five, where one was 'terrible,' and 5 was 'excellent.' The results are summarised in the table below: 
| | |
| --- | --- |
| Issue  | Average rating (out of 5)  |
| 'Most important to the respondent '  | 2.32 |
| 'Second most important to the respondent'  | 2.49 |
| 'Third most important to the respondent' | 2.33 |
Students felt that politicians needed to more directly address issues by proposing "genuine" policy changes. 
One student articulated that politicians should "spend more money and energy addressing actual issues and stop playing political games" and suggested that "doing things isn't what the campaign is about – it's about creating a caricature of the other side, it's about the lowest common denominator." 
"Both sides' campaigns have been uninspiring because they are – understandably – focusing on not screwing up rather than making bold policy plans," the student added.
Of participants who had previously voted, 83.33 percent said they would vote for the same party in the upcoming election. When asked if their political stances had changed over the last two years due to the pandemic, responses were mixed.
 One participant said that "welfare and corruption" had become increasingly important to them "after witnessing how the government handled the support of Australians during COVID-19 economically." The student described Australian party politics as "high school-like" with its "bickering and disgusting misogyny, as well as leaked texts and fraud." 
Another respondent agreed, noting the federal government's tendency to "handball duties to states" while forgoing "taking responsibility for the course of the country" was made apparent to them over the last two years. 
However, others shared that their experiences during the pandemic confirmed their political leanings.
"In my opinion, Labor has ensured a relatively smooth experience through COVID-19 relative to the rest of the world. I continue to believe in Labor as the strongest and most sensible leader," one respondent wrote.
The opinions of the students surveyed do not represent the views of Woroni or the broader student body. For further content on student perspectives on politics, check out Woroni TV's video on Pre-Election Attitudes.
We acknowledge the Ngunnawal and Ngambri people, who are the Traditional Custodians of the land on which Woroni, Woroni Radio and Woroni TV are created, edited, published, printed and distributed. We pay our respects to Elders past and present and emerging. We acknowledge that the name Woroni was taken from the Wadi Wadi Nation without permission, and we are striving to do better for future reconciliation.