Inspired by the climate change activism of Greta Thunberg, students around Australia and the world walked out of class today in protest of government inaction on global warming. Held on September 20, three days before the United Nations meets for the Emergency Climate Summit, students walked out of class in a demonstration of civic disruption. 
The ANU did not release a statement regarding the penalisation of students who missed class to attend the rally. 
PARSA President Zyl Hovenga-Wauchope conveyed his concern regarding the lack of support by the ANU for student led action against climate change. In an email to a collection of senior ANU staff, he commented that "as the national university, we have a responsibility to actively engage with and lead issues of national importance" so that we are not "left behind on this major issue".
The global strike was not listed on the calendar for the ANU Climate Change Institute.
In contrast, ACT government employees were given the 'all clear' to attend the strike, a decision supported by 30 unions. Many ACT businesses also instructed their employees that they would not accrue any consequences for their attendance. 
An ANU contingent gathered in Kambri to hear from various student activists before marching to join thousands of fellow protestors in Glebe Park. Among them was Tess Carlton, who walked out of class at Merici College in Braddon to speak to the crowd gathered in Kambri. Carlton argued for the importance of listening to Australia's First Nations people when confronted with issues of how to live more cohesively within the environment:
"The oldest living society on this planet, a society that has survived for forty thousand years living sustainably on this land, as part of a culture that cannot live in harmony with nature for even two hundred years. It is worth reflecting on what their society can teach us going forward."
Carlton praised those who were in attendance and emphasised that it is necessary to build on the momentum from the consecutive strikes and civil disobedience. The ANU was praised for its history and culture of student protest, but reservations were also expressed towards the "school which invests millions in fossil fuels."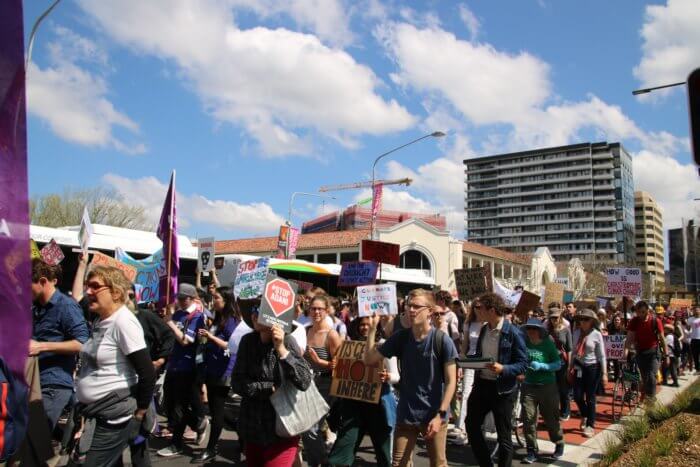 A student activist from Dickson College, Aoihbinn, spoke passionately about the climate crisis at the ANU student strike on August 9 of this year. In her speech at Glebe Park today, she criticised the government's inaction on the issue, stating that citizens' demands are not being heard. "The government … is not listening and is making these decisions for themselves and themselves only." She further called for a "return to the fundamental principle of our democracy – that our leaders serve us and not themselves." Her speech resonated amongst the young crowd, who shared the same frustrations. 
The speeches and musicians in Glebe Park were followed by a march through the streets of Civic. The march aimed to disrupt, because, as Em Roberts so eloquently stated, "without disruption, there is no economic cost, and with no economic cost, the people at the top do not care."