CW: Brief mention of violence
The creation of a pro-Hong Kong support wall in the Copland precinct has prompted clashes between pro-Hong Kong students and pro-China students.
Woroni received reports that tensions were rising at around 10:30pm on Wednesday night. The reports outlined that students from Hong Kong and supporters began to stick up post-it notes with messages in support for the Special Administrative Region. 
Onlookers said that students were tearing down the pro-Hong Kong post-it notes, as well as outlining that they witnessed pro-China students asking ANU staff for the messages of support to be removed.
Those in attendance also said that students were replacing the destroyed messages with new ones. As of 11.45am on 2nd of August, posters with Pro-China statements had been plastered over the top of the messages of support.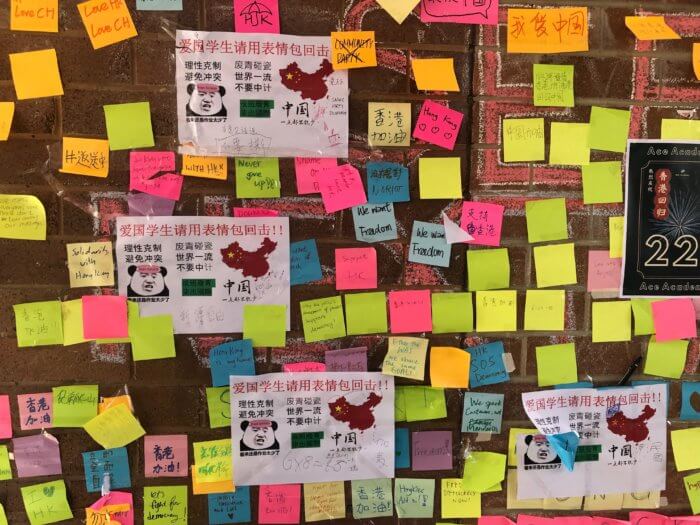 In response to the clashes, a spokesperson for the ANU highlighted that "the University encourages and inspires debate and lawful free speech." The spokesman also reiterated that students are encouraged to "express a wide range of views and perspectives… in a lawful and respectful manner."
In a statement published on Facebook, the ANU International Students' Department highlighted that while they support political discussion on campus, they "strongly condemn any racially charged speech or abusive slurs and hate speech targeting any nationality."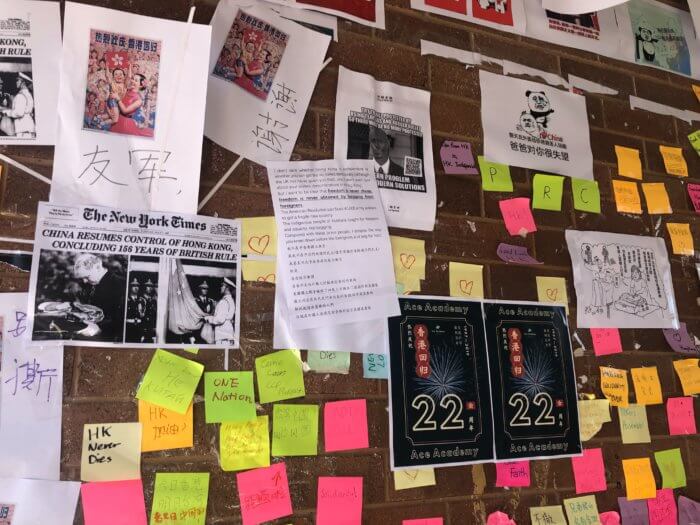 The ANU demonstration stems from recent protests in Hong Kong about the proposed Hong Kong extradition bill. The bill would see those convicted of crimes in Taiwan, Macau, and China being eligible for extradition from Hong Kong to those countries. The extradition bill is of particular concern to Hong Kongers, as they believe that this will lead to the extradition of those in Hong Kong who are accused of crimes by the Chinese Government. Other concerns arise regarding the impact that this will have on the 'One Nation, Two Systems' arrangement between the two governments.
Similar clashes happened at the University of Queensland last week, but those clashes turned violent, with hundreds of students involved.