Currently moving through ACT parliament is a bill to decriminalise the personal possession of illicit substances – including cocaine, heroin, and MDMA –  up to certain thresholds. The bill reframes drug use as a health problem, moving away from a punitive approach to destigmatising and reducing harm.
The introduction of this bill coincides with the newly opened Pill Testing Clinic in Canberra, the first permanent centre in Australia. The clinic marks a new approach to engaging with drug users, following on from positive trials at recent music festivals, including Canberra's Groovin the Moo in 2019. 
The Pill Testing clinic is located in Canberra CBD (City Community Health Centre: 1 Moore Street, Canberra City, ACT) and is open Thursday from 10am – 1pm and Friday from 6pm – 9pm. 
As the landscape of drug consumption in Canberra changes, Woroni breaks down these two initiatives to examine how a historic aspect of student life is shifting.
This decriminalisation bill follows the ACT Drug Strategy Action Plan (2018-2021), which outlines the Territory's initiatives to address and minimise harms from alcohol, tobacco, illicit drugs, and non-medicinal use of pharmaceuticals. It aligns with the National Drug Strategy's harm minimisation techniques: demand reduction, supply reduction, and harm reduction.
The proposed law will allow police officers to fine those caught for possession, rather than charge them with a criminal offence. Hence, possession of personal use quantities of drugs will not go on someone's criminal record. 
The current proposed fine is $100, with recommendations to enable alternative methods of payment, e.g., attending an information session on drug use and treatment.
Current regulations include jail time and fines for the possession of these drugs, excluding cannabis. The possession of cannabis (up to 50 grams and the cultivation of four plants, for personal use) was decriminalised in 2019. 
While decriminalised in the ACT, cannabis is prohibited on Australian National University and University of Canberra campuses under University policy and federal law. 
Professor Desmond Manderson from the Australian National University Drug Research Network claims that when we criminalise personal drug use "we're actually maximising the harm for them rather than minimising the harm." 
In combination with the testing clinic, the new laws allow people to have their drugs tested without fearing arrest and prosecution. 
The proposed thresholds are shown in the table below. Previous penalties included up to 2 years in prison, or up to an $8000 fine based on the amount held. 
For possession above the personal limit (including multiple small amounts of different drugs), monetary penalties remain at $8000, but jail time would decrease from 2 years to 6 months. 
Current penalties for supply, trafficking, manufacture, and driving under the influence of drugs would remain unchanged.
While current perspectives on the bill vary, an inquiry found strong external support, that emphasised the benefits of decriminalisation, including reduced harm, reduced stigma, and increased use of drug treatment services.
The Greens and the ANU Drug Research Network are proposing amendments to encompass a broader swathe of drug users. They argue this would further minimise harm for drug users as the limits in the Bill do not reflect realistic quantities for personal use.
ACT Green's MP Johnathan Davis wants thresholds raised to the 2014 trafficable level which are defined in the Criminal Code Regulation 2005. These trafficable levels are, on average, two to three times higher than the proposed personal possession limits.
Professor Manderson claims the bill is a "half measure on the way to decriminalisation". And, according to MP Davis, under the proposed laws "…only about half of people currently in prison for possession would have otherwise been diverted from the criminal justice system for this act."
The introduction of the new Pill Testing Clinic also aims to minimise drug related harm, enabling access to resources and medical advice. The clinic offers free and confidential chemical analysis of pills/drugs intended for personal use, harm reduction advice, drop-in nurse consultations and other information.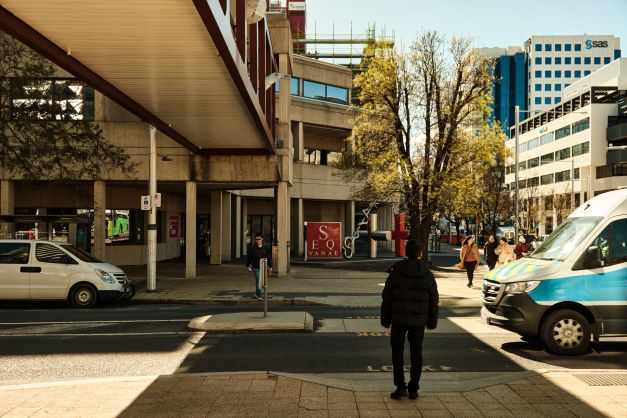 The testing centre provides a safe, destigmatised resource for drug users. An anonymous ANU student shared a positive experience with using the clinic, saying it was a "safe environment and a good overall experience."
However, there are questions regarding the efficacy of the centre's opening hours (midday and early evening), particularly given many university students go clubbing and may consume drugs late at night, before clubbing. 
The clinic's situation amongst government buildings has also been discussed, with an anonymous ANU student raising concerns regarding continued stigma associated with being seen entering the testing clinic. This is a particular concern for such students who may work in Government-adjacent or public sector workplaces, as many university students in Canberra do. 
Regardless of concerns, the ACT Greens see this proposed bill as an "essential part of creating a cultural shift in our society where we look after each other and treat personal drug use as the health issue it is."
An ANU student, speaking to Woroni, believes that "decriminalisation … prevents students from various backgrounds who may be caught for possession of small amounts of drugs, from being caught up in a small territory's judicial system and having to navigate complex challenges that may arise from a criminal charge."
Young people, including university students, are far more likely to consume illicit substances than any other age group. The 2019 National Drug Household Survey showed 31 percent of people aged 18-24 had used illicit drugs in the last 12 months.
The Legislative Assembly, controlled by the Labor-Green coalition, is effectively guaranteed to pass the bill given both governing parties have indicated their support. If this happens, it will highlight a shift towards a health-based drug management approach in the ACT. 
We acknowledge the Ngunnawal and Ngambri people, who are the Traditional Custodians of the land on which Woroni, Woroni Radio and Woroni TV are created, edited, published, printed and distributed. We pay our respects to Elders past and present and emerging. We acknowledge that the name Woroni was taken from the Wadi Wadi Nation without permission, and we are striving to do better for future reconciliation.