Woroni acknowledges the Ngunnawal and Ngambri people, who are the traditional custodians of the land on which Woroni is created. We pay respects to Elders past, present and emerging. This always was and always will be Aboriginal land, and sovereignty was never ceded.
Thousands of protesters, including many ANU students, marched from Garema Place to the Tent Embassy on Thursday in opposition to the ongoing celebration of January 26. Woroni attended the demonstration and asked students about their experience of the day.
This year's events featured discussion surrounding the upcoming referendum on a Voice to Parliament, systemic racism in the health sector, police brutality and the over incarceration of First Nations people.
Speakers expressed their opposition to the Voice, objecting to a body with no formal legislative power, created by a parliament derived from colonialism. Another concern was the potential for Government action to start and end withthe Voice – when the Uluru Statement from the Heart also calls for treaty and truth-telling. Attendees carried signs urging people to "Vote No to Manufactured Constitutional Consent." There were fewer signs supporting the Voice to Parliament.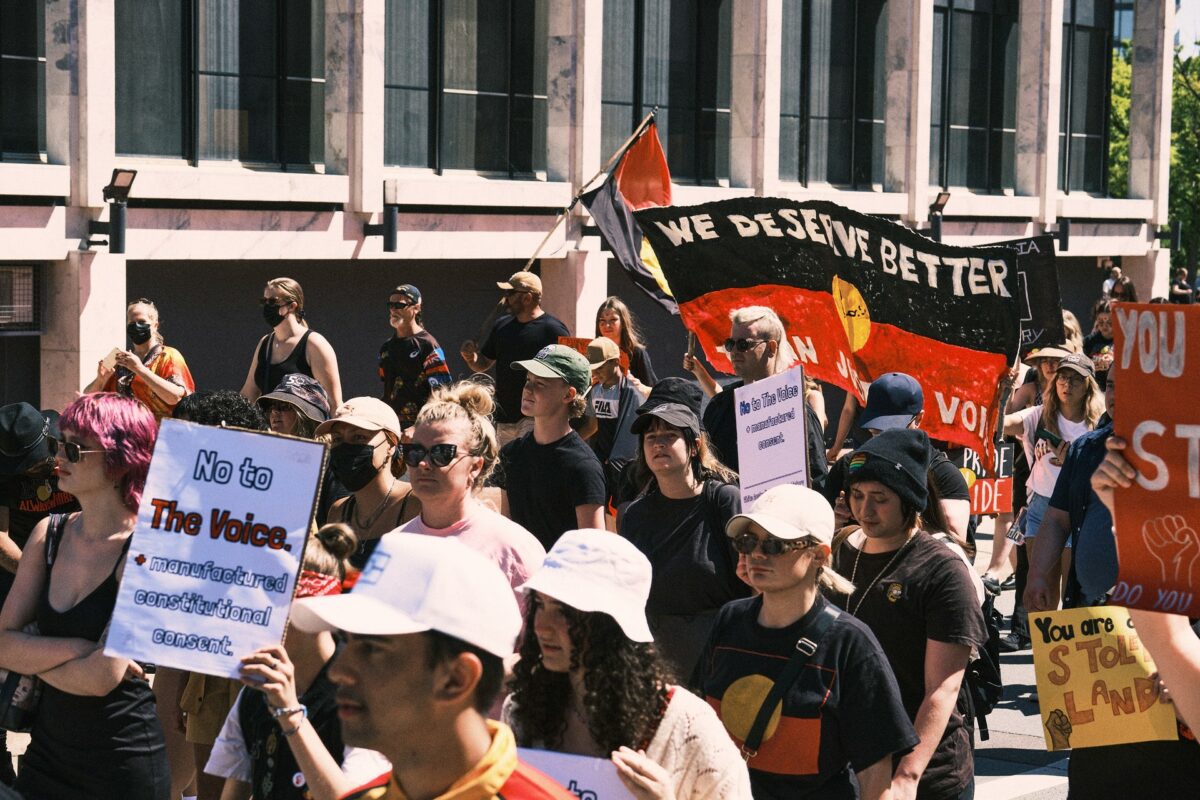 An ANU student told Woroni they attended the protest to "inform myself on the referendum vote." Other students spoke about the importance of showing up and standing in solidarity with Indigenous people. One student believed attending was "part of paying the rent."
This year's protest also marked the pilot of ANUSA and ANU Law Reform and Social Justice's Legal Observer program, training student volunteers to record interactions between protestors and law enforcement. Observers then prepare a report of the conduct of police at the event. Australian police have a historic and persistent record of brutality and violence against First Nations Australians. The observers did not document any incidents at this Invasion Day protest.
A student volunteering through the program told Woroni that they participated in the program as they thought it was important to hold law enforcement accountable for their actions at activist events like the January 26 demonstrations.
ANUSA's Indigenous Department also helped by "…providing resources to ANUSA and the Aboriginal Tent Embassy." The Indigenous Department is an autonomous collective for First Nations students at the ANU, which advocates for their interests, and helps to provide a community.
Some students choose to work on January 26, instead of taking a public holiday, often in opposition to celebration of the day. On campus, ANUSA offered employees the opportunity to substitute January 26 for another public holiday if they wished.
An ANU spokesperson told Woroni that the University "…is open to approaches that give our staff and students a day of rest, while being respectful of First Nations people." and that "We will be exploring this through our current enterprise bargaining negotiations."
Woroni will continue to provide coverage of the debate surrounding the Voice in the lead up to the referendum vote.
The name Woroni, which means "mouthpiece" was taken from the Wadi Wadi Nation without permission; consultation with First Nations people suggested that Woroni continue to use the word, provided it acknowledged the theft, and strove for better reconciliation in the future.
If you or anyone you know is affected by the content of this piece, please contact one of the support services below:
ANU BIPOC Department
sa.bipoc@anu.edu.au
ANU Indigenous Department
sa.indigenous@anu.edu.au
ANU Counselling
(02) 6125 2442
1800 RESPECT
1800 737 732
ANU Women's Department
sa.womens@anu.edu.au
ANU Queer* Department
sa.queer@anu.edu.au
ANU Respectful Relationships Unit
respect@anu.edu.au
We acknowledge the Ngunnawal and Ngambri people, who are the Traditional Custodians of the land on which Woroni, Woroni Radio and Woroni TV are created, edited, published, printed and distributed. We pay our respects to Elders past and present and emerging. We acknowledge that the name Woroni was taken from the Wadi Wadi Nation without permission, and we are striving to do better for future reconciliation.