A recent survey conducted by Woroni uncovered that almost 45% of ANU students who responded had concerns about 1 or more of the vaccines being offered to prevent COVID-19. We sat down with the Deputy Director of the Australian Centre for the Public Awareness of Science (CPAS), Dr. Rod Lamberts, to discuss the issue.
According to the survey, while almost 45% of ANU students were hesitant about getting a COVID-19 vaccine, only 4% said that they would not get vaccinated if given the opportunity. This discrepancy reveals the key issue facing public health officials today; vaccine hesitancy. Unlike those who are explicitly anti-vaccine, hesitancy is often a result of legitimate concerns about the vaccine which have been amplified by misinformation and fear mongering.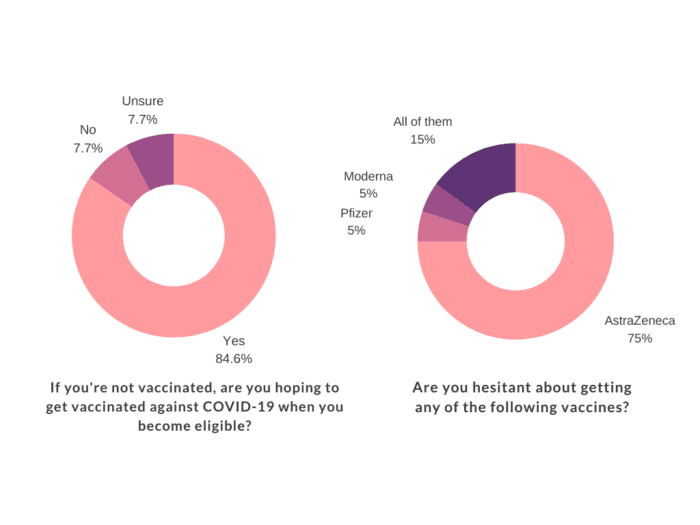 "Anti-vax and vaccine hesitancy are two different things", said Dr. Lamberts, "and they should be handled in different ways". While it is important to acknowledge and address people's concerns, one should not platform conspiracies. These groups are not monolithics, he continued, and said that their hesitance is often rooted in very different places. This is also why large public campaigns can often struggle to change hesitant minds; their beliefs are personal and do not respond well to humiliation or fear-mongering. "There is no universal solution" he continued, but generally the best way to address vaccine hesitancy is to speak to people calmly and with respect for their concerns. 
"COVID has been normalised here", Dr. Lamberts stated, "as cases have remained relatively low throughout the pandemic". This has led to a perceived isolation from danger and, if unaddressed, could risk further damaging the public health response. In particular, young people, who have led the charge in combating COVID, have been let down by their Government's public health response. As the number of cases of 'long Covid' grow, health officials are beginning to realise the extent of the disease's long-term complications, even among those who were asymptomatic. As a result, unless vaccination rates increase, young people will continue to be disproportionately impacted by this disease.
The question then remains; has the Federal Government's handling of the pandemic affected people's decision on whether or not to get vaccinated? According to Dr. Lamberts, at least at the federal level, quite possibly. While he acknowledges that responses vary from state-to-state, fundamentally it has been the failure of the Government to convey a clear and unified response which has seriously undermined vaccination campaigns. This sentiment was reflected in a comment made by one respondent to the survey, who said "the fact that the AstraZeneca vaccine was originally not recommended for people under 50 but has recently been made available to everyone made me feel a bit conflicted about getting it. I went to my doctor and he told me to wait for Pfizer, so I cancelled the AZ appointment I had booked, but I since re-booked it and will be getting my first dose next week. It feels bizarre to do something my doctor told me not to do, I've never done that before, but I think it's the right decision."
Dr Lamberts stated that "We so often hear about the vaccine's lack of danger," "but not about the benefits it provides". This focus on perceived issues in public health messaging, far from dispelling misinformation, often gives these ideas more credibility. Similarly, when individual members of the Government downplayed the potential dangers of COVID they seriously undermined the Government's credibility as a whole. 
It is also important to consider those who have been historically marginalised by the medical community. There is a long history of bias in Australian medicine and many within these marginalised communities have an understandable skepticism of public health campaigns. "Information in languages other than English is often outdated and/or less comprehensive" said Dr. Lamberts, "which only makes communication more difficult". As such, involving a diversity of voices is vital when constructing this kind of public health information to ensure that no one is left behind.
Another respondent to the survey expressed their concern about their skepticism of the long term effects of the vaccine: "Although the risk of serious side effects are very low, everyone's immune systems are different so just because other people's bodies have no issues with the vaccine, doesn't mean other people won't. There also hasn't been years and years of research and data on the vaccine, meaning that we don't know what its long-term side effects could be, and also how the vaccine would react in people who have diseases and disorders that are fairly new and understudied and under researched."
While surprising at first, high levels of vaccine hesitancy reflects an important and pervasive issue in science communication today. "[It is] not a new issue", clarified Dr. Lamberts but it has become increasingly more prominent in the last 18 months. Ultimately, not only has the last year-and-a-half demonstrated just how important effective public health campaigns are but also the dangers they pose if conducted improperly. 
Respondents to the survey had diverse responses on what would prompt them to get vaccinated. 90% of students were willing to get vaccinated if the ANU mandated it, as well as if it meant that they could attend in person classes. In contrast, only 76% of students would get vaccinated if it meant they could move into on-campus residential halls. Despite some hesitancy on the part of some students, a majority of respondents expressed their desire to get vaccinated to help their community, protect their families, and ensure their own health and well-being.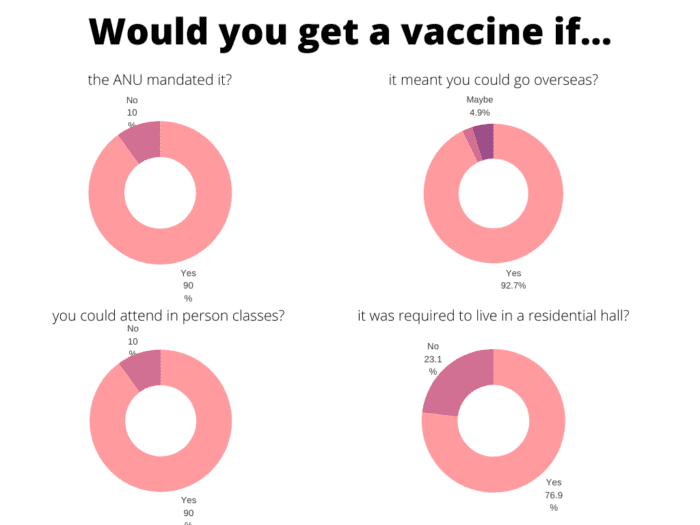 Since the outbreak of COVID-19 in Canberra, there has been an increase in young people getting Astra Zeneca, and vaccination rates across the State have dramatically spiked. Students at the ANU are eligible to receive the Astra Zeneca vaccine. The closest vaccination hubs for students are the National Health Co-Op at the ANU, the University Pharmacy or Hobart Place GP. You can find out more information and determine your eligibility here.
NB: The number of respondents to this survey is 45 from 10/08/21-12/08/21.
We acknowledge the Ngunnawal and Ngambri people, who are the Traditional Custodians of the land on which Woroni, Woroni Radio and Woroni TV are created, edited, published, printed and distributed. We pay our respects to Elders past and present and emerging. We acknowledge that the name Woroni was taken from the Wadi Wadi Nation without permission, and we are striving to do better for future reconciliation.