March 15th saw hundreds of thousands of ralliers across Australia participate in the Women's March 4 Justice. In Canberra, protestors filled up the front lawn of Parliament House, demanding better government response to sexual assault and sexual harassment issues (SASH). Three familiar faces from ANUSA — President Madhumitha Janagaraja, Education Officer Maddie Chia, and Women's Officer Avan Daruwalla — addressed the crowds in support of the rally.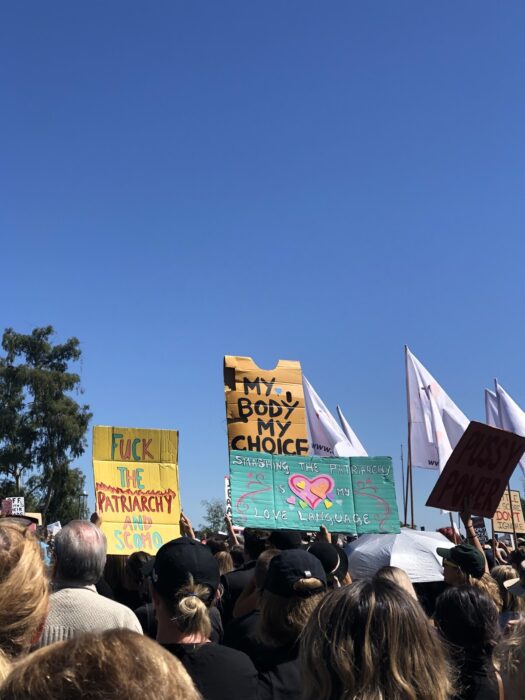 In her speech, Janagaraja identified herself as "a young disabled woman, as a woman of color, as a survivor, and as a human being who is angry", and expressed the need to hold institutions, like Parliament House, to account, because they are not designed to protect victims. She expressed that "our institutions are broken because they are built off the suffering and invisible labour of generations of women" and thus "the system is not on our side". Additionally, Janagaraja expressed resentment at how the "burden of evidence [in SASH cases] is consistently placed on [the victims]". She reiterated the demands of the March, calling for government reform to "hold [their] own representatives to account" and protect "the people and the women that you are elected to serve". She ended her speech with a quote by feminist poet Audre Lorde: 
"When we speak we are afraid our words will not be heard nor welcomed, but when we are silent we are still afraid, so it is better to speak."
Chia and Daruwalla acknowledged that many of the attendees of the rally were themselves survivors and have been let down by the system. Speaking to Chia after the event, she maintained the importance of taking an intersectional approach in advocating for the prevention of sexual violence. As student representatives, Chia and Daruwalla have supported student survivors through the traumas of sexual harassment and assault, which they note is a heavy burden falling consistently on the shoulders of young advocates.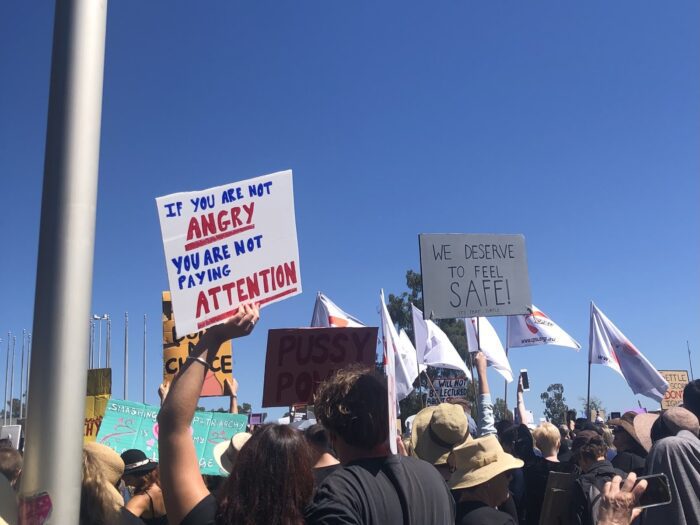 A range of other speakers, including journalists, unionists, and community activists, also spoke to the need for change. Ngunnawal elder Violet Sheridan called for an independent inquiry, stating that women need to be safe in Parliament House. Australian Council of Trade Unions (ACTU) leaders Sally McManus and Michele O'Neil emphasised that the fight for women's safety didn't begin three weeks ago, but years ago, and that it must consider all workers, including the catering staff and cleaners at Parliament House. McManus and O'Neil also pointed out the role thatinsecure work has in creating opportunities for the abuse of power by bosses towards women workers. 
Lisa Wilkinson, host of The Project and the journalist who reported on the Britanny Higgins story, addressed the politicians implicit in the cover-up of the sexual assault, "to those powerful men and women, Brittany Higgins will not be silenced." She pointed out the bleak reality that "Parliament House is the easiest place to rape and woman and get away with it" with the deletion of CCTV footage and WhatsApp messages as evidence in the case.

Brittany Higgins, the woman at the centre of the parliamentary rape case, spoke and acknowledged the sad reality of the need for the rally. She said "we are here because we have to be here," and spoke on the dismally high statistic that one in five women will be raped or sexually assaulted in their lifetime, a number which is even higher for women of colour. Higgins shared how she had been targeted since breaking her silence; and that despite a public apology from Scott Morrison, she and her family had been attacked by members of the incumbent government. Nevertheless, in coming forward with her story, Higgins hopes she can protect other women.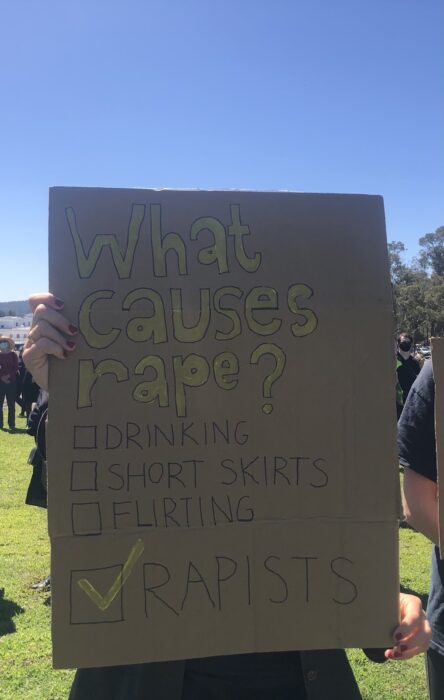 The overarching demands of the march were presented in a petition handed to Scott Morrison, including (1) an independent investigation into all cases of gender-based violence and timely referrals to appropriate authorities with full public accountability for findings, (2) full implementation of the 55 recommendations in the Australian Human Rights Commission's Respect@Work report of the National Inquiry into Sexual Harassment in Australian Workplaces 2020, (3) the ratification of the International Labor Organisation's Convention on Eliminating Violence and Harassment in the World of Work and (4) the creation of a Code of Conduct for all Federal MP's that includes the prevention of gendered violence in Parliament and associated workplaces amongst others. 
If you or someone you know has been affected by this, please contact one of the support services below:
Canberra Rape Crisis Centre, Crisis Line
(02) 6247 2525
ANU Counselling
(02) 6125 2442
1800 RESPECT
1800 737 732
ANU Women's Department
sa.womens@anu.edu.au
ANU Queer* Department
sa.queer@anu.edu.au
ANU Respectful Relationships Unit
respect@anu.edu.au
We acknowledge the Ngunnawal and Ngambri people, who are the Traditional Custodians of the land on which Woroni, Woroni Radio and Woroni TV are created, edited, published, printed and distributed. We pay our respects to Elders past and present and emerging. We acknowledge that the name Woroni was taken from the Wadi Wadi Nation without permission, and we are striving to do better for future reconciliation.