ANU's 2019 Open Day acted as the canvas for the Interhall Council (IHC), ANUSA and the Women's Department's jointly run 'Do Better ANU' strike. 
Cited in a letter sent from the IHC to the ANU, the strike aimed to highlight issues surrounding the removal of Deputy Heads of Halls, changes to pastoral care structures, concerns around transparency, and the lack of consultation with students over key residential issues.
IHC and Bruce president Callum Dargavel said that the strike "went incredibly well. Everyone who participated was so engaged and respectful and carried themselves brilliantly."
"Parents and students seem to be really interested in our message and I hope the university noticed that," Dargavel emphasised.
Bruce Hall had pink banners with slogans written on them, as well as only running student-led tours throughout the day.
Wright President Jade Lin said she was "incredibly proud" of the event today, and that "the way that the IHC has coordinated has been really good and really impressive". 
At Wright Hall, there was a strong lack of student participation, with self-guided tours and minimal residential involvement. The balconies of residents housed posters, and a STOP campaign stall was set up out front.
Fenner Hall saw many students wearing pink in support of the action. Large pink banners were hung from the Kambri side balcony, highlighting the primary grievances of the strike including; "students before profits" and "this should be a home, not a business."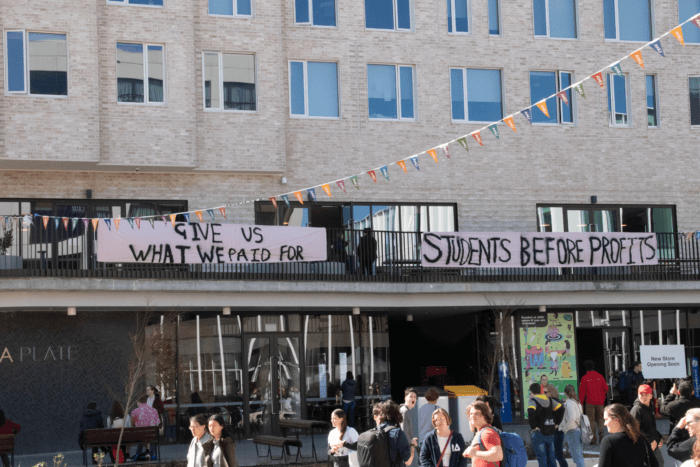 Tours of the College were conducted by Admin, with students assisting solely by providing information on college life at Fenner.    
Burton and Garran Hall stood in solidarity with the other ANU residential colleges in calling for improved accountability and student support. A large banner was displayed over the front entrance, and hand-written signs were placed around the college corridors with various messages of frustration and support. Large numbers of students, adorned in pink outfits in support of the strike, led tours through the College.
Ursula Hall had a large support base for the strike, with residents at a stall set up to provide information about the strike and to detail the College's response. There were students undertaking tour roles and were happy to give answers to the issue. According to residents, the College did not face as many problems as the others. However, it was striking to ignite change within the College system at ANU.
Wamburun Hall displayed a large banner decorating the foyer accompanied by a wall of sticky notes with grievances from students. Students were giving tours of the hall, with many adorning 'Do Better ANU' stickers and badges.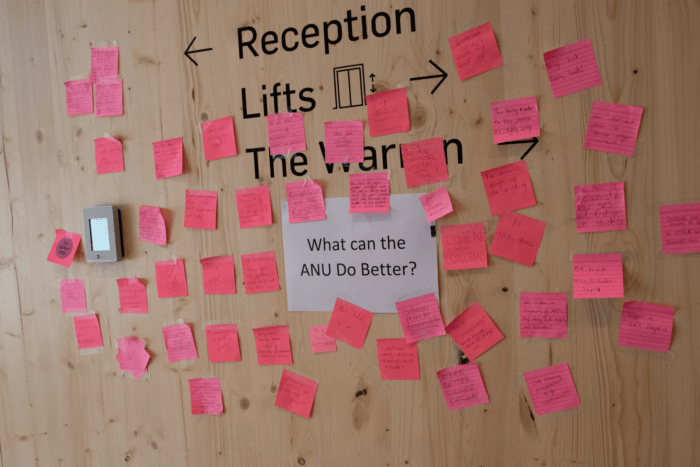 All the Unilodges also participated, with SR's giving tours, as well as pink snacks being offered to prospective students. 
John XXIII and Burgmann Colleges both supported the strike, standing in solidarity with the other residential colleges. The admin teams from both colleges were in support, with members standing out front providing information and talking to potential residents. Students showed their support by wearing pink or badges with 'Do Better ANU' on them, and most had pamphlets and stickers with information and the slogan to hand out to visitors.
Ronan Skyring is currently a resident at Burton & Garran Hall. Grace Sixsmith was a resident at Bruce Hall from 2017-2019 and is currently a resident at Unilodge.
We acknowledge the Ngunnawal and Ngambri people, who are the Traditional Custodians of the land on which Woroni, Woroni Radio and Woroni TV are created, edited, published, printed and distributed. We pay our respects to Elders past and present and emerging. We acknowledge that the name Woroni was taken from the Wadi Wadi Nation without permission, and we are striving to do better for future reconciliation.