The ANU has changed its policy on Proctorio, now giving professors the choice of using it.
In 2020, the ANU sourced Proctorio for exams as a result of the COVID-19 pandemic and the university's immediate need to shift to remote online learning. 
As a system, Proctorio does not use human proctors to oversee exams. Instead, it uses software to monitor students, and to detect and report any suspicious behaviour that arises during the exam. This requires a photograph of the student and of their ID to enable facial recognition.
Proctorio can record video and audio footage from the student's computer, capture student's keystrokes, record a student's computer screen, flag when students move their head, eyes or body and catalogue the websites they visit while undertaking an exam. 
However the use of the service is contentious amongst students at the ANU due to the program's unreliable, invasive and sometimes discriminatory policies. Students are concerned about the lack of transparency involved in Proctorio's data collection, potential data breaches and how the recordings of their bodies and homes are collected and used. 
Amongst the invasive aspects of Proctorio, there are also considerable issues concerning how the use of the program impacts students of colour and students with a disability. 
The ANU's new policy is that professors have the discretion to use Proctorio in their assessments. At CRC 5, ANUSA President Christian Flynn argued this was "decentralising" Proctorio to prevent a successful campaign against its use. According to an ANU spokesperson, only 10% of courses use Proctorio.
Students at the ANU have criticised Proctorio due to fears around the security of their personal and biometric data. Softwares that obtain biometric records including information on audio, facial and behavioural data can place students at risk of data breaches. 
Security concerns heightened in 2020 when details of 444,000 Australian university students were stolen through the ProctorU program. Educational institutions such as the University of Sydney, University of Melbourne, University of Adelaide and other members of the Group of Eight had user data containing their legal names, complete residential addresses, usernames and passwords breached. 
In response to staff and student concerns, the ANU put together a guide outlining their security assessment of Proctorio's platform. The 2020 Proctorio Remote Proctoring Solution Report found a "low severity issue" that would likely not result in "unauthorised access or data loss." 
In the ANU 2022 Privacy Impact Assessment on Proctorio, the report found that personal information taken from students for the purpose of assessment is not supplied for "secondary purposes except when required under legislation". The Assessment also determined that recordings collected in Proctorio would only be accessible by academic staff and the Registrar's Office in order to mark assessments and monitor for any academic misconduct. 
Proctorio obviously requires a computer, stable internet connection, and privacy, which not all students have access to. The University requires students to provide sufficient evidence as to why they are unable to sit their examinations off campus by emailing the examinations office. If they are approved, students are allowed to sit their exams on campus using their own electronic device or one provided by the ANU. 
If students are facing difficulties in participating in any assessment for any reason, the ANU suggests that students contact "Access and Inclusion for confidential and individual support, which could, if necessary include modifying assessment requirements."
Proctorio also poses challenges for students of colour. Exam surveillance companies use facial recognition software that often fails to account for the faces of BIPOC people. This often happens because software engineers do not feed BIPOC faces into the database for facial recognition technology. It is a blindspot that plagues the IT industry. 
This can lead to students of colour being accused of academic misconduct, compounding pre-existing, historical inequalities. Moreover, students of colour unaware of this issue can struggle to make their case to staff.
A finding published to the Motherboard, found that Proctorio's use of OpenCV'S model system "failed to correctly identify and detect darker skinned faces." Lucy Satheesan, the student who identified Proctorio's facial recognition issue, discovered that "57 percent of the time, Black faces were failed to be [sic] detected." However, the detection rate for white faces is around 60 per cent. This means the software fails to detect a white person's face 2 out 5 times, raising doubts about Proctorio's overall credibility.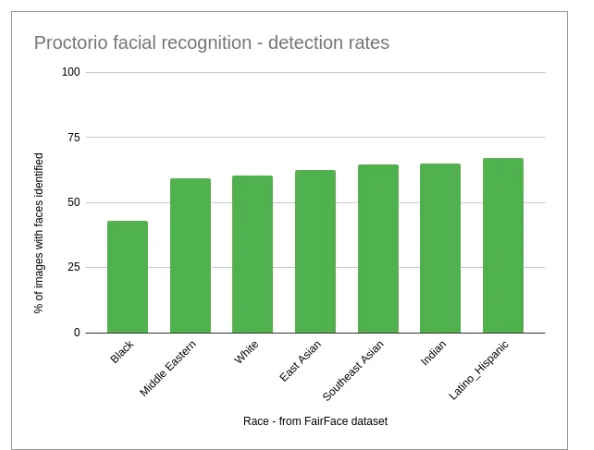 Another concern of students is the examination conditions for students with disabilities. Proctorio's flagging system puts ANU students with disabilities at risk of academic misconduct. There is no system within the surveillance software that provides leeway or considers the state of students who may need accommodations when undertaking their exams.
Students who have specific speech, movement or cognitive disabilities such as ADD, Tourette's, Crohn's disease and dyslexia are at risk of being flagged for suspicious behaviour under Proctorio's monitoring system. Facial detection of students with disabilities such as Crouzon syndrome, Down syndrome, ectodermal dysplasia and other disabilities can also be a problem.
To accommodate students' needs, an ANU Spokesperson stated that "…the University is happy to discuss appropriate options for students who may feel they need additional support or adjustments to what is already offered."
Although the ANU currently uses Proctorio for only 10% of their exams, students who are a part of different marginalised groups will continue to have a complicated relationship with the surveillance systems. Proctorio assumes that all students undertaking exams have access to quiet, private and safe environments; can showcase their course understanding through traditional assessments; and have one general type of body.
If students have any concerns regarding the use of Proctorio, the ANU encourages students to "discuss these matters with their course convenors, the Associate Dean of Education in their academic colleges and the Dean of Students."
The ANU first announced plans to use Proctorio in early 2020 when the COVID-19 pandemic started. Then, several clubs denounced the plan along with ANUSA. Several academic colleges also quietly opted out of using Proctorio. It remains to be seen if ANUSA and the student community will launch a similar campaign.
We acknowledge the Ngunnawal and Ngambri people, who are the Traditional Custodians of the land on which Woroni, Woroni Radio and Woroni TV are created, edited, published, printed and distributed. We pay our respects to Elders past and present and emerging. We acknowledge that the name Woroni was taken from the Wadi Wadi Nation without permission, and we are striving to do better for future reconciliation.