ANU's Women's Department officer Laura Perkov has condemned the ABC's flagship program Q&A for inviting Charles Waterstreet, a lawyer who has been accused of sexual harassment, onto the show for its #MeToo special.
In an open letter which was sent to the ABC on Wednesday afternoon, Perkov wrote that she was angry and concerned at the invitation:  

"Charles Waterstreet is the very person that #metoo stands against. Inviting him to speak on a panel where he can legitimise his actions is an insult not only to the thousands of women who have stood up to sexual harassment and misconduct in their workplaces around the world, but specifically the women who have come forward about Charles Waterstreet's behaviour towards junior employees."
In October last year, New Matilda released a story written by Tina Huang, a student at Sydney University, who described that when she went for a position as Waterstreet's paralegal, Waterstreet showed her "photos of naked women and video of someone receiving a handjob". The article also details allegations that he asked Huang whether she liked threesomes.
In a statement published by the Sydney Morning Herald, Waterstreet denied the allegations:
"The circumstances of Miss Huang's exit are not accurately reported by New Matilda and subsequent articles," the statement read.
"The facts are, on August 24 I asked Miss Huang if she could help me prepare notes for my talk as panellist on 'Post Porn' at Sydney Contemporary, and attached the relevant invitation. Miss Huang replied on that she was 'excited to talk about this with you!', and sent some preliminary thoughts in full paragraphs. She ended the email with 'Hope this is what you were after! See you soon.'"
In a 2012 interview with Sydney University's Honi Soit, Waterstreet described his approach to sexual relations with students during his tenure as a law tutor at the University of New South Wales:
"I made a pledge with myself not to sleep with any students until the graduate course," he said. "Then I took them two at a time."
Waterstreet, who is the lawyer that the ABC television show Rake is loosely based on, has also penned a number of controversial articles in the Sydney Morning Herald and Sun Herald. One such piece, published in 2011, was written in response to a legal case where a man was accused of sexually assaulting his partner while she was asleep. Waterstreet wrote that:
"The couple made love several times before falling asleep, presumably from exhaustion. [The accused] presumably thought he would have one for the road and did not disturb her".

Woroni reached out to Nina Funnell, a sexual assault activist and journalist who has written extensively on the Waterstreet allegations, who said that the ABC was not taking sexual assault survivors seriously enough: 
"It is hugely ironic that on a #MeToo special the ABC have offered a platform to an alleged sexual harasser, an apologist (Rachel Griffiths), a male lawyer (could they not rustle up a single female lawyer) and a token female academic," Funnell wrote.

"Yet they don't have a single public survivor advocate on the panel. Instead they offered me, a sexual abuse survivor advocate – the 'opportunity' to sit in the audience," she continued.
Woroni has also reached out to Q&A for a comment.
You can read Perkov's full letter below: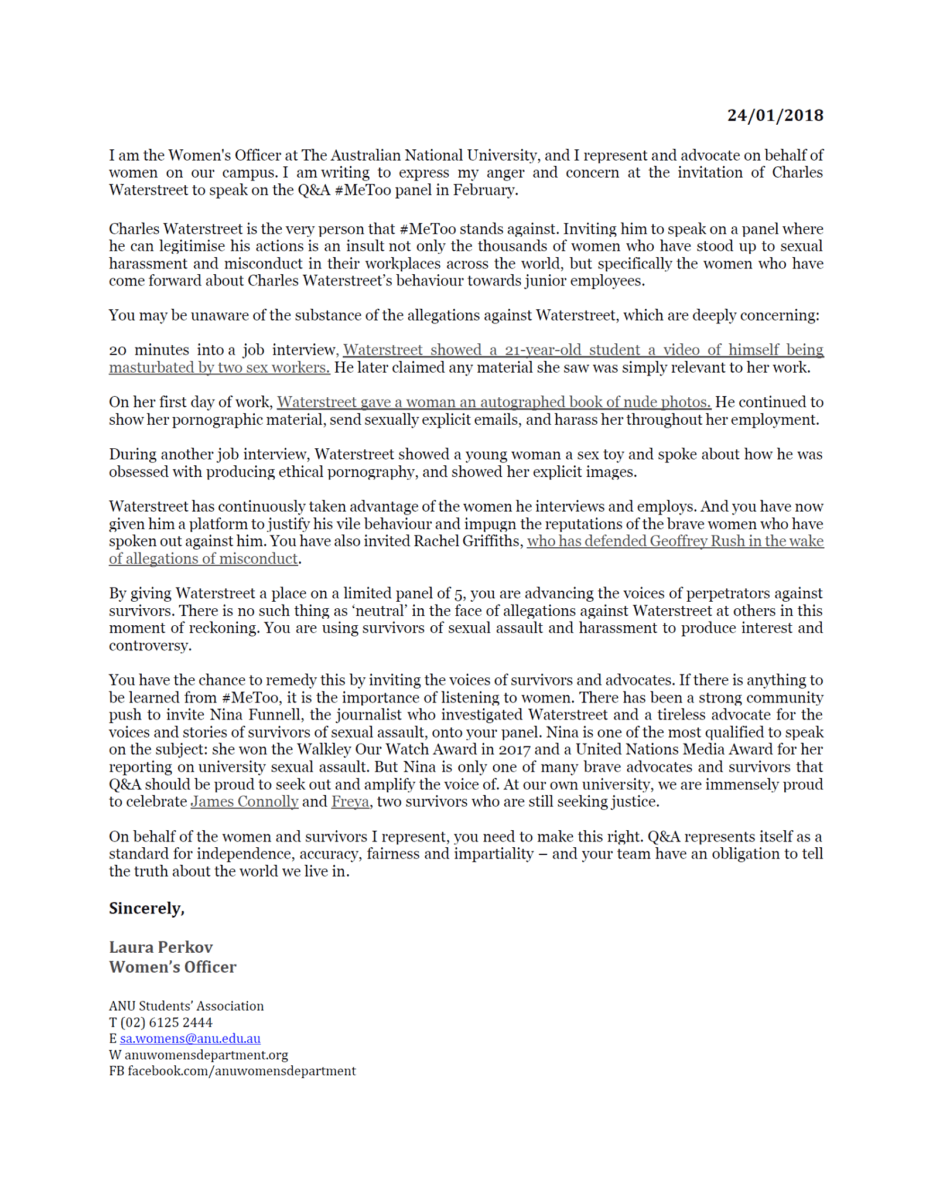 We acknowledge the Ngunnawal and Ngambri people, who are the Traditional Custodians of the land on which Woroni, Woroni Radio and Woroni TV are created, edited, published, printed and distributed. We pay our respects to Elders past and present and emerging. We acknowledge that the name Woroni was taken from the Wadi Wadi Nation without permission, and we are striving to do better for future reconciliation.