In Semester 2 2022, the ANU will be transitioning to a new timetabling and class allocation system named 'MyTimetable' to simplify timetable management. 
An ANU spokesperson told Woroni that MyTimetable is a "singular system that streamlines all the timetabling and class allocation processes that students currently perform on either the current official timetable viewer, the unofficial timetable planner and Wattle."
The transition to MyTimetable seeks to "simplify and improve upon this current timetabling system," thereby avoiding the need for students to navigate between these three separate platforms to organise their university schedule. 
The ANU spokesperson explained that MyTimetable will include a range of functions. Students will be able to "view the timetable for their enrolled courses, allocate themselves into classes , request swaps and waitlists for preferred classes, view detailed class information and compare schedules with other students."
Once a student has enrolled in their classes and wants to view their timetable, MyTimetable will look something like this: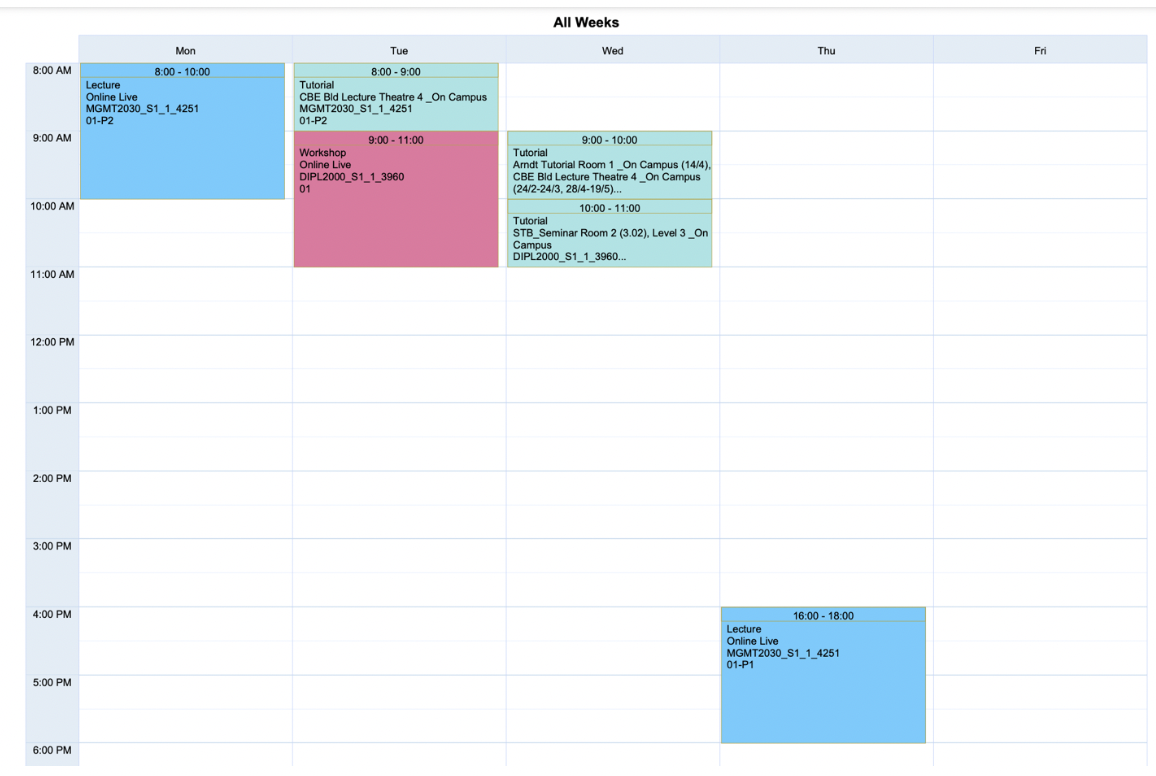 The ANU spokesperson also emphasised that the system would be easy for students to navigate. The University cited evidence of MyTimetable pilot programs at the College of Law, where students found the system "intuitive" to navigate. 
The Timetable Planner feature in the MyTimetable system also endeavours to avoid scheduling conflicts with clashing classes, by "allow[ing] students to see whether the subjects that they choose will be able to create a seamless timetable with no clashes that fits into the timing of their degree." 
If the actual class allocation creates a clash, students will receive clear notifications within the timetable viewer. Additionally, MyTimetable will be able to be synced with students' personal calendars, including "Apple Calendar, Google Calendar, Outlook etc" which is said to "allow students to sync their timetable" around clashes with their "personal/ work schedule" too. 
An example of a class allocation that clashes might look something like this: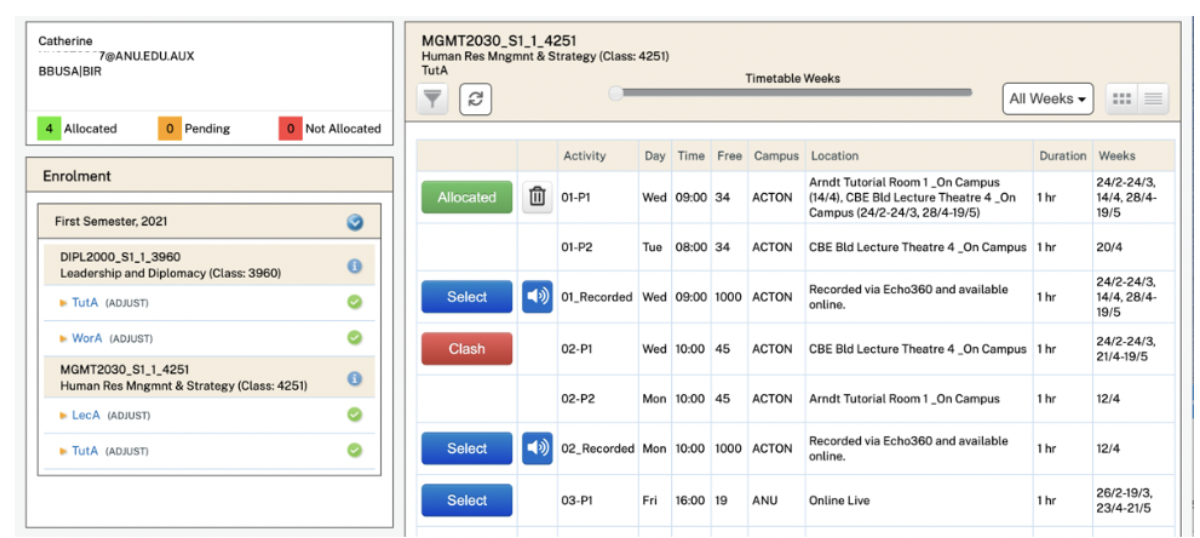 However, the ANU could not yet provide a determination as to whether all class times or allocations would come out all at once, or remain ad hoc according to the particular course, as is the case currently. 
The ANU spokesperson noted that while "MyTimetable has the ultimate goal of improving student experience and a part of that is encouraging consistency for students in their timetabling," unfortunately "there can be no guarantees for initial overall consistency as the ANU adjusts to the new system." They noted that "in the long term, the implementation of MyTimetable will allow consistency across the release of class sign up times." 
Students will gain access to the platform on 11 July in time to enrol in Semester 2 classes. Detailed guides, How-To videos and a trained support team will be provided to assist students with the transition. 
All class information, including the names of the relevant tutor and lecturer, location, type of session delivery and what sessions are recorded will be available for students to view on MyTimetable.
We acknowledge the Ngunnawal and Ngambri people, who are the Traditional Custodians of the land on which Woroni, Woroni Radio and Woroni TV are created, edited, published, printed and distributed. We pay our respects to Elders past and present and emerging. We acknowledge that the name Woroni was taken from the Wadi Wadi Nation without permission, and we are striving to do better for future reconciliation.