On Monday, ANU Vice-Chancellor Brian Schmidt unveiled ANU's new Student Safety and Wellbeing Plan, just two days before the release of the National Student Safety Survey. The plan has been published alongside an independent assessment of ANU's Sexual Violence Prevention Strategy. 
In an email to all staff and students, Schmidt shared that "new measures will be introduced to make students feel safer on campus, particularly in residential colleges, while placing perpetrators on notice." 
An ANU spokesperson explained that the plan is "a multi-million-dollar investment that will continue the University's work to address sexual assault and sexual harassment." 
The Student Safety and Wellbeing Plan highlights the University's commitment to further reinforcing education and prevention around sexual violence at the ANU, enhancing institutional responses, reporting initiatives and case management. 
Specifically, ANU will increase professional staffing within residences, mandate consent education for all students to complete prior to enrolment, hire additional case managers to support survivors, and strengthen student engagement and consultation with policy planning and implementation. 
The ANU describes the Student Safety and Wellbeing Plan as its most recent step to ensuring they meet the recommendations enlisted in the numerous reports published since 2017 concerning sexual assault and sexual harassment at the university. 
In a snapshot of the plan published yesterday, the ANU concluded it is currently in phase three of its action plan to prevent sexual violence, to be completed by Semester One, 2023. It claims to have completed phases one and two, in which it rebuilt its "people capacity," engaged students, ensured it had "good service integration and clinical governance" in a data and evidence-driven approach. 
In tandem with their Student Wellbeing and Safety Plan, ANU published the Independent Assessor's Report 2022, conducted by Lyn Walker. The review proposed eight action-based processes at the ANU. 
The proposals include, but are not limited to, education, access to resources, creating oversight mechanisms and increasing case management support. The ANU stated that it accepted all recommendations found in the independent report and would implement it through a two-year program.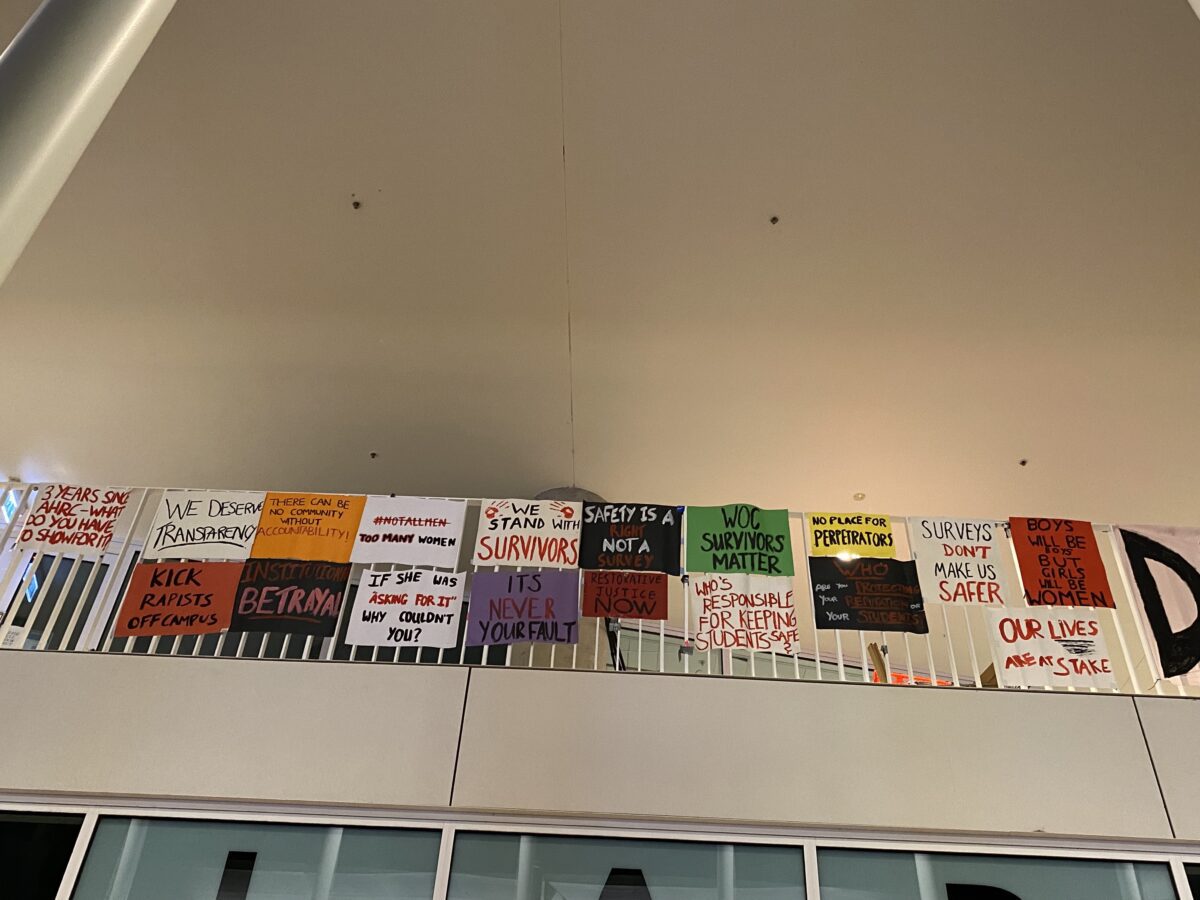 Since 2019, the ANU Women's Department and ANUSA have worked to ensure the ANU upholds its obligations to the 2017 Australian Human Rights Commission's (AHRC) Change the Course Report. The Women's Department and ANUSA argue they have received countless empty promises to ensure that the University is a safe and supportive space for students and survivors of sexual assault and sexual harassment.
In 2021, the ANU Women's Department published the Broken Promises Report, which provided a snapshot of the ANU's progress in maintaining and applying the recommendations listed in the AHRC report. The report found that the University had not complied with previous recommendations or established any sort of program that sought to address the issue of sexual assault and sexual harassment on campus.
The National Student Safety Survey is due to be released later today, stay tuned for updates.
If this content has triggered any concern, distress or impacted on your wellbeing, ANU provides a number of services to support student health and wellbeing including: 
Student Safety and Wellbeing 
email: student.wellbeing@anu.edu.au 
website: Health, safety & wellbeing – ANU 
ANU Counselling  
email: counselling.centre@anu.edu.au 
website: ANU Counselling – ANU 
The ANU Wellbeing and Support Line available 24/7 
phone: 1300 05 0327 SMS: 0488 884 17 
There are also a number of services in community that can be accessed after hours including:
ACT Access Mental Health is a 24-hour mental health emergency access and support service.           
Phone: 1800 629 354 or 6205 1065 
1800 RESPECT is the national sexual assault, domestic and family violence counselling service. 1800 RESPECT provides phone or online support for people experiencing, or at risk of experiencing, sexual assault, domestic or family violence. 
1800 RESPECT is available 24 hours a day, 7 days a week 
Phone: 1800 737 732 
Lifeline:   13 11 14
Canberra Rape Crisis Centre, Crisis Line
(02) 6247 2525
ANU Women's Department
sa.womens@anu.edu.au
ANU Queer* Department
sa.queer@anu.edu.au