As part of our election coverage, Woroni sat down with Tim Hollo, The Greens' candidate for the electorate of Canberra, to discuss his campaign, particularly regarding issues related to students and the climate.
Woroni: What motivates you to run to be Canberra's Member of Parliament?
Tim Hollo: I have spent most of my adult life working in various ways for climate action and social justice. I've been very passionate about [these] things since I was a kid and have been in and around various paths to social change. I worked for the Nature Conservation Council of New South Wales and 350.org. I've done a lot of work in activism, a fair amount of research and writing in this space, and I've been in and out of politics. I believe that we are going to need very, very, very serious change, very fast.
It's going to need people on the streets, it's going to need civil society work. It's going to need social change, but it is going to need politics to change too. I feel that in a seat like Canberra, where there's already a lot of people who vote Green, we can actually make very serious change at a political level by getting the Greens elected to share the balance of power in the House of Reps. 
I'm also really excited about the Greens. Obviously, we have a long history of being represented in the Senate and have always struggled to get representation in the Lower House. And that makes sense because of the electoral system, but it's been weird for how the Greens actually believe in politics. As a Senator your role is mostly to analyse policy and legislation and to review things, but the Greens fundamentally believe in grassroots political change, in deep democracy involving the citizens, which is much more suited to a member of the House of Reps. 
I'm really excited about the idea – that is my politics. I wanted to be a local member who can actually use my office as a space for supporting citizen and community action. 
W: Given how many independents there are running in this election, why have you still chosen to run for the Greens?
TH: I think it's really great that there are independents running. I think it's important that we have as many voices as possible in our politics. The big difference between the Greens and the independents is that the Greens have a collective approach to politics. To be clear, the Voices Movement is a really collective politics and I really am a big fan of what they're doing. They have collectively developed their political values and their platform and selected a representative from amongst them to lead.
Most of the independents' campaigns don't do that. They're based around a person who, in many of these cases, has really good and positive progressive values. But they're not a campaign of collective politics. The Greens are a party that has existed for 40 years, collectively developing our policy approach and our political approach with that grassroots engagement with our members. I think the Greens are quite unique in the Australian political landscape in that we are not at all beholden to donors, to powerful individuals or factions.
W: You've run for this seat before in 2019. How will you approach this election campaign differently and what are you aiming for in this election compared to the previous one?
TH: In the last election, we were building a whole lot of grassroots campaigning infrastructure. This time around, coming out of the 2019 election and then the 2020 ACT election, where the Greens did astonishingly well, we've got a lot of momentum.
So, the main thing that we're doing differently is that we started campaigning sooner. We've got a hell of a lot more volunteers, we're out on the ground, obviously thwarted somewhat by COVID-19, but not entirely. We always run grassroots campaigns; we always run campaigns that are based in door knocking and stalls and talking to people. 
At the last federal election campaign, however, one of the things that frustrated me was that our office was not accessible to the public. This time we have an office on Lonsdale Street right next to the rainbow roundabout. The difference that this is already making is incredible because people are just walking in off the street to say; tell us what you're talking about here; tell us how we can get involved. 
It is absolutely possible that we can get a Green elected to the seat of Canberra and by doing so to really make a big difference; not just in a policy setting, but in how we run politics in this town. You know, whether or not we win, I absolutely believe that one of the biggest impacts that the Greens have on politics is putting ideas out there that have been excluded from our political discourse and creating space to have those conversations.
I'm very firmly of the opinion that by running a solid campaign in a seat like this and giving the major parties a run for their money. We make it harder for Labor to be mediocre.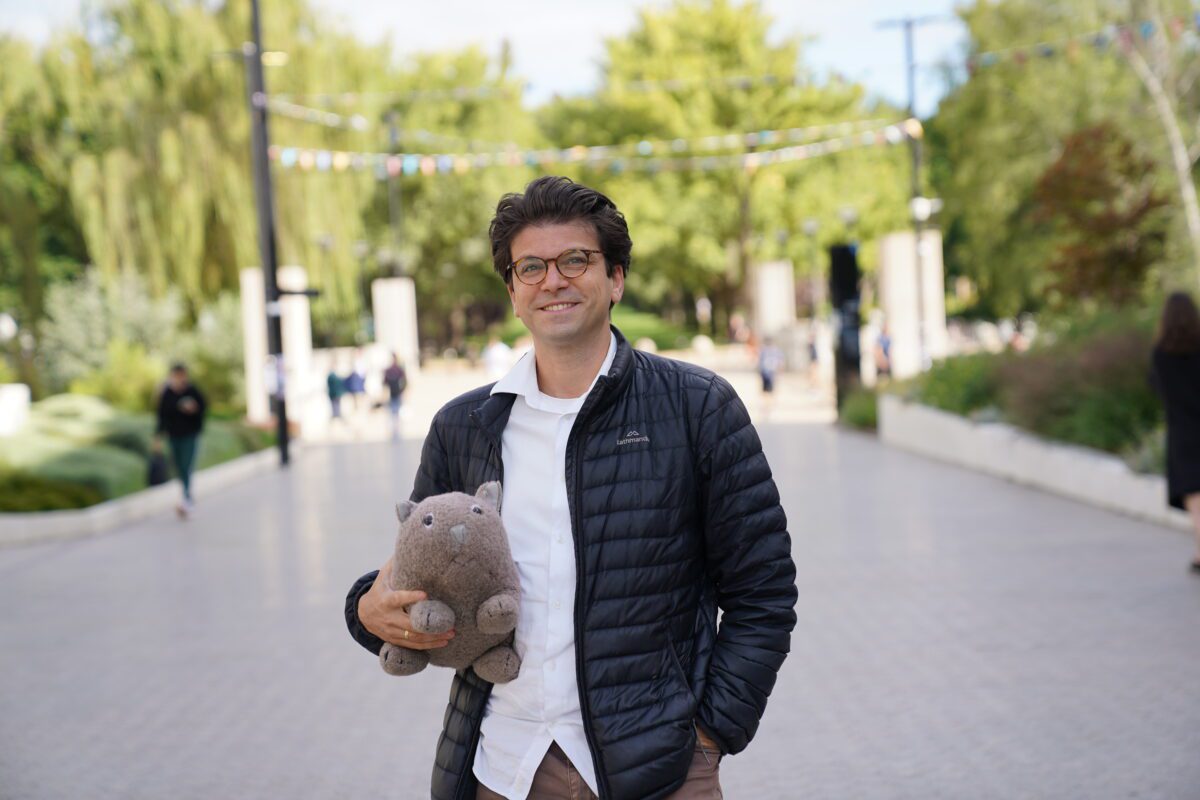 W: What do you see as the most pressing issues impacting students and what will you do to advocate for them? 
TH: So, I think there's two categories of this. As I see it, one is simple cost: cost of education and cost of living, and the implications of that on physical and mental health. The Greens have some fantastic policies on both of these that I think would be absolutely transformative for students here in Canberra and around the country. 
As somebody who spent seven years doing two undergrad[uate] degrees and then another couple of years doing a master's, the change that has happened in terms of the cost of education [and] on the cost of living for students over the 20 years since is astonishing.
Not only are students facing a serious debt sentence, for many, many years by undertaking education, but the cost of living has gone up so much that far more students are having to work sometimes multiple part-time jobs or full-time jobs alongside your studies, in order to be able to pay for housing.
We need to make undergrad education free again. It's just crazy that so many of the people who are making the decisions about education policy in this country were able to go through when tertiary education was free. And so many more, including myself, when it was no longer free, but it was still not horrendously unaffordable. We need to make tertiary degrees free, and we need to forgive student debt.
We also need to deal with the cost of housing. Housing affordability is a really complex issue like climate change. I'm not here to pretend that there's a silver bullet, but at a Federal Government level, we can do things like getting rid of negative gearing and the capital gains tax exemption, which make it cheaper for somebody to buy their seventh or eighth investment property than it is for a young person to buy their first.
 Most students obviously are not going to be in the position to be able to buy their first [home], but many recent graduates should be. That will take the pressure off this incredible increase in housing costs. The Commonwealth should be investing in building a whole lot more affordable housing, and that's going to make a tremendous difference to [the] cost of living for students.
And what goes along with that? I spend a lot of time with [my adolescent kids] and their friends – the increase in mental ill-health amongst young people that is driven in no small part by the cost of living, but also by looking around at the world and genuinely not having hope that the challenges you face are being dealt with. 
We need to be dealing with the financial pressures that are creating those mental health challenges, but we also need to be investing properly in making mental health free and covered by Medicare properly and making sure there are enough psychologists, trained counsellors and psychiatrists to help deal with the mental health epidemic that we've got in this country.
It's not just about making degrees free, it's about properly investing in universities, so that the student experience is incredibly closely tied to the staff and the academic experience. The academic experience now is bloody awful. Properly supporting and funding universities and their staff will have a tremendous impact on the student experience as well.
W: Your platform has a strong emphasis on climate action. What policies in particular will you be advocating for? When do you think Australia needs to reach net zero and how can we achieve it?
TH: We need to reach net zero as soon as feasible. Yesterday, ideally. The Greens' platform obviously is deeply focused on climate.
 I'm a Green in no small part because I'm so focused on climate. It's been my passion and my focus for over two decades now. As soon as we possibly can, we need to be actually starting the plan to close down every single fossil fuel infrastructure that we have in this country. Frankly, it is evil to still be using fossil fuels.  
Obviously, the Liberals and Nationals are gung-ho on expanding fossil fuel infrastructure, and Labor unfortunately is trotting along with it at the moment. I've always been of the opinion that we cannot have silver bullets to deal with climate. 
But the most obvious thing that we need to do, is to massively roll out renewable energy infrastructure, as fast as we possibly can. I'm really proud of the transition plan that the Greens have announced at this election, which is a job-for-job guarantee for every worker in the sector, a multi-billion-dollar plan to support retraining, and the seeding of new industries in those areas.
 We need a really solid approach [to] transport as well, not just an exchange of the internal combustion engine cars for electric vehicles. We need a really big investment in mass transit and in active travel. And most of that is state and territory responsibility, but a fair amount of it can be funded by [the] Commonwealth government.
And we need a real radical shift in the way we treat land-use in this country. A big part of that has to be actually giving the land back to the First Nations people, because the First Nations people obviously know from tens of thousands of years' of experience how to manage this land. to protect the life that it is and that it gives. And we need a massive expansion of Indigenous Protected Areas and a big expansion of support for Indigenous rangers. 
We need a lot of carbon sequestration. We need a shift in the way we do agriculture. 
W: What will you do to help mitigate the effects of climate change? We're already seeing so many natural disasters. If you were elected, what would you want to do to advocate for the people in these sectors?
TH: What we're seeing at the moment is a lot of conversation around how well communities respond to natural disasters and come together to support each other and what a gap there has been in the failure of governments to respond in any adequate way. I do believe we need a really solid investment from [the] government in emergency response infrastructure. I also believe that we need to support and harness the communities to do this kind of thing.
One of the things that sets Greens and Labor apart in our politics in many ways is that the Greens actually do believe in decentralisation and grassroots action. That's not to say [the] government should just wash its hands, but [it] should be there to support communities to do these kinds of things. We should be there providing resources.
One of the things that the Greens have been advocating for years – I was on staff for Senator Christine Mill in late 2007, 2008, [and] 2009 – is the need to shift urban planning to take the climate crisis into account. Government needs to be planning for the change that is coming, and to be changing our urban planning rules and our land development rules to take account of that. There's the long-term and there's the short term.
 As a local member for Canberra, one of the things that I'm really keen to be doing is making sure that we have the infrastructure in place to support communities when disasters happen. For instance, one of the big things that we had a wake-up call about a couple of years ago was smoke, not just fire. We need to have public buildings which have appropriate air filtering so that you can actually be in our hospitals and without breathing the smoke. We should have more public halls that are equipped to be able to bring people in on days of extreme heat, where they simply can't actually be in their own homes anymore. As well as days of extreme smoke, fire risk, flood risk, we need the resources locally and across the country.
W: What's your favourite place to go for a ride in Canberra?
TH: Most of the riding that I do is commuting. I wish that the rest of Canberra had the benefits of some of the cycle paths that we've got around the ANU, it's a pleasure and safe to ride around here. In terms of just going for a ride, I love the western end of Burley Griffin that comes around the lake, around Yarramundi, reaches down towards the zoo and the dam there, it's just a gorgeous place to ride around. I often see echidnas.
W: I'll have to look out next time. Lastly, what's your favourite pub or restaurant in the Capital?
TH: That's a difficult one because there's so many and that's changed so much over the last 10, 15 years. It's been amazing to see the growth of a really great culture. In terms of pubs, the BentSpoke brewery is just fantastic. I often have great and cheap Asian meals at Dickson with my family.
Photography by Liam Taylor.
This article forms part of Woroni's ongoing election coverage. Interviews with other candidates will be published over the coming weeks. 
We acknowledge the Ngunnawal and Ngambri people, who are the Traditional Custodians of the land on which Woroni, Woroni Radio and Woroni TV are created, edited, published, printed and distributed. We pay our respects to Elders past and present and emerging. We acknowledge that the name Woroni was taken from the Wadi Wadi Nation without permission, and we are striving to do better for future reconciliation.