The Tuckwell Scholarship is a bursary awarded to students commencing undergraduate studies at the ANU with a "focus on giving back to Australia". The scholarship is designed to attract students "from all around Australia," although less than one per cent of successful candidates from 2014 to 2019 were from remote areas.
Each year, 25 secondary students are chosen nationally for the scholarship. They receive $21,850 (2019 rate) annually, increasing with inflation, for up to five years of full-time study. For a student completing a five-year degree, this totals at $109,250. The funding is intended to "cover on-campus residential costs, books and general living expenses."
Successful applicants must have a predicted ATAR of 95 or over and have achieved high grades in both English and Mathematics (B- equivalent). The recipients must also exhibit the "attributes of a Tuckwell scholar," which include such qualities as being "humble" and "emotionally intelligent." They need to obtain various academic references, and then be successful at the in-person interview held in Canberra. 
Additionally, students are compelled to demonstrate how their family is connected to Australia. This includes identifying any contributions the applicants' families "make, both within their local community or a wider area and how this strengthens their ties to Australia."
Students who successfully receive the scholarship must live in an ANU residence for at least the first year of their studies and must consistently meet the ANU expectations for academic progress relevant to their course. 
For students who attend schools that are classified as S101E or S101C  under the Educational Access Scheme, an ATAR no lower than 90 may be acceptable. Academic bonus points may not be counted towards the required ATAR for the scholarship.
Woroni collated data provided from each Tuckwell recipient from 2014 to 2019 and the schools which they attended on a number of factors.
Firstly, we arranged and averaged these schools on their respective Index of Community Socio-Educational Advantage (ICSEA). ICSEA is a scale of socio-educational advantage that is computed for each school. The ranking sets the average score at 1,000.

The average score of the Tuckwell Scholarship recipients' schools was 1106, with the lowest being Casino High School at 865 and the highest being Sydney Grammar at 1296.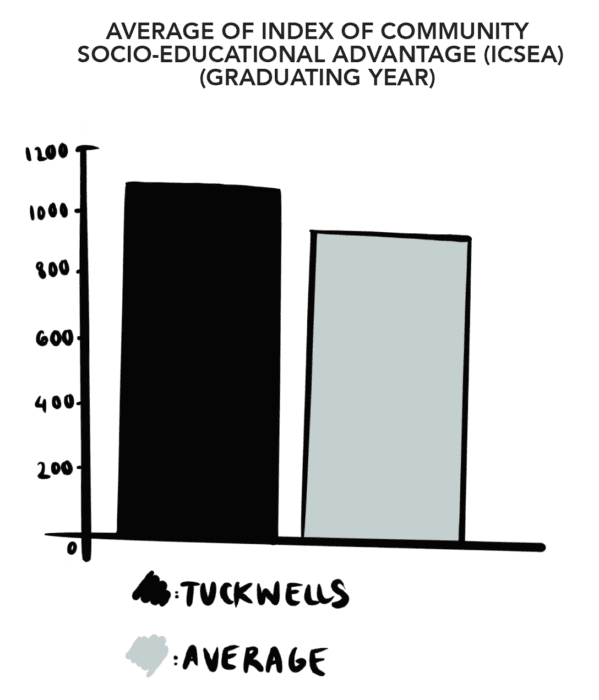 Secondly, we ranked these schools on where they were located, using the metrics major cities, inner regional, outer regional, and remote. Notably, 71.26 per cent of students who received the scholarship came from schools located in the major cities, while just over nine per cent of recipients came from schools classified as outer regional or remote. Of the 175 recipients, only one came from a remote located school, Spinifex State College in central Queensland.
Thirdly, Woroni arranged the recipients' schools by the socio-economic distribution of the schools' students. On average 51 per cent of the students that attended Tuckwell recipients' schools came from the top quartile. Sydney Grammar topped the list with 98 per cent of students coming from the top income quartile in 2017.
Conversely, only 27 per cent of these students came from the bottom two quartiles, with 24 schools not having a single student from the bottom quartile. Three schools didn't have a student in the bottom two quartiles.
Shockingly, on average, the scholarship recipients' schools were comprised of only three per cent indigenous students, with 49 schools not having a single Indigenous student. Nine schools had over 10 per cent Indigenous enrolments, with Spinifex State College having the most at 36 per cent.
Melbourne High School and Sydney Grammar had the most recipients of the award since 2014, with four apiece, and three schools; Perth Modern School, Merewether High School and Fort Street High School, had three recipients.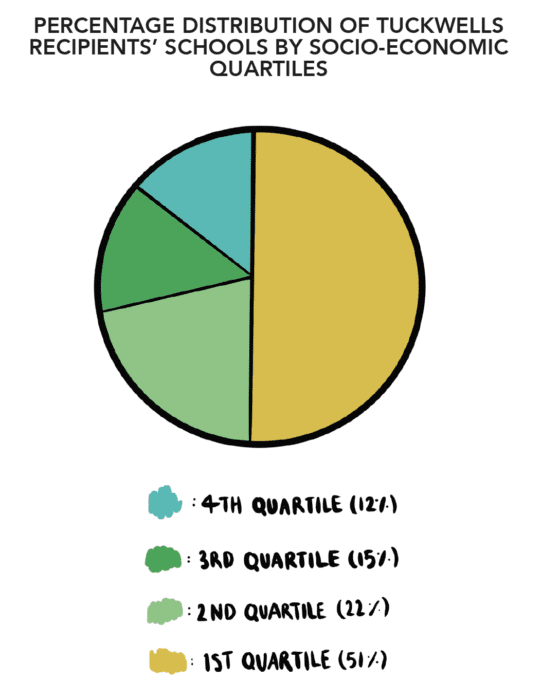 We acknowledge the Ngunnawal and Ngambri people, who are the Traditional Custodians of the land on which Woroni, Woroni Radio and Woroni TV are created, edited, published, printed and distributed. We pay our respects to Elders past and present and emerging. We acknowledge that the name Woroni was taken from the Wadi Wadi Nation without permission, and we are striving to do better for future reconciliation.