A statement glued along the passage between University Avenue and the Copland courtyard has shed light on an alleged meeting between the Acting Vice-Chancellor, Provost, and Hong Kong and Chinese students.
Composed by a "group of Hong Kong individuals and students," the statement describes that as a result of the meeting, the wall between University Avenue and the Copland courtyard is now designated for pro-Hong Kong messages of support. While, the wall between CBE and the courtyard, the site of the original demonstration, is now allocated to those opposed to the protests.
The document outlines that the two wall solution aims to "lessen the chances of future conflict" between supporters and opposers of the "Lennon Wall". 
The statement encourages students to "respect each others' political freedoms and free speech," while condemning the use of violence or discriminatory speech. 
This sentiment was echoed by the ANU who outlined that they "encourage our students to express a wide range of views, but to do so respectfully and peacefully."
However, the ANU was quick to outline the severity of their encouragement, stating that the "ANU will not tolerate violence or harassment on campus," and "the potential consequences for students who don't meet these expectations are serious and can include exclusion from the University."
The document comes after clashes between pro-Hong Kong students and pro-China students resulted in pro-China students damaging the Lennon Wall shortly after it was constructed. Monitored by ANU Security, the current demonstration at ANU was set up last Wednesday night following unrest in Hong Kong over a proposed extradition bill.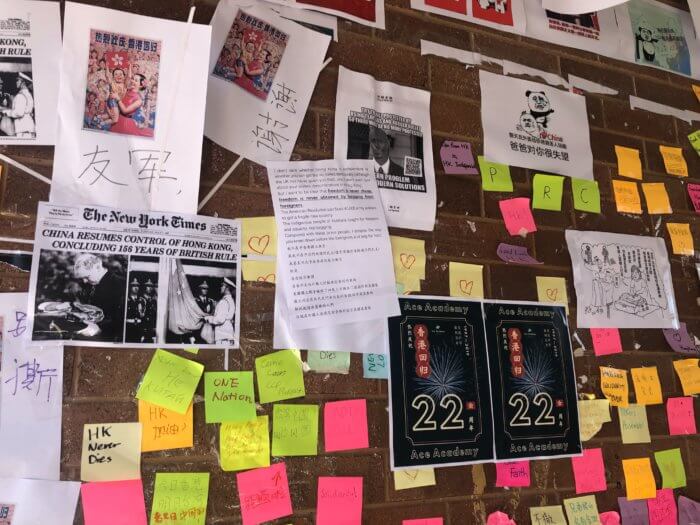 Although now suspended, the bill would have resulted in those convicted of crimes in China, Taiwan, and Macau being eligible for extradition from Hong Kong to those countries. Pro-Hong Kong demonstrators believe that this will enable the extradition of those in Hong Kong who are accused of crimes by the Chinese Government, violating the 'One Nation, Two Systems.'
We acknowledge the Ngunnawal and Ngambri people, who are the Traditional Custodians of the land on which Woroni, Woroni Radio and Woroni TV are created, edited, published, printed and distributed. We pay our respects to Elders past and present and emerging. We acknowledge that the name Woroni was taken from the Wadi Wadi Nation without permission, and we are striving to do better for future reconciliation.