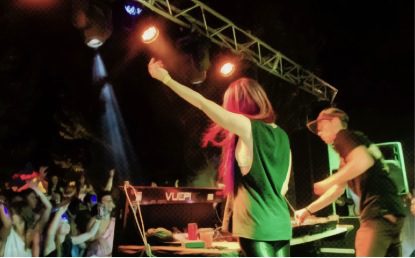 The Burgmann Toga Party is famously known as one of the largest residential toga parties in the southern hemisphere, an institution of ANU's O-Week and one of the biggest events in the ANU social calendar.
However, last year's toga party highlighted concerning problems associated with the event, including the use of counterfeit drink coupons and entry wristbands, prevalence of anti-social behaviour and sightings of underage drinking.
As a result of 11 months of consultation between Pro Vice Chancellor Richard Baker and student organisers and staff from Burgmann College, new measures are being put in place for the event in 2015.
"The university has requested that organizers increase the number of security guards in place to oversee [the new measures] and also to stringently enforce the legal requirement to not allow any intoxicated person access to the event" writes Professor Baker.
Professor Baker has also requested that there be improvement in ticketing technology and a new requirement that all attendees must be both ANU students and over 18.
As a direct result, these restrictions will limit the number of people able to attend.
The toga party acts as one of the largest sources of revenue for the Burgmann Resident's Association, (BRA) and as such limiting the attendees will undoubtedly place a considerable reduction in profits generated from the event for the association.
Regardless, President of Burgmann College Hudson Digby has stated that the resident's association is committed to implementing Professor Baker's requests.
"BRA seeks to adapt and develop based on past years. As such in response to unfortunate issues last year, we have made changes to ease numbers and focus on properly catering for everyone present and make sure they have a fantastic night".
Principal of Burgmann College Dr. Philip Dutton has said Burgmann College would host the event only "if [the college] can afford to do so in meeting our compliance obligations to ANU".
"As Principal, I have always been concerned to help improve [the toga party] and 'get it right'…Burgmann staff, residents and especially maintenance under Andrew McCormack, all annually make an especially significant contribution to prepare and support [this event]."
Event Organiser Sammy Woodforde has told Woroni that tickets to the toga party will be available for sale at residential colleges and in Union Court throughout O-Week in the lead up to the event. A valid proof of age card and a valid ANU student card are required for entrance on the night.
ANUSA Social Officer, Jack Gaudie has recommended that, for those underage and unable to attend the Toga party, ANUSA will be running a complementary event on the night, a sleep out in the Sports Hall. This event is for all ages and is a strict zero-alcohol event.
Comments
Powered by Facebook Comments